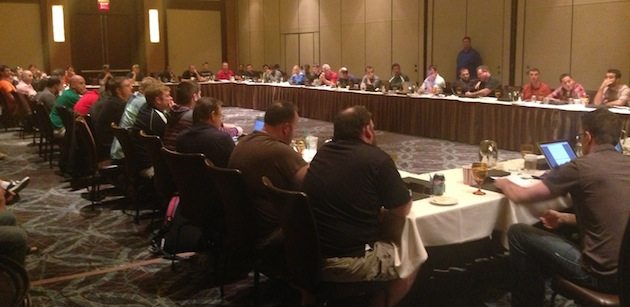 The 2017 WGI Color Guard, Percussion, and Winds Advisory Board Meetings have been set for May 19-20 and will be returning to the Red Rock Resort in Las Vegas, Nevada. This is the annual meeting representatives vote on the rules and policies that govern WGI as well as the election of individuals to division steering committees as well as the board of directors. This is the first year the newly created Winds division will have a voting representative elected to the WGI board of directors, their third season in existence.
Each advisory board is composed of one representative from each Independent World and Scholastic World finalist and the top five (5) finalists from all other classes of competition at the preceding world championships.
"Each year the advisory board meetings allow instructors and designers to come together to exchange ideas on how WGI operates and how groups in all divisions are judged, including rule changes," said Executive Director Ron Nankervis. "This is a vital process for our organization and sets the stage for the next WGI season, as well as provides information to our Circuit Partners how they can adopt or alter policies that best service their membership."
Any color guard, percussion ensemble, or winds group participating in the current season may submit rule or policy proposals for consideration. Proposal forms will be available beginning May 1 and the deadline for submission will be Wednesday, May 10. All accepted proposals will be published online prior to the meeting. Any proposals passed by the Advisory Boards will then be forwarded to the WGI Board of Directors for final approval at their annual meeting in July.
Elections for the WGI Board of Directors and individual steering committees will also be held at this meeting. To see more information on the Advisory Boards and how WGI operates, please visit our website to see the organization's By-Laws and Policy Manual.
Look for more information on these very important meetings coming soon on WGI.org.