Print Publications
For more information on any of the following print and virtual advertising options, please contact Crystal Walker at [email protected] or by calling 937.247-5919 ext. 310.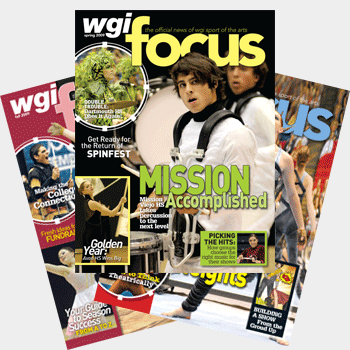 FOCUS
FOCUS is WGI's free educational magazine aimed at broadening communication within the marching arts family of guards and indoor percussion ensembles. It is published once per year during the Spring season. The magazine has a circulation of 14,000 print copies, and an additional 12,000 online readers. This magazine puts your product and services into the hands of the participants, instructors, directors, boosters, and decision makers in the marching arts activity.
World Championships Program
Don't miss the opportunity to place your products and services before thousands of spectators, participants, and directors at the Sport of the Arts World Championships by advertising in the World Championships Program Book. This program has become an annual collectors item for WGI participants and fans. This full color program captures images of performers during the competitive season, reports results of select regional competition and serves as a timetable for the Championships weekend. One copy is given to each participating unit and the program is sold at all of the competition sites during WGI's Color Guard, Percussion and Winds week.