The 2014 season is nearly here, and for indoor marching performers around the world, the rehearsal process is about to get a lot more intense. What's a good way to give yourself a break while still honing the kinds of skills that you'll be demonstrating in front of audiences and judges? Look no further than the smartphone and tablet apps that are taking the activity by storm.
The WGI app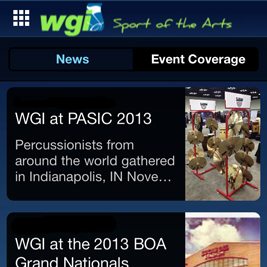 Certainly you've heard of the WGI app by now (which allows you to access schedules and info for all WGI events, see scores as they're posted, read the latest headlines from wgi.org, see photo galleries, and much more). With your Fan Network subscription, you can even watch the latest regional videos from your phone or tablet! Of course you will also find quick links to all WGI social media posts, so jump in there and join in the fun!
When you're looking at the News column, make sure to click on the Event Coverage tab at the top to find recaps of social media posts about each regional!
Download the WGI app for iPhone here.
Google Play offers the WGI app for Android here. Unfortunately the app does not "officially" support Android tablets, and it may display errors. However the tablet will run the app because it will run any android app. We hope to develop a clean set up for Android tablets in the future.
Competition Suite


You may already be familiar with CompetitionSuite, the website that provides scores, recaps, and judges' comments for competitive events like the WGI Regionals and World Championships. The service continue it's mobile app service this season that will support the ability to download conmmentary files to your device. Find out more at competitionsuite.com.
Find the Competition Suite app on itune here.
Coach's Eye


With the Coach's Eye app, you can record or import a video of any activity on your iOS or Android device and analyze it in slow motion, calling out specific areas with lines and shapes. Great for directors and performers alike, the app can be used for in-person review or for sharing both original and analysis videos through email, text, Facebook, Twitter, and more. You can find further information at coachseye.com.
Find Coach's Eye on itunes here.
COLOR GUARD
Step in Time


Rehearsal time is precious, so the last thing you want to do is waste it by searching through your music. Step In Time, a new iPhone/iPod Touch app by Sung Heroes is designed to make dance and guard rehearsals more efficient than ever. Users can import songs from an iTunes library—as well as mp3 and m4a files from email and external sources—and control their tempo using a simple set of controls while the audio is playing. Up to six user-configurable tempos can be stored for instant recall. In addition, the app lets users quickly jump to specific sections of the music and mark locations for speedy navigation. Devices equipped with iOS7 can also be operated using wireless controllers. sungheroes.com/stepintime.
SongMarker


SongMarker was specifically designed to aid color guard instructors in locating and looping specific set points in a track of music. App developer, John Best, watched too many instructors fumble around with their iPod to try to start a section of music and thought "I can make a better way to rehearse like this!" It also works great for choreographers as they write because you can loop a specific marker region over and over and try out different ideas.
There is also a notepad that changes text "Karaoke-style" at each marker point, so an instructor can prepare notes ahead of time about what to address at specific sets in the show to maximize rehearsal effectiveness. There is also a fine tuner for pinpointing the exact start time for each marker, and the app saves your markers for each song so that they will be available the next time you choose that song.
Find SongMarker on itunes here.

PERCUSSION
Click Designer


ClickDesigner, was designed as app developer, John Best, watched countless marching rehearsals struggle to nail metronome tempo changes, accelerandos, or ritardandos. Fortunately, ClickDesigner provides an extremely accurate metronome that can quickly and easily be programmed to handle all your rehearsal tempo needs, and provide a "Set A to Set B" rehearsal structure.
User-generated content can easily be shared via email or even uploaded to DropBox so students and directors can share the prepared click track file so everyone is on the same page.
Find Click Designer on itunes here.
iDrumTune


iDrumTune is touted as the first system to help with drum tuning by analyzing sound; if you hold your device over the center of a drum while striking it, the app will tell you which frequencies are most prominent and relate them to musical notes.
Drum tuning isn't easy, and drums don't respond exactly the same way every time you hit them. For that reason it's valuable to know a little about the science of drum tuning. iDrumTune includes a comprehensive text on the science of drums and drum tuning in order to help you get the best of the app and to become an expert drum tuner!
Find iDrumTune on itunes, or visit idrumtune.com
Backbeater


Backbeater is a monitoring app that "listens" to your playing and lets you know whether you're—so to speak—up to speed. The app boasts a built-in metronome, adjustable sensitivity, and iPod library support so you can play along with your music.
Find Backbeater on Itunes, or visit backbeater.com