From an Arbella Independnet Press Release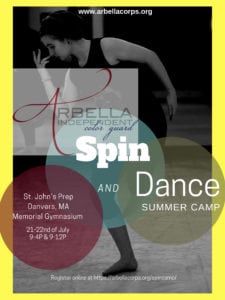 Please join Arbella Independent for our Annual Summer Spin/Dance Camp!
Saturday, July 21 from 9-4 PM and
Sunday, July 22 from 9-12 PM
St. John's Prep Memorial Gym
Danvers, MA 01923
We will be offering beginner, intermediate, and advanced sessions in Dance, Flag, Weapon and concluding with a Performance session.
Our area clinicians bring a broad range of experience, and a dynamic approach within all areas of colorguard.
The cost for participation is $35.00 in advance or $40.00 at the door. All are welcome!
For more information and to pre-register please visit: www.arbellacorps.org/spincamp/.