From an Artistry IN BLUE Press Release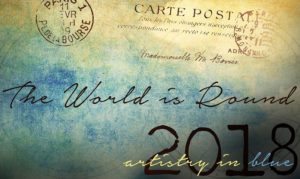 Artistry IN BLUE, from Canton, Ohio, is pleased to announce our 2018 winter program, "The World is Round."
Artistry IN BLUE is under the direction of Dave Stinson. Show design is by Matthew Stevens and Byron Valentine, with soundtrack production by Tommy Allen.
Additional choreography and technical staff includes Sarah Stahl, Leanna Rummes, Kirstin Shatzer, Ben Ash, CJ McCrory, Andrew Hensel, Matthew Turcotte, and Lexy Holland-Albaugh.
Artistry IN BLUE is sponsored by The Bluecoats Drum and Bugle Corps, as well as Field and Floor FX. AIB celebrates our ninth year of competition in 2018, with our 26 talented members performing locally in the Ohio Indoor Performance Association, as well as nationally at the Pittsburgh, PA and Cincinnati, OH WGI Regionals.
Our season will culminate at the 2018 WGI World Championships in Dayton, Ohio.
"The world is round, and the place which may seem like the end may also be the beginning."
– Ivy Baker Priest