From a Beavercreek HS Open Winterguard Press Release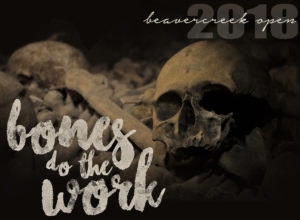 The Beavercreek High School Open Winterguard (Beavercreek, OH) is pleased to announce our 2018 program: Bones do the Work.
Beavercreek High School is under the direction of Jonathan Gillman. Our 2018 design team also includes Byron Valentine (concept, artistic direction, and costuming), Tommy Allen (soundtrack design), and Frank De La Rosa (staging/drill design.)
Choreographers, technicians, and additional support staff for 2018 include: Madeline Boone, Katie Adams, Maggie Kilbourne, Jared Sipple, Ja'Malh Wallace, John Joseph, Baron Creutz, and Matt Frost.
Beavercreek High School will be performing locally in the Mid East Performance Association in the Scholastic Open Class, as well as nationally at the WGI Mid East Power Regional in Cincinnati, OH. Our season will culminate at the 2018 WGI World Championships in Dayton, Ohio.
"Bones do the work for the heart's grand plans. Bones know what you need. Hearts only know want."
-Catherynne M. Valente