From a Centerville HS Winterguard Press Release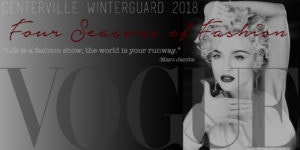 The Centerville High School Winterguard (Centerville, OH) is pleased to announce our 2018 program: Four Seasons of Fashion.

"In order to be irreplaceable, one must always be different" — Coco Chanel
Four designers, four seasons, four patterns, four runways. Sampling Antonio Vivaldi's "The Four Seasons," as recomposed by Max Richter, and the ever-famous "Vogue" by Madonna, we move through a year of style— from the classic style of Coco Chanel and bold, maximalist Donatella Versace to avant-garde Alexander McQueen and modern Marc Jacobs.
"Wear a fabulous smile, great jewelry, and know that you are totally and utterly in control." — Donatella Versace
Centerville High School is under the direction of Jodi Fairbanks. The 2018 design staff includes Alex Holland, Tim Fairbanks, Sheldon Apo, and Byron Valentine. Soundtrack design by Andrew Markworth. Our technical staff includes Danielle Marquardt, Olivia Small, and Brittany Maurer.
"Fashion should be a form of escapism, and not a form of imprisonment." — Alexander Mcqueen
The 26 models of Centerville High School will be performing in Scholastic Open Class locally in the Mid East Performance Association, Tristate Marching Arts, and the Indiana High School Color Guard Association, as well as nationally at the WGI Indianapolis Regional and the 2018 WGI World Championships in Dayton, OH.
"Life is a fashion show; the world is your runway." — Marc Jacobs