By Michael Reed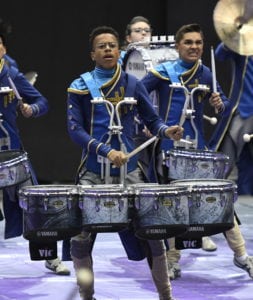 Setting out on a voyage into the unknown, Chino Hills HS (Calif.) (Gold Medal- 98.775) found the direction to their 5th PSW title in seven years with "Seek and You Shall Find." Wearing navy blue and turquoise British Naval officer coats, the line utilized nautical imagery as a consistent visual motif. Large grey sail backdrops, a compass, and lanterns used in choreography all added to the voiceover message which exhorted us to persevere in searching for our destiny. Displaying musical mastery in all sections, the group dazzled with rapid mallet work, incredibly clean drumming, and as good a high school set player as one would ever hear.
What does a toy store full of Barbie and Ken dolls do after closing time? Dartmouth HS (Mass.) (Silver Medal- 97.188) showed us in "Out of the Box." The line began in boxes dressed as various types of Ken dolls. After breaking free of the cellophane, they treated the audience to an amazing technical display, including amazing bass and quad features and incredible xylophone soloist. The Barbies came out to dance, but out of nowhere a Joker doll kidnapped Princess Barbie. A valiant Batman doll came to the rescue, but just as he and Joker were about to tangle, it was time for the store to open again and all froze in place.
Arcadia HS (Calif.) (Bronze Medal- 96.338) provided a cerebral look at becoming one's best with "This is Me." A voiceover of "I dreamt of success" was heard near the beginning, as the group utilized an abstract black and grey palate on tarp and tall panels. Momentary doubts in the voiceover reminded us that even the most successful people have bouts of questioning, but renewed confidence brightened the floor as the drab colors were replaced with a rainbow menagerie of red, aqua, magenta, yellow, and lime banners racing between their flats as the realization of the goal of being the best came to fruition.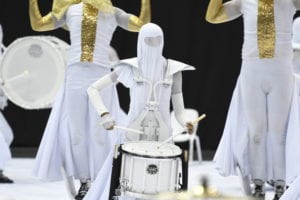 Ayala HS (Calif.) (4th- 94.538) presented something unlike anything we've seen before with "The Blessings." Set on a white floor with the drummers wearing all white with white head coverings, the line utilized a seemingly endless multitude of chairs. A crew of non-drummers wearing similar costumes with gold head coverings constantly pushed the chairs out of the way of the battery so they could move, sometimes placing the chairs, and at others violently tossing them to quickly clear the way. A voiceover of biblical quotes about blessings from the books of Proverbs and Romans helped propel the theme.
Franklin Central HS (Ind.) (5th- 93.738) always brings something unique to the table. Clad in shimmering silver and black costumes, the line performed "Beyond" with an all-black tarp and backdrops, complete with an overhead black canopy in the back right corner. Tall spotlights highlighted performers in feature sections, and also panned back and forth with the illuminated areas expanding and contracting. During the closer, lights shined on performers with a red filter to strains of 'Over the Rainbow' as a fog machine gave an ethereal quality, along with lights in the canopy flickering in different colors.
Defending PSO Champions Burleson Centennial HS (Texas) (6th- 92.875) told a powerful metaphor of redemption with "Salvation Lies Within." A man working on a prison chain gang decided to take flight, saying to himself "Time to make this life worth it, or move onto the next one." He escaped, and as sounds of barking dogs meant the authorities were closing in, he had a spiritual breakthrough. Blue fabric was incorporated in choreography, eventually covering the man, symbolizing baptism. The man held uplifted hands at the emotional ending, his chains broken.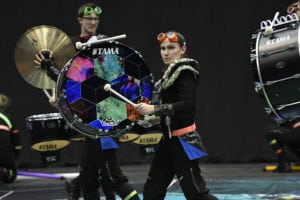 Avon HS (Ind.) (7th-91.825) presented a Technicolor spectacle with "Reimagine." Set on a black floor with multicolor cubes, the group incorporated a bank of TV monitors and a 15-foot tall black box, as the line recreated what our concept of visual technology in the activity could be. While sections of the battery performed features in the box as if inside a TV, members with illuminated light sabre-like poles would move and kaleidoscopic patterns in stop-motion appeared on the TV monitors. Later, LED ropes were manipulated inside the box, creating additional effects.
Center Grove HS (Ind.) (8th- 91.113) reminded us of the adventuring spirit of humanity in general and innovation in the indoor percussion activity in particular with "Pioneers." An illuminated white cube suspended in midair from backdrops surrounding the floor on three sides was a visual focal point. Aaron Copland's 'Promise of Living' was the musical inspiration complete with a French horn soloist, and Walt Whitman's poem 'Pioneers! O Pioneers!' was the ideological inspiration. Members carried lights under glass in choreography while the battery performed around them.
Absence of sound was a real physical manifestation for Lebanon HS (Ohio) (9th- 90.763) with "Through the Silence." Built around the rock band Disturbed's 2015 remake of Simon and Garfunkel's iconic 'Sound of Silence,' the line utilized a black fabric pulled from a deconstructed grand piano which highlighted sections in features. The keys on the piano lit in sequence to the playing of a keyboardist in the pit. At the shocking ending, a much larger black fabric enveloped the entire line like a flood, covering the whole floor, including the pit.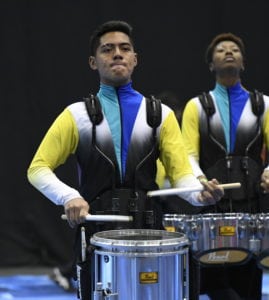 They say in music, the rests are as important as the notes. James Logan HS (Calif.) (10th- 89.513) bore that statement out with "Trust the Silences." Set on a tarp in shades of blue and with three mobile pods containing electronic drum pads with colored panels like facets of a Rubik's Cube, the line blended diverse source material ranging from Imogene Heap's 'The Moment I Said It' to Eric Whitacre's choral work 'Enjoy the Silence.' The show softly finished as a young lady encouraged us with a whisper to listen and trust the silence.
Beginning with a rapid, machine-like minimalist feel to the steady beat of a woodblock, Leigh HS (Calif.) (11th- 87.813) created a mechanized, soulless environment in "Becoming Human." The line used a black and grey palate on floor and costumes with white platforms. As the show progressed, "life" was added via the color red, with platforms, costumes, and LED lighting all turning crimson. The platforms moved to form a heart in the closer of John Adams 'Short Ride in a Fast Machine,' as the line massed around the heart at the end.
Better bring your garlic! Centerville HS (Ohio) (12th- 87.088) were a group of hungry vampire drummers wearing black capes in "The Last Sunrise." With evil hypnotic eyes and mesmerizing stick control, even the bravest spectator fell under their power. After a hard night's work looking for victims, it was time to return home. As REM's 'It's the End of the World as We Know It' blared over the speakers, purple and black backdrops turned to reveal the morning sun rising with members hanging upside down like sleeping bats.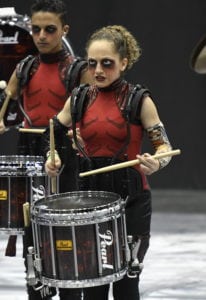 "What's in the box?" Petal HS (Miss.) (13th- 84.425) gave their take on a tale from Greek mythology with "Pandora." The main character, Pandora, decided to open a giant red box, wondering what was inside. What could possibly go wrong? As it turns out, everything. After convincing herself she was in control and directing the line where she wanted them to go, the tables turned when the chaotic inhabitants locked her inside the box. As it closed for the final time, another curious lady asked "What's in the box?"
Wearing quasi-military outfits, San Marino HS (Calif.) (14th- 84.338) opened "Tyranny for Bliss" by announcing "Here at San Marino, we take our smiling seriously." The next few minutes gave an air of a dictatorship putting out a positive spin no matter the reality. Recognizable melodies ranging from Charlie Chaplin's 'Smile' to Pharrell's 'Happy' provided an ironic twist. Breaking free of the pretension, the line decided to feel the way they wanted, discovering that happiness, like love, cannot be forced.
Members of Fishers HS (Ind.) (15th- 84.000) (Ind.) were a primitive tribe in a remote area in "Mask." Set on a red and orange floor with 12-foot tall totem poles and an elevated altar with torches in the back corner, it was time for a new leader to be chosen. The high priestess summoned the tribe to select the successor. One challenger emerged and put on the symbol of leadership, an elaborate mask. After he proved worthy and took power wielding a staff and wearing his own mask, the high priestess died.
---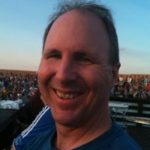 About the Author: Michael Reed provides online and print media content for WGI, Bands of America, and Drum Corps International. 2017 marks his sixteenth year of writing for WGI. He is an active music arranger, composer, and all-around avid pageantry fan. Michael was a member of the Cavaliers Drum and Bugle Corps and holds a bachelor's degree in music composition and music education from Ball State University. He currently works in the health care field and resides in Fishers, Indiana.