From a Yamaha Press Release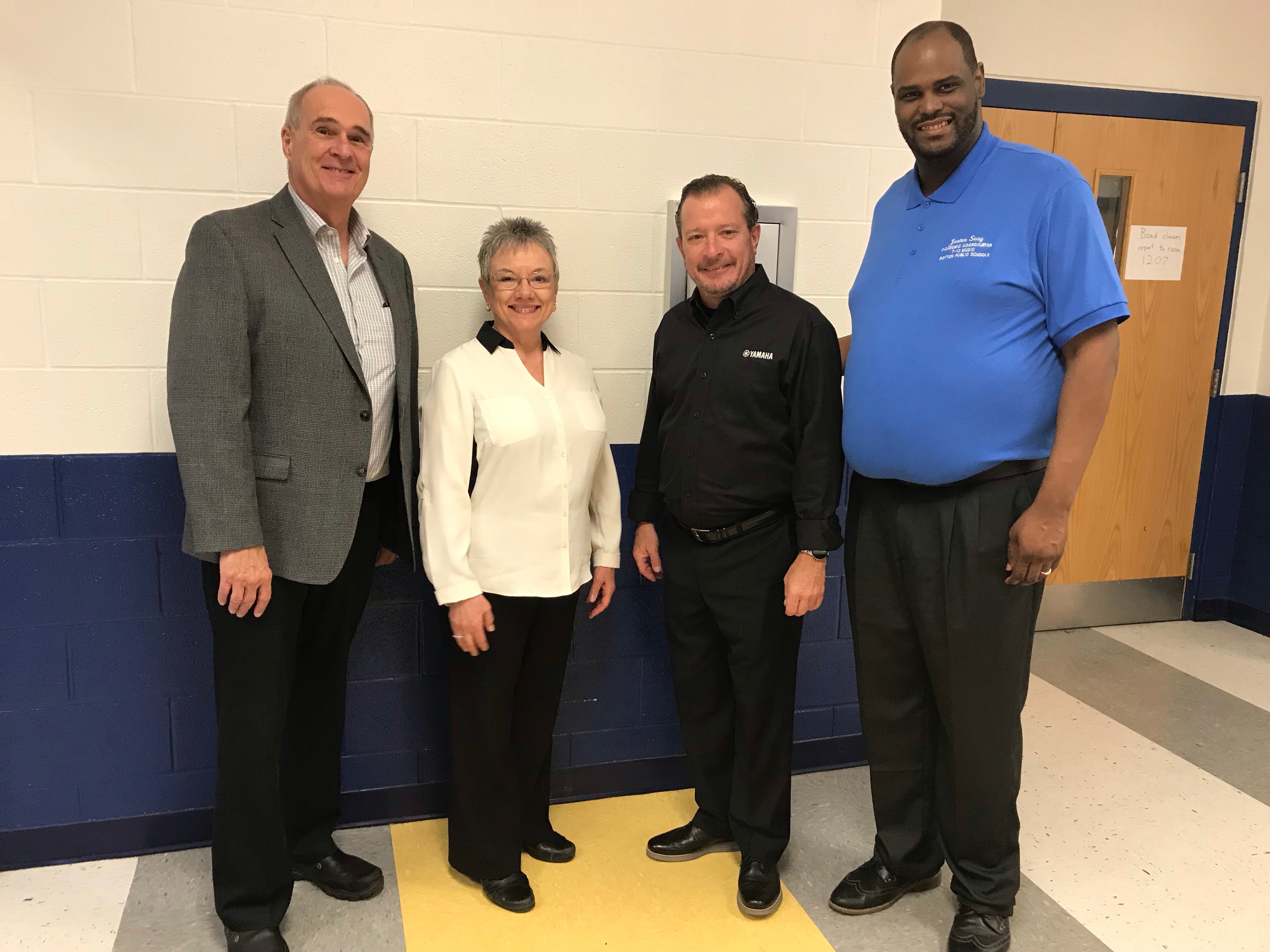 Dayton, Ohio (April 9, 2019) – Dayton Public Schools (DPS) yesterday celebrated the astonishing growth of its instrumental music program this past year with "DPS Big Gig 2.0."
The event was a repeat performance of last year's inaugural celebration, which served to bring artists and educators to a student body that, prior to 2017 had been without a band program for more than a decade. This year, more than 50 middle and high school students who play in the DPS All-City Intermediate/Advanced Band participated in clinics provided by Lamar Burkhalter, a Yamaha Performing Artist and music director for the Houston Texans, and Wayne Markworth, director of Winds for Winter Guard International Sport of the Arts (WGI). The clinicians helped the band prepare for its upcoming performance at the DPS All-City Arts Festival, to be held on May 4 at Riverscape Metropark.
To add to this week's celebration, students will attend the WGI Percussion World Championship Prelims, which feature percussion ensembles from all over the country. WGI also provided students with complimentary admission to the remaining competitions which will be held all across the area throughout the weekend.
This year's event was spearheaded by Marcia Neel, senior director of education, Yamaha Corporation of America and president of Music Education Consultants, Inc. (MEC), which provided pro-bono support.
"Our goal with last year's Big Gig was to get the students of DPS excited about performing and participating in the instrumental programs, and we accomplished that and more," said Neel. "Enrollment has shot up since then, and what better way to encourage the students than to do it all again. We proved that when there is an active program filled with passionate, actively participating students, the more others want to get involved. Yamaha is committed to the future of music education in Dayton, and DPS Big Gig 2.0 fires our ambition to give these students the inspiration they need to keep pushing forward."
In addition to Yamaha, WGI, and MEC, "DPS Big Gig 2.0" received support from other members of the area's music community, including Fred J. Miller Inc. (FJM), Hauer Music, the University of Dayton and Wright State University. Local music education majors also sat in on clinics and coached during rehearsals.
"We are so grateful to Yamaha, WGI and MEC for their continued support in ensuring that our music program continues to flourish," said Justen Seay, academic coordinator, Fine and Performing Arts, Dayton Public Schools. "We're seeing great retention, which is producing even greater musicianship. The kids are learning more challenging music and we even had one of our bands marching for the first time in a parade this past winter. We're experiencing the results of the generosity and hard work that went into last year's Big Gig and we couldn't be happier."
About Yamaha
Yamaha Corporation of America (YCA) is one of the largest subsidiaries of Yamaha Corporation, Japan and offers a full line of award-winning musical instruments, sound reinforcement, commercial installation and home entertainment products to the U.S. market. Products include: Yamaha acoustic, digital and hybrid pianos, portable keyboards, guitars, acoustic and electronic drums, band and orchestral instruments, marching percussion products, synthesizers, professional digital and analog audio equipment, Steinberg recording products and NEXO commercial audio products, as well as AV receivers, amplifiers, MusicCast wireless multiroom audio systems, Blu-ray/CD players, earphones, headphones, home-theater-in-a-box systems, sound bars and its exclusive line of Digital Sound Projectors. YCA markets innovative, finely crafted technology and entertainment products and musical instruments targeted to the hobbyist, education, worship, music, professional audio installation and consumer markets.