presenters
Session Description
Avoiding student and staff burnout during 4+ month season is critical to the success of any program. Join Ryan Hall (percussion director) and Anne Turner (front ensemble director) from the 2022 World Champion Percussion Scholastic A, Clover High School, as they discuss engaging show design, rehearsal strategies, and bridging the gap from middle school percussion curriculums.
Ryan Hall & Anne Turner
Ryan Hall is currently Associate Director of Bands, and Percussion Director at Clover High School in Clover, South Carolina. Under Ryan's direction, the Clover High School Indoor Drumline has won two championships. CWEA 2018 PSA Champions, and most recently, the 2022 WGI PSA World Champions.     Ryan previously served as a Graduate Assistant for the Blue Thunder Marching Band at Boise State University in Boise, Idaho, where he received his Master's in Music Education. While at Boise State, Ryan presented at the Idaho Music Educators Association on two different topics that included: "Staying Connected: Social Media and Technology Tools for Music Programs," and "Engaged Learning: Utilizing Technologies."  Ryan received his Bachelor of Music Education from Western Carolina University while serving as the drumline section leader for the Pride of the Mountains Marching Band.     Ryan was an active member in the DCI community 2010 – 2014, marching with drum corps such as Carolina Gold (2010, 2011), Phantom Regiment (2012), and Carolina Crown (2013, 2014). He has served on staff with Civitas Independent from Rock Hill, South Carolina, and the Columbians Drum and Bugle Corps from Pasco, Washington.     Ryan is also an active music arranger and has composed arrangements for Boise State University and the University of Virginia Marching Cavaliers.  Ryan is a proud endorser of Vic Firth products, Pearl/Adams, and Remo Drumheads.    Ryan resides in Charlotte, North Carolina, with his wife, Kaitlyn and two German Shepherds, Mila and Raven.
Anne Lewis Turner is currently the Assistant Percussion Director for Clover School District and the Front Ensemble Coordinator for Clover High School in Clover, South Carolina.    Anne started her teaching career in 2002 while teaching the marching arts and private lessons in the greater Charlotte area. She began teaching at Clover High School in 2007, when the Marching Band won their State Championship. Anne has also been a part of the Indoor Drumline program at Clover High School since 2007. With her assistance, the program has received high awards throughout the state of South Carolina as well as national recognition. The Clover High School Indoor Drumline was a finalist in Winter Guard International in 2012 (PSO), 2014 (PSO), and 2018 (PSA). Clover received the WGI Fan Favorite award for their show "Pop" in 2014 and for their show "Beyond the Thorns" in 2018. Clover High School recently received the 2022 WGI PSA Gold medal for their show "Medusa". Anne was the 2015 Clover LEAF Grant Winner. Anne served as a WGI Advisory board member in 2019 as well as a CWEA advisory board member in 2019.    Anne also teaches at Civitas Independent located in Rock Hill, South Carolina, and has served as the Front Ensemble Supervisor from 2016 – 2019 and has been the Front Ensemble Caption Head since 2020.  Anne served as the Director of Bands at Great Falls High School in Great Falls, South Carolina from 2019-2021.  Anne graduated from Winthrop University in 2019 with her Bachelor's Degree of Instrumental Music Education. She is currently the Percussion Graduate Assistant at Winthrop University while pursuing master's degrees in conducting and percussion performance. She has studied under the direction of Dr. Lori Crochet, Dr. B. Michael Williams,  Dr. Adam Snow, and Dr. Douglas Presley.     She continues to perform with local bands and percussion ensembles, teaches privately at her studio, and offers clinician and design consultation.    Anne resides in Rock Hill with her daughter Emily, husband Brian Turner, and dog Rudi.
---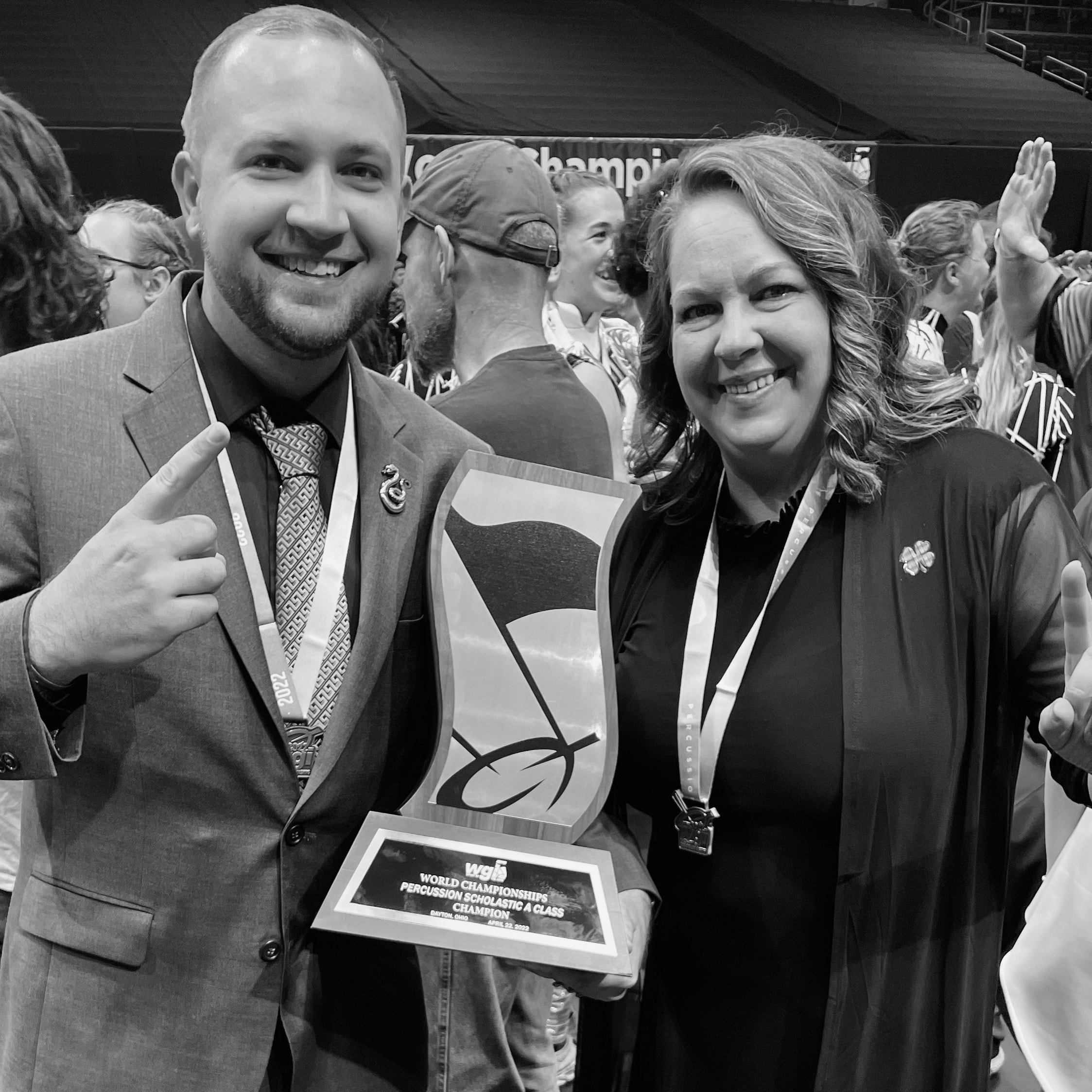 ---
more information
Click here for more information and to register for WGIcon!