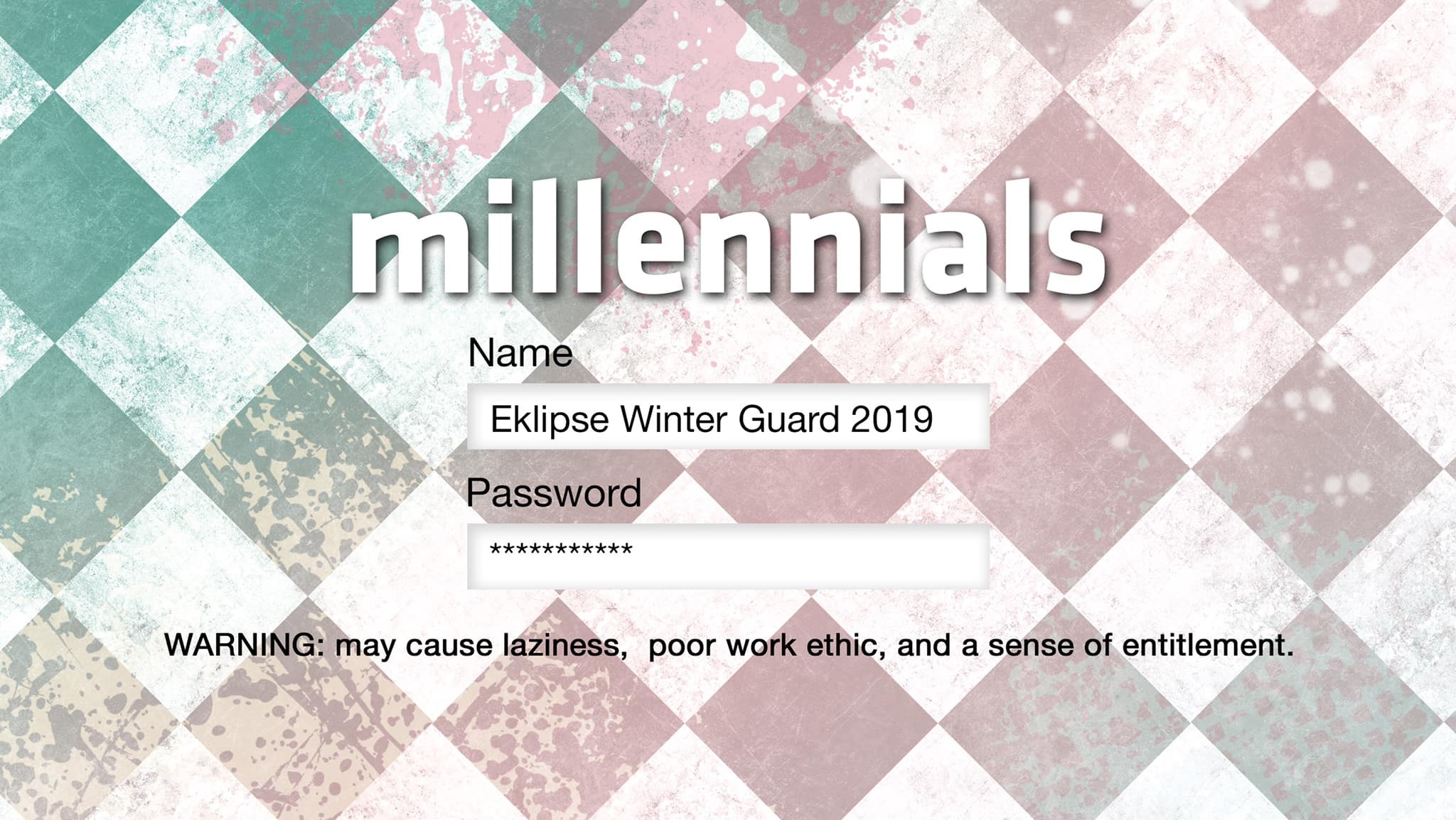 ---
"Apparently, millennials as a generation, which is a group of people who were born approximately 1984 and after… are tough to manage. They're accused of being entitled, narcissistic, self interested, unfocused, lazy…"
—Simon Sinek
---
Eklipse Winter Guard is proud to present their 2019 Program "Millennials."
Entitled, tough to manage, self interested, unfocused and lazy. These are definitions of how society has characterized the millennial generation. Eklipse Winter Guard is exploring this unique generation through the backdrop of a job interview. Millennials, as a majority, tend to stray away from the typical 9-5 workforce. The program this year shows the constant urge of millennials wanting to make an impact on society through more creative outlets and processes that other generations have found "unconventional."
Eklipse is under the direction of Amanda Jones, with assistance from Jeremy Watwood. Show design is by Michael O'Neil, with staging design by David Baker. The group's 2019 choreography and technical staff includes Michael O'Neil, Jacob Kalemba, Nick Vizza, Lisa Ha, Lin Daffron, Tyler Smith, Lori Gaskins, Cody Thompson, Danielle Marie Jellison, Jenny Turner, Daniel Percell and Jordyn Ashton Spence.
Flag and uniform design is by Tommy Keenum, with floor design by Travis Chiles; soundtrack engineering by Michael O'Neil; flag and uniform construction by The Band Hall; floor production by Digital Performance Gear; show graphics by Travis Chiles; and props and logistics by Michael Crumley.
Eklipse will perform locally in the Southeastern Color Guard Circuit and nationally with WGI Sport of the Arts at the WGI Nashville Regional and WGI Mid East Power Regional in Cincinnati. Eklipse will complete their season in Dayton, Ohio, at the 2019 Winter Guard International World Championships!