From an Etude Winterguard Press Release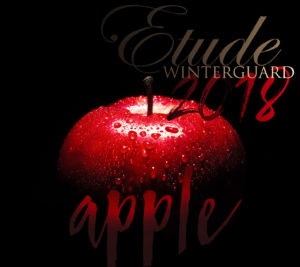 Etude Winterguard, from Rock Hill, SC, is pleased to announce their 2018 program: "apple," featuring the music of Ramin Djawadi.
Etude is under the direction of Brian Winn and Emma Boyce. Show design is by Byron Valentine, with soundtrack production by Riley Pagett.
Choreography and technical staff includes Brian Winn, Emma Boyce, Jed Garvey, Trent Williams, Melissa Davis, Darren Mickens, and Byron Valentine. Additional staff includes Will Archie, Elise Archie, Ahmez Nash, Britni Edwards Wilt, Dorreen Gaudian, and Fritz Gaudian.
Etude Winterguard was the 2015 WGI Independent Open Class Silver Medalist, and a 2016 and 2017 Independent World Class Semi Finalist. Etude celebrates our fourteenth year of competition in 2018, with our talented cast performing locally in the Carolina Winter Ensemble Association (CWEA), as well as nationally at the WGI Knoxville, TN, and WGI Atlanta, GA, Regionals, and the WGI Mid-Atlantic Power Regional in Charlotte, NC. Our season will culminate at the 2018 WGI World Championships in Dayton, Ohio.
"And then there is that day when all around,
all around you hear the dropping of the apples, one by one, from the trees. At first it is one here and one there, and then it is three and then it is four and then nine and twenty, until the apples plummet like rain, fall like horse hoofs in the soft, darkening grass, and you are the last apple on the tree; and you wait for the wind to work you slowly free from your hold upon the sky, and drop you down and down. Long before you hit the grass you will have forgotten there ever
was a tree, or other apples, or a summer, or green grass below, You will fall in darkness…"
― Ray Bradbury, Dandelion Wine