By Michael Reed
PSCW

In "Geometrick," Fishers HS (Ind.) (Gold Medal- 95.60) commanded our attention right off the bat with phenomenal musicianship in Grieg's 'Anitra's Dance.' With an expert use of dynamic control, the kids gave a clinic on how to blend a percussion ensemble. The second movement had an energetic undercurrent with fast ostinatos, before settling into a Latin section with hand clapping. From the softest triangle note to loudest timpani stroke, not a note was lost to our ears. The show ended with a bell player softly repeating the Grieg melody, completing a musical cycle.
Ayala HS (Calif.) (Silver Medal- 94.65) has medaled in PSCW every year for the past decade. Songs of the Child" bustled with controlled energy in a soft, ethereal opening with rippling left hand mallet parts as the members combined to create an incredible sense of balance. Much of the program was performed at a mezzo-piano volume or softer, allowing musical nuances to be heard. Children's songs were mixed into the arrangements, as we heard 'London Bridge,' including a warp-speed mixed meter variation, before ending with a brief lick from 'Ring Around the Rosie.'
Wearing concert tuxes with large red flowers on the lapels, Muscle Shoals HS (Ala.) (Bronze Medal- 91.80) opened "The Carmen Project" with Spanish rhythms as castanets and an acoustic guitar softly played underneath. Themes from Bizet's famous opera were thrown in a blender with the seasoning of accents and tempo changes and what came out was a delicious musical smoothie. Transparent marimba work with subtle rubatos was executed flawlessly, before ending with a flourish of frenetically fast mallet work.
Tunstall HS (Va.) (4th- 84.50) focused on what binds us together in "United." Words from the Declaration of Independence were recited in the opener, as the group sought to focus us in a positive direction. The concept of the American Dream was explored with narration in a festive movement. Quotes from Presidents Obama, Clinton, Reagan, and George W. Bush were incorporated into the program, with the common theme that our heritage should bring us together more than our differences tear us apart.
PSCO
Clayton HS (N.C.) (Gold Medal- 93.925) performed music of legendary jazz guitarist Pat Metheny in "Metheny Mood." Melodies from a number of his pieces were blended to create a mashup that had Metheny fans smiling. Music from his 'Secret Story' album combined with quotes from 'Minuano' led into the Afro-Cuban 'Heat of the Day' with its aggressive accented rhythms, as every articulation was clearly expressed. A set player ended the program with smoking hot riffs, earning a strong crowd response.
Corona del Sol HS (Ariz.) (Silver Medal- 93.90) immediately grabbed our attention in "Dante: Inferno, Purgatorio, Paradiso." The opening movement featured blazingly fast mallet work. The slower Purgatorio allowed the kids to display their sensitivity, highlighted by a tender marimba solo. Ascending keyboard runs augmented with angelic voices from the synthesizers led into a glorious Finale to this version of 'The Divine Comedy' as one could envision Heaven's pearly gates opening.
Hickory HS (Va.)(Bronze Medal- 93.625) began "Embellished" with a stylish version of 'Carol of the Bells,' demonstrating technical skill and pristine blend. As the show progressed, a melodic cornucopia followed, from 'Sabre Dance' to 'It's a Small World.' The Doxology song led into a quote of 'Here Comes the Bride,' reminding us of wedding bells. Just about any piece relating to bells was heard. 'Carol of the Bells' with cowbell accompaniment reappeared for the Finale.
In "Explore the Beyond," Corinth Holders HS (N.C.) (4th- 91.275) blasted into outer space. Mission Control led a countdown to strains of the late David Bowie's 'Space Oddity.' Once liftoff was achieved, things really soared with Philip Glass's '1000 Airplanes on the Roof.' A reflective movement where one could visualize looking down at our planet led into Holst's 'Jupiter.' The aura of the program allowed the viewer to imagine flying with them in a spaceship.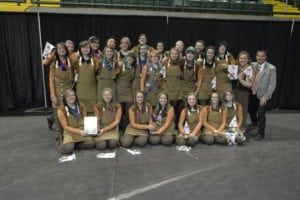 It was all about the wood for Dakota Ridge HS (Colo.) (5th- 90.40) with "Against the Grain." With wooden hand percussion, marimbas and xylophones along the front, the group gave no doubt about the concept. The ensemble created almost any wood sound imaginable. Cellos and a violin were utilized, in addition to a bowed saw, which isn't wood but cuts wood. The only thing not wooden with this performance was the high level of musicianship.
After winning PSA Semi-Finals, Plainfield HS (Ind.) (6th- 89.40) performed out of order in the PSCO Finals at Nutter Center so they could get to UD Arena to make their marching performance. "Fall" has the same title and costumes as the marching show, but different music. Suspended cymbal rolls in the opening gave a sensation of October winds. A hot toe-tapping swing version of 'Autumn Leaves' led into 'Jingle Bells' as fall gave way to winter.
In addition to percussion, New Philadelphia HS (Ohio) (7th- 88.45) had a flute soloist, oboe soloist, and vocalist in "A Prayer for Peace." Narration described the show as a prayer for "a world in turmoil." Lyrical woodwind work over top of the mallets was hauntingly beautiful. The arrangements allowed the players to pull all the passion out of the music. Handbells and chimes provided nice tonal colors in a thoughtful and emotional program.
Goshen HS (Ind.) (8th- 86.60) started "Bad Juju" with soft mysterious marimba work, then picked up the pace using a multitude of hand percussion. The music had a jungle quality at times, but the steady, driving 6/8 feel that followed was hypnotic. The mallet players had ample opportunities to show their talents with fast passages traded off between players leading to a frantic conclusion where everyone was vigorously pounding everything.
With signs of "Warning" and "Quarantine" draped over the keyboards, Wayne Memorial HS (Mich.) (9th- 84.70) presented a dystopian future with "Survivors of the New World," based on Dvorak's 'New World Symphony.' The remnant of humanity was forced to band together after a disaster. Photos of loved ones who didn't make it were shown during a slow movement, but the unit had hope, declaring they would thrive in the new world.
PSCA
Decatur Central HS (Ind.) (Gold Medal- 92.30) softly opened "Down the Line" with Pachelbel's 'Canon' as the melody passed from player to player. The music moved through a variety of styles and tempos, pausing for a few musical moments mid-show. When the pace quickened, the kids doubled up on marimbas and xylophones, as players on the higher notes traded places with players on lower notes each phrase. An upbeat, rock version of 'Canon' with fast runs the closed the show.
West Ranch HS (Calif.) (Gold Medal- 92.30) began "The Soldiers of Aquarius" with a voiceover speech about an age of peace and freedom in jeopardy of being lost. The 1960s hit song was the basis for the show, beginning with a slow arrangement. As the words rose in tone and urgency, the tempo quickened with rapid keyboard runs set to a driving rock beat. Sounds of marching soldiers were heard underneath the texture as the program closed recognizing those who fought for peace.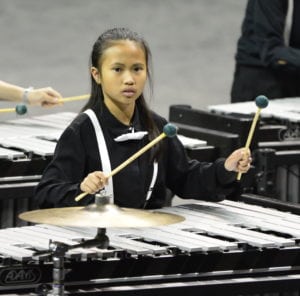 St. Genevieve HS (Calif.) (Bronze Medal- 89.35) started "Build" delicately, but within in moments picked up the pace with the aid of an outstanding set player. The performance alternated between tender soft passages and more assertive segments. A lyrical ballad movement allowed a talented marimba soloist to demonstrate his musicianship with nice rubato playing. The closer went into a driving 6/8 feel, showing the group's mastery of multiple musical styles.
Wearing black outfits with colored symbols for fire (red), water (blue), air (white), and earth (green) on the fronts, East Lincoln HS (N.C.) (4th- 88.60) performed "New Earth." The ensemble impressed in the opener with fast unison triplet runs which had a nice use of dynamic shading in the phrases. The middle movement allowed the music to breathe with fluid tempo changes, before accelerating into a fast 3/4 meter in the upbeat, dance-like finale.
Salem HS (Mass.) (5th- 86.20) opened at a brisk tempo like a comet speeding through space in "The Cosmos." Snippets of 'Twinkle, Twinkle, Little Star' in a minor mode wafted into our ears. With moments of tranquility combined with segments of frantic aggression, we were treated to a musical journey encompassing the full beauty and power of the universe set to a score that would have been fitting for a 3-D surround sound IMAX film.
Scottsburg HS (Ind.) (6th- 85.10) brought the magic of Paris to the arena with"Ville de Lumiere." With a flat showing the Eiffel Tower, and the glow of streetlamp props, we felt as if we were sauntering through French streets. Debussy's 'Clair de Lune' opened the program with utmost sensitivity, before moving into 'La Vie En Rose' with a tasteful accordion sound. The group concluded with St. Saen's grandiose 'Organ Symphony.'