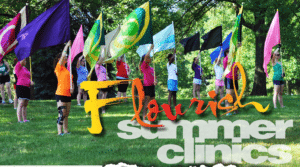 FJM Summer Clinics offer an all-inclusive curriculum for marching and performing units. You can send members of your band and auxiliary units to the same clinic, building pride and unity within your group.
Differentiated instruction helps develop strong fundamental skills in each curriculum offered to students of all levels and backgrounds. The curriculum is designed and developed by a team of active career educators, musicians, and performers to provide the most up-to-date, extensive, educationally sound, and engaging experience for drum majors, section and squad leaders, marching band musicians, color guard, dance team, majorettes, and baton twirling students. FJM offers a non-competitive atmosphere where students are given the opportunity to perform, grow, learn, experiment, and develop in a safe, nurturing environment. World class staff brings experience, skill, extensive pedagogy training, and professionalism to the program, allowing your students to interact and learn with quality role models in the pageantry arts.
With FJM's high-energy, positive approach to instruction, your students will further their knowledge, develop their skills, and exude confidence in their abilities.
Want to learn more? Visit fjminc.com today!