From a FREE Players Drum Corps Press Release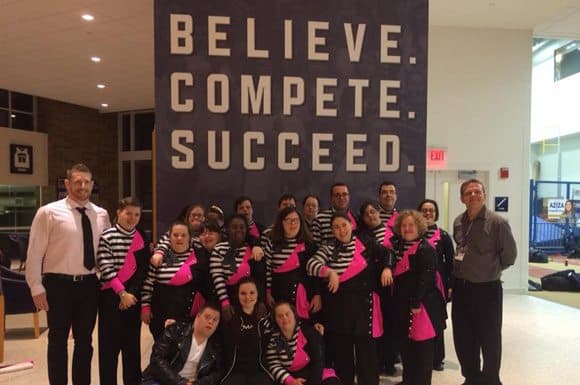 The FREE Players Drum Corps was founded in 2010 and is one of the very first Special Needs Drum Corps to exist in the world. The Corps is part of Family Residences and Essential Enterprises, Inc. (FREE) Theatre Arts Day Program, located in Old Bethpage NY.
The Corps has over 65 members, ages 20 to 50 plus, comprised of a Drumline, Front Ensemble (Pit), Color Guard and a Drum Major. All the members of the Corps have intellectual and physical disabilities. The purpose of the Corps is to focus on the member's talents and abilities, not their disabilities. The Corps hopes to inspire and show that anything is possible with heart, hard work and the desire to push oneself beyond any previously conceived limitations. With each performance they strive to alleviate prejudice, breakdown boundaries and demonstrate that anyone can communicate through music.
Since their inception in 2010 they have made history on several occasions by traveling across the country to perform at world class events, most notably the WGI Percussion World Championships, DCI Eastern Classic, USBands NY State Championships, Walt Disney World and the NYC Columbus Day Parade. They are also scheduled to perform in exhibition at the 2018 DCI World Championships, as well as compete in Soundsport and DrumLine Battle during DCI Finals week.
The FREE Players Drum Corps has built an international fan base that spans six continents. This past May a video of their 2014 WGI Percussion World Championships performance went viral, receiving over 2.3 million views and over 50 thousand shares in just a few days. Next year the Corps is scheduled bring their Percussion and Color Guard to perform in exhibition at 3 different WGI events.
The FREE Players Color Guard will perform their 2017 program "OUR DREAMS ARE LIMITLESS" in exhibition Friday 4/7 and Saturday 4/8 at the University of Dayton Arena, in Dayton OH. The Guard will also be appearing in exhibition at the WGI Color Guard East Power Regional on Saturday 3/18 at the MAC in Monmouth University, in West Long Branch NJ.
FREE Players Drum Corps WGI 2017 Promo
"Our Winter Guard is thrilled to perform next year at the WGI Color Guard World Championships The two greatest moments in our Corps history was our exhibition performances at the 2014 and 2016, Percussion World Championships. This will be our Guards 1st performance ever during Color Guard weekend. It is a huge honor for our Guard to share their love for this activity at WGI's 40th Anniversary. Our new Color Guard Caption Head "Ciara Bradley" has helped our Guard reach new heights. Because of Ciara's efforts our entire Guard is now spinning flags, rifles and sabers better then ever before. It's really amazing how many new techniques and tosses she has taught the Guard in less than a year. We can't wait to show WGI audiences how much we have grown!! We are truly humbled to share the stage with some of the best groups in the world. Our Guard idolizes and looks up to so many world class guards competing that weekend. Never have our members felt more appreciated, respected, included, accepted and treated with equality, then when we perform at world class marching arts events, like WGI" said Brian Calhoun, FREE Players Drum Corps Founder & Director.
Additionally, The FREE Players Drumline & Front Ensemble (Pit) will perform their 2017 program "ARCADE" in exhibition Saturday 3/25 at the WGI Percussion East Power Regional at the Pine Belt Arena in Toms River NJ.
If you would like to find out more information about the FREE Players Drum Corps please visit them on social media!
Facebook: http://www.facebook.com/freeplayersdrumcorps Instagram and Twitter: @FREEDrumCorps