By: Madison Johnson
Friendswood HS performed its 2022 program, "The Girl with the Weight of the World in her Hands," at WGI this past year. It was unique because so much of the equipment program relied on a single performer. The soloist in white remained the show's focus throughout the program and never left the small blue tarp in the center of the arena floor. Stephanie Chavez, director of Friendswood HS, shares insight into the technical program of a show with so many vertical moments, the staging obstacles of having a circular floor with many props, and the detail that led to the creation of their 2022 show.
---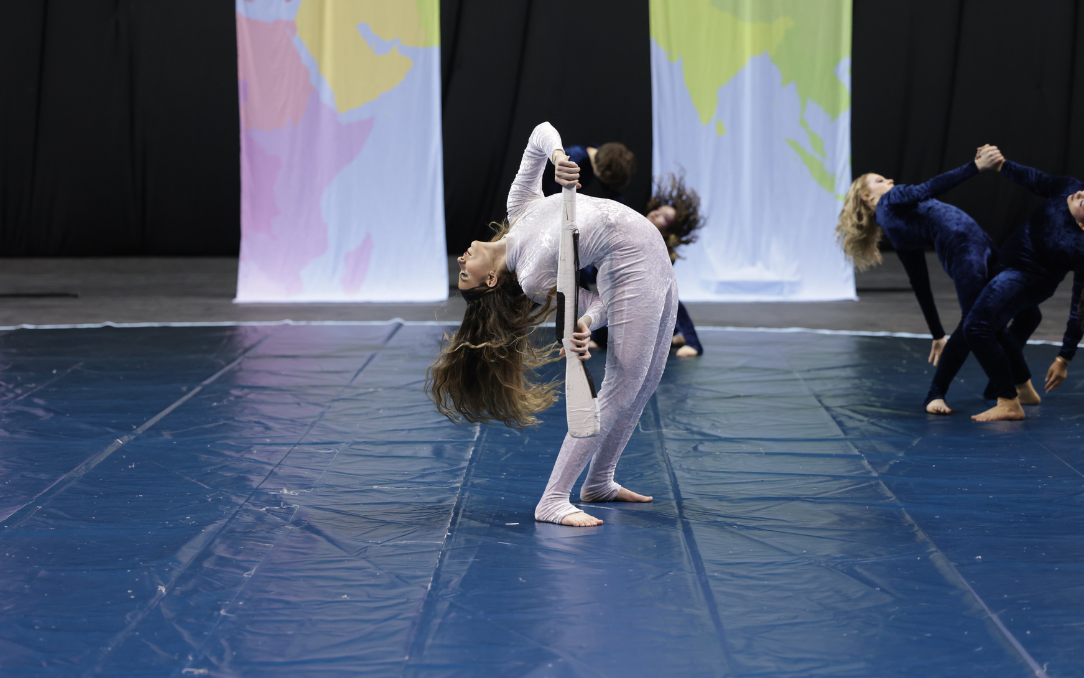 ---
Technique and Training
2022 was a relatively young group of students with only thirteen members. A "relatively small number for a Texas group," Stephanie notes. It was a 'rebirth' for the group after two years of Covid. Not only was Friendswood training new weapons, but they were also training members new to color guard.
That training begins in the fall Marching Band season. They started with throwing ensemble doubles and triples to get those students to push to throw quads and fives. Additionally, Texas has an eight-hour rule which limits students to eight hours of after-school rehearsals per week.
"We have to be creative with how we balance technique into our rehearsals," Stephanie explains. "We get into a solid training routine from fall through winter. On average, we spend fifteen to thirty minutes on technique with a focus on releases. Once we get further into the winter season, we'll take the choreography into the release and work that into our technique blocks. This trains not just the separation of tossing but also how students are getting into a toss."
Stephanie emphasizes a mindset of consistency and repetition that she instills in students' thought processes, rehearsal mentality, and values. Because of rehearsal time constraints, it is vital to find a balance of both consistency and repetition. "We spend a lot of time isolating the performers' focus on what their body looks like," Stephanie says.
"We spend a lot of time doing movement only or body runs. The separation of their hands versus what their bodies are doing end up marrying each other long term, and we can find a balance of both." Stephanie explains that this mindset, along with taking phrases onto tosses, helps students focus not exclusively on their body quality or hands but both simultaneously.
Stephanie reflects that because 2022 had such a young group of students, it was challenging to begin building consistency in their hands. "We had to focus on how they understood the rotations of the weapon or how they would understand the flag in relation to their body," she explains. "We had to find pockets of that to really build that consistency for those young students, and that is where they had the most growth."
---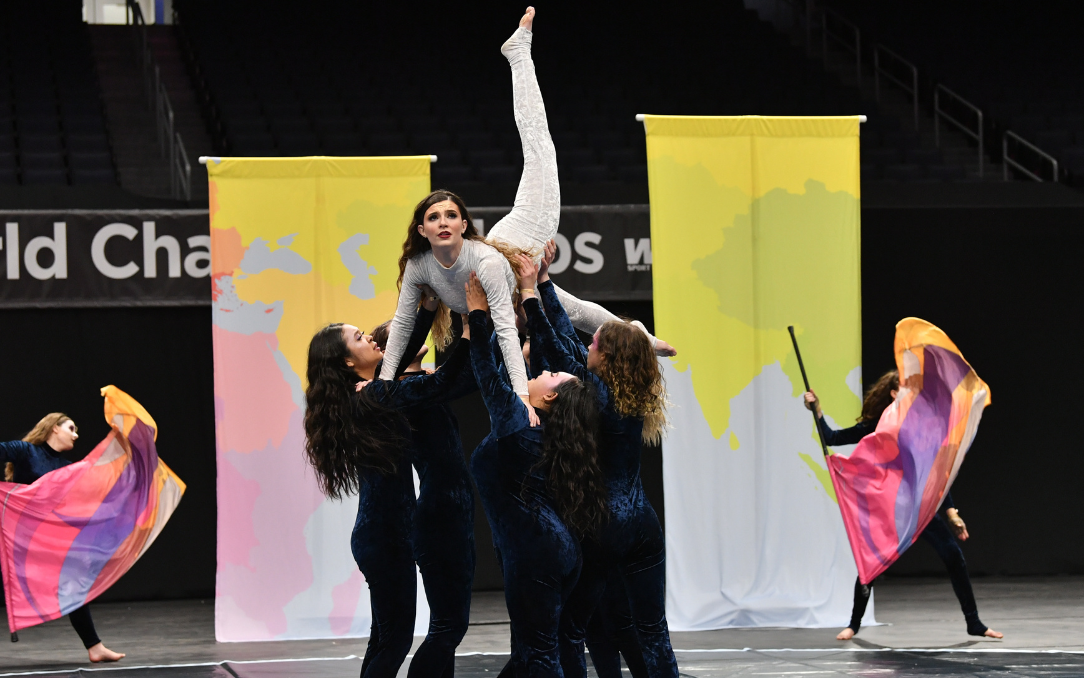 ---
2022 Production
Initially, the Friendswood HS 2022 show began with a good song. "A Girl with the Weight of the Word in Her Hands" was a song that Stephanie and her team had wanted to use for a while. Stephanie explains, "We knew we had some students that year that we could highlight, and it evolved into the production it was by the end of the season. Not just for our students, but generally, it reflected the student's resilience over the last two years due to Covid. In its own way, it allowed them to tap into that strength from themselves and the people they are surrounded by."
Maintaining Focus
When deciding to stage the show around a circular floor, Stephanie mentions they "considered how we could make the students feel powerful and impactful in a big arena." How could they take thirteen students and fill up that space? They ended up drawing inspiration from an image of a 3D swirl. This created the idea of a circular floor with a curtain backdrop behind it. "It gave us a motif to work with," Stephanie says. "The designers we work with are great about giving us creative room to choreograph. I could write with the design motifs and lyrics in mind when writing those circular movements and then manipulate that choreography to the circular staging."
Stephanie praises the designers at Friendswood HS for creating opportunities to "find balance and highlight the student in white" when they needed to but also highlighting the ensemble and other voices throughout the overall program.
---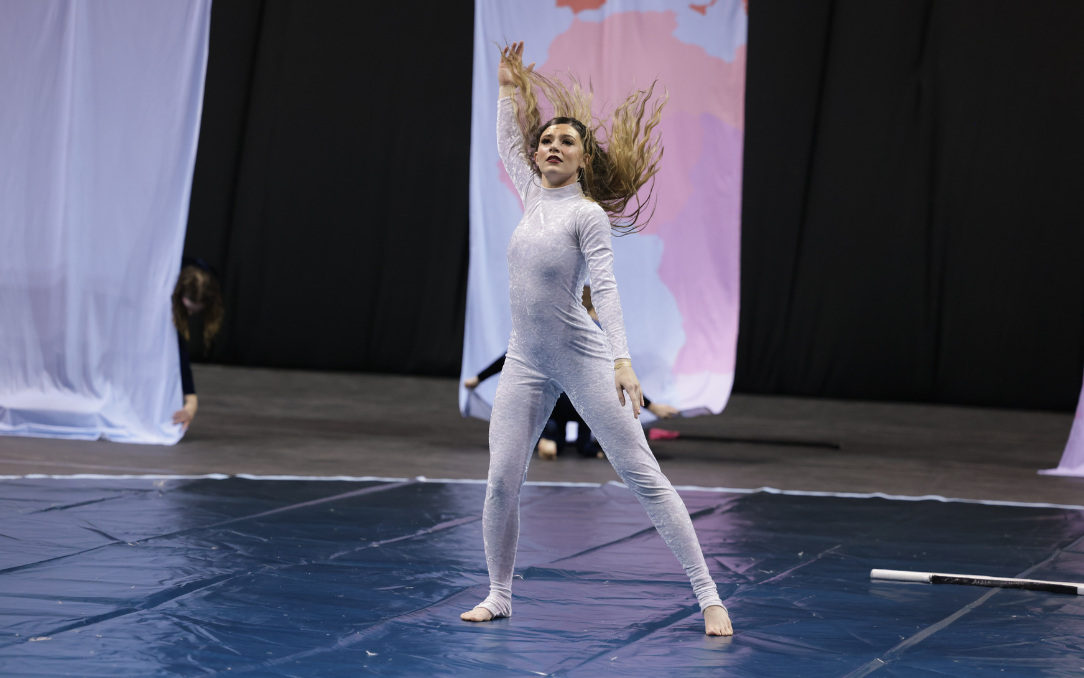 ---
"The staff dynamic really comes into play for that. We've worked together for many years, and Chad has such a good design eye. Together with Jack, they're so good at creating stages on the floor, which allows me, as a choreographer, to produce amazing moments. Getting the audience to focus on the soloist in such a prominent white color while also having those moments of the other performers in darker colors comes down to staging and how we weave the voices of choreography within that. We've found a formula that works for us between Chad, Jack, and myself."
Stephanie notes that "We actually introduced the curtains in stages." Towards the beginning of the season, Friendswood used chairs to mark the location of the curtains on the floor. This helped the students learn how to read the space as the curtains created a different environment than performing on a rectangular floor.
"It was a challenge getting them to understand their responsibilities on the stage and not rely on a standard grid base. So, we started with those chairs to help them understand the environment, eventually introducing the curtain bases and finally including the fabric on the curtains," Stephanie explains. "Adding the curtains changed the entire look of the performance, adding a layering that helped the program in the long term."
Looking Forward
As Stephanie mentioned, 2022 was a year of rebirth for Friendswood. What those 13 students achieved has "set a standard" for them this upcoming year. Stephanie reflects, "Going into 2023, you can already see how those students are helping to instill the same mindset and work ethic in the newer students at Friendswood HS. We look forward to seeing how they evolve into the 2023 season. We are also looking forward to another year at WGI Championships and for these students to experience that feeling again."
---
About the Author:
Madison Johnson graduated from the University of North Carolina at Charlotte with a BA in English Language and Digital Technologies with a concentration in Technical Writing. She currently works as a copywriter for a Software as a Service company in Charlotte, NC. She was a member of Étude Winter guard for five years from 2015-2019.