From a Hit Like a Girl Press Release
Hit Like A Girl is proud to announce the Champions and Winners of the 2019 global contest for female drummers, percussionists and beatmakers. This group of nearly 100 girls and women represent the world's top players and programmers. As Hit Like A Girl award-winners they will receive international exposure and instrument, accessory and media prizes as well as scholarships and performance opportunities valued at more than $75,000.
The 8th annual edition of Hit Like A Girl featured hundreds of entries in five Categories from more than fifty countries, including the United States, Canada, England, Ireland, France, Italy, Germany, the Netherlands, Austria, Switzerland, Cyprus, Czech Republic, Poland, Ukraine, Latvia, Kazakhstan, Kenya, India, Japan, Indonesia, Taiwan, the Philippines, China, Korea, Singapore, Australia, Brazil, Peru, Chile, Mexico and more.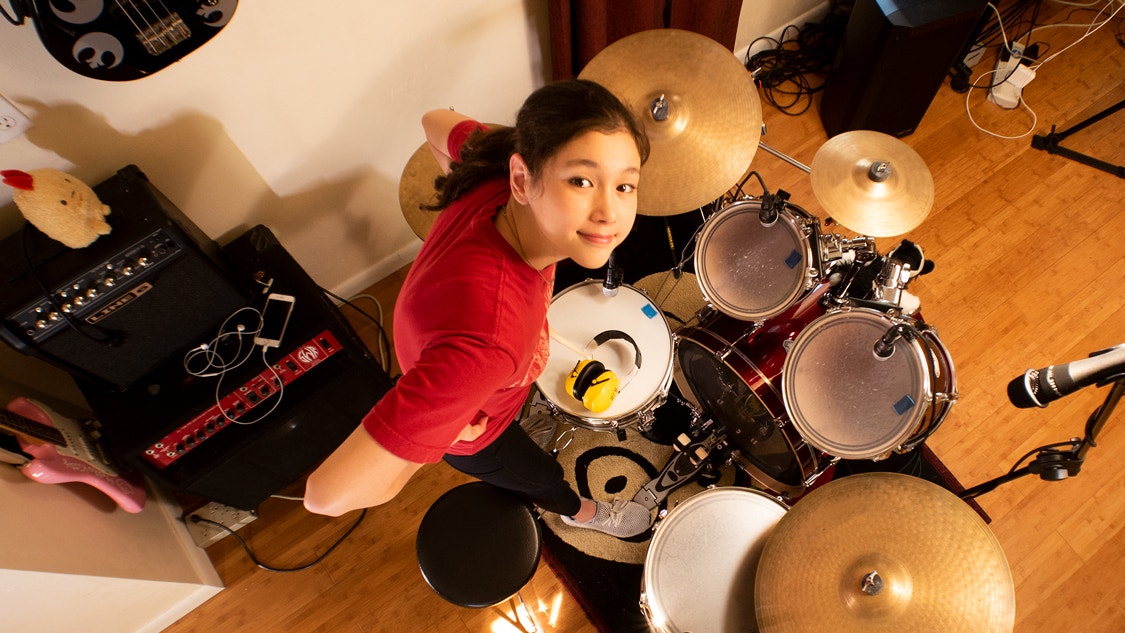 Pictured: HLAG 2019 Drumset & Technology Finalist Gwen Shahboz
In addition to millions of impressions through Hit Like Girl's worldwide print, electronic and social media marketing, the 3-month, online event generated 5,000 comments and 45,000 votes from visitors to the Hit Like A Girl website. Nearly 80 manufacturer, media and educational sponsors and more than 90 professional judges from around the world generously supported and contributed to the contest.
Below is the complete list of 2019 Hit Like A Girl champions and winners. The winning videos along with all 2019 entries can be seen on the Hit Like A Girl contest website at www.hitlikeagirlcontest.com.
HLAG 2019 Contest Champions & Winners
Drumset <13 
Champion       Bunga Ardina Purtri (Indonesia)
2nd Place        Milana (USA)
3rd Place         TangYu-Chiao (Taiwan)
Popular            Matilda Taylor (Australia)
Drumset 13-17
Champion       Kristyna Sibinska (Czech Republic)
2nd Place        Giovanna Takaki Bottai (Brazil)
3rd Place         Stefanie Floriana (Indonesia)
Popular            Monica Kezia Bunga Keinanti (Indonesia)
Drumset 18-39
Champion       Ivanna Cuesta Gonzalez (Dominican Repuiblic)
2nd Place        Amanda Dal (England)
3rd Place         Minji Kim (Korea)
Popular            Jiaqi Wang (China)
Drumset 40+ 
Champion       Penny Larson (USA)
2nd Place        Karen Newell (USA)
3rd Place         Aya Iwata (Japan)
Popular            Rikki Woods (USA)
---
Drumset Japan
<18                  Misaki Nakamichi (Japan)
18+                  Mana Fukuda (Japan)
Drumset Mexico
<18                  Zoe Larios (Mexico)
18+                  Susan Badillo (Mexico)
Drumset France
18+                  Lauréne (France)
Drumset China
<18                  Angela (China)
<18                  Emma (China)
13-17               Larissa (China)
18-39               Vicky (China)
---
Marching Percussion <18
Champion       Tahlia Williamson (USA)
2nd Place        Trinity Forish (USA)
Marching Percussion 18+
Champion       Jamese Moses (UA)
2nd Place        Paige Durr (USA)
3rd Place         Asia M. Henery (USA)
---
Concert Percussion <18
Champion       Gina Moy (USA)
2nd Place        Dagmara Karandys (Poland)
3rd Place         Kalonica Nicx (Indonesia)
Concert Percussion 18+
Champion       Yun-Chen Chou (Taiwan)
2nd Place        Paige Durr (USA)
3rd Place         Hitomi Hosokawa (Japan)
---
Drumset Weekly Winners Week 1
<13                  Sophie Tracy (Ireland)
13-17               Dagmara Karandys (Poland)
18-39               Misaki Nakamichi (Japan)
40+                  Juliana Lopes da Mata Novo (Brazil)
Drumset Weekly Winners Week 2
<13                  Ashlyn Price (Canada)
13-17               Giovanna Takai Bottai (Brazil)
18-39               Camellia Akhamie Kies (USA)
40+                  Jennifer Towns (USA)
Drumset Weekly Winners Week 3
<13                  Tang Yu-Chiao (Taiwan)
13-17               Krystyna Sibinska (Czech Republic)
18-39               Anna Koniotou (Cypress)
40+                  Rikki Woods (USA)
Drumset Weekly Winners Week 4
<13                  Milana (USA)
13-17               Stefanie Floriana (Indonesia)
18-39               Roni Kaspi (Israel)
40+                  Rasila Queen (USA)
Drumset Weekly Winners Week 5
<13                  Ho Yen-Hsuan (Taiwan)
13-17               Yuuka Aoki (Japan)
18-39               Amanda Dal (England)
40+                  Karen Newell (USA)
Drumset Weekly Winners Week 6
<13                  Mana Fukuda (Japan)
13-17               Luana Brazzan (Peru)
18-39               Ivanna Cuesta Gonzalez (Dominican Republic)
40+                  Penny Larson (USA
Drumset Japan
<18                  Misaki Nakamichi (Japan)
18+                  Mana Fukuda (Japan)
---
World Percussion <18
Champion       Hina Nishide (Japan)
2nd Place        Luana Brazzan (Peru)
3rd Place         Kimmy Moore (USA)
World Percussion 18+
Champion       Roni Bat-Or Parnass (Israel)
2nd Place        Daliz Marie (Puerto Rico)
3rd Place         Camellia Akhamie Kies (USA)
---
Technology <18
Champion       Raylinne Garcia (USA)
2nd Place        Ellie Johnson (USA)
3rd Place         Abbie Schneider (USA)
Technology 18+
Champion       Aletta Dina (UK)
2nd Place        Sophea Sim (Canada)
3rd Place         Jessica Muñiz Collado (USA)
ROLI               Bash Saaid (Denmark)
Berklee "Aspire"                    Isabella Lamberti (USA)
Drumeo "Debut"                    Minji Kim (Korea)
GirlsMarch                            Trinity Forish (USA)
Musician's Institute                Elise Luna Burcham (USA)
Musician's Institute                Leilani Torres (USA)
PAS Showcase                        To Be Determined
Sam Ash #1 (TDWR)             Camellia Akhamie Kies (USA)
Sam Ash #2 (TDWR)             Giovanna Takaki Bottai (Brazil)
Sam Ash #3 (TDWR)             Siddhi Rahul Shah (India)
School of Rock                       Matilda Taylor (Australia)
The Sessions "Joe Hibbs"       Ania Tkaczyk (Poland)
Sweetwater Gearfest               Peiying Li (China)