From an Insignia Performing Arts Concepts Press Release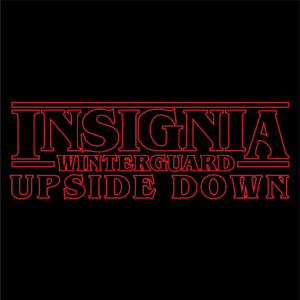 Insignia Performing Arts Concepts is proud to present our 2018 program, "Upside Down." Inspired by the Netfilx Original series Stranger Things; Insignia will cause the audience to question their sense of direction by turning UD Arena on its head.
Insignia is under the direction of Arthur Grossman Juhl and Ronald Wilson, and assisted by Molly Owen, Ashley Tran, Frankie Garza, Britney Tawater, Seth Pearson, Manny Silverya, Caleb Hunter, Beckey McQuillan, Gyneen Boudreaux, and Mary Holstein.
Insignia will compete locally within the North Texas Color Guard Association and nationally at the WGI Dallas Regional, WGI Southwestern Power Regional, and WGI World Championships in the Independent Open Class.
We are thrilled to be returning to the floor for the first time in over a decade.