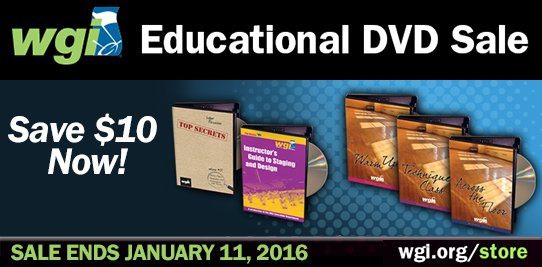 WGI educational videos offer the most current techniques to help you develop an impressive indoor color guard and percussion ensemble. A range of title are available to fit the needs of your students.Get your copies today!

Toss DVD
Join seven of the top equipment designers and technicians as they teach you everything you want to know about tosses! These experts will cover all 3 pieces of equipment from the basics of the beginning toss to more challenging tosses, tosses while moving, tosses layered on body, and tosses within longer phrases. This is a "lesson of a lifetime" from some of the greatest.
Flag FUNdamentals

This DVD features Rosie Miller from The Pride of Cincinnati. Train your student with the most current techniques. This 75 minute DVD is easy to follow, detailed, and guaranteed to set you on the road to success. Individual chapter markers make it easy to pick back up where you left off.
Rifle FUNdamentals

This DVD features Andy Toth of The Cavaliers Drum and Bugle Corps. This 75 minute DVD brings you everything you need to prepare an impressive and capable rifle line. This comprehensive training program takes the students from the most basic moves and positions through exercises that build a champion. Learn to identify problems, make corrections, and guide you students to success.
Sabre FUNdamentals

This DVD features Carol Abohatab of the San Jose Raiders. Have fun while you learn to spin sabre. You will learn the technique to spin and toss, as well as learn exercises designed to increase you wrist flexibility for a greater range of opportunities with this piece of equipment. Ultimately, the notion of adding body to your fundamentals is introduced.
Instructor's Guide to Staging and Design

An introduction to the world of possibilities is offered through different staging options. DVD graphics combined with live performances illustrate the range of choices that can be made in staging. Issues of focus, ascetics of motion and proper spacing are discussed.
Intermediate Body and Equipment

This DVD features Michael Turner, a WGI judge. The DVD is a step by step demonstration about combining equipment with body, dance, and motion. Discover the skills required to have a successful color guard, with body and equipment combinations that are explored in this DVD.
A Guide to Expressive Efforts and Equipment Principles

This DVD features T.J. Doucette of the Blue Devils. The DVD gives a precise demonstration of the foundation for solid equipment technique. Explore the world of expressive qualities and the range of effort changes available to the writer.
Equipment – The Next Step

This DVD features Jim Mahoney, a WGI instructor and judge. The intermediate world of equipment technique is explored on this DVD. Such skills as wraps, rolls, pitch variation, taking the body off center, and variations on standard tosses are explored. By integrating these skills into your program, you will heighten the level of vocabulary within your program.
Advanced Body and Equipment

This DVD features Scott Chandler of James Logan High School and the Blue Devils Drum and Bugle Corps. Discover new and innovative equipment techniques, learn about phrase sharing, and apply how the body can manipulate the equipment in the exciting DVD. The synergy between body and equipment is explored, as well as the choice of styles available to the writer.
Creating Effect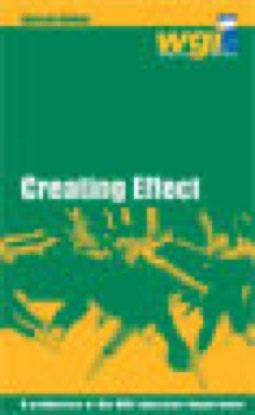 Basic design concepts are explored in this DVD to illustrate the notion of effect. This tutorial helps you develop an understanding of what makes a program appealing and entertaining through the tools of design and performance.
The Language of Visual Design

A great tool to accompany the Instructor's Guide to Staging and Design DVD, this DVD specifically informs the designer about all aspects of design. Learn about line, shape, weight, and texture and how they can be applied to staging, body, and equipment. This DVD can help you understand how all of these design elements combine can create a total package.


Warm Up DVD
Let's start at the very beginning. Warm Up focuses on strengthening the core and extremities, and improves stretching and lengthening with dynamic alignment. This DVD demonstrates the conncections between the breath, organs, muscles, and feelings to prepare you to move with an awareness and quality which dancers use everyday. Warm Up is the first DVD in a three part movement series featuring Carol Abohatab, choreographer for the Santa Clara Vanguard World Guard and modern dance teacher for more than 20 years.

Technique Class DVD
Every dance skill must be supported with technique. Follow along with this standing center class, and work through your spine, legs, and feet. Work on pliés, tendus, degagés, ronde de jambs, leg swings, developpé, pirouettes, jumps, hinges, and more! Technique Class is the second DVD in a three part movement series featuring Carol Abohatab, choreographer for the Santa Clara Vanguard World Guard and a modern dance teacher for more than 20 years

Across the Floor DVD
This DVD will teach you everything you need to know about methods of travel, getting in and out of the ground, turns, leaps, and jumps! From start to finish, your students will learn how to move with more understanding and confidence. Across the Floor is the third DVD in a three part movement series featuring Carol Abohatab, choreographer for the Santa Clara Vanguard World Guard and a modern dance teacher for more than 20 years