From a Lexis Winter Guard Press Release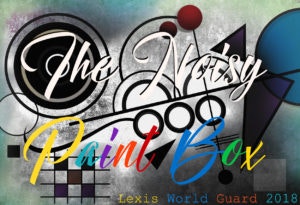 Lexis Winter Guard, from Lexington, Kentucky, is pleased to announce our 2018 production: "The Noisy Paint Box," featuring the music of Eighth Blackbird.
Lexis is under the executive direction of Rocky Binder with assistance from Robbie Arnold, Shannon Clark, and Dana Arnold. Show design, costuming, and artistic direction by Byron Valentine; staging design by Leon May. Additional designers include Robbie Arnold, Rocky Binder, Shannon Clark, and Tyler Teran.
Our 2018 choreography and technical staff includes Robbie Arnold, Shannon Clark, Tyler Teran, Jaasiel Wilson, Jennifer House Hinshaw, CJ McCrory, Joshua Lear, Megan Scott, Sean Hall, Elizabeth Glass, and Dana Arnold.
Set design by Scott Winters, Byron Valentine, and Jeff Hurr; soundtrack engineering by Tommy Allen. Flag and uniform construction by FJM, Inc.
The 36 members of Lexis will be performing locally in the TriState Marching Arts Circuit and nationally at WGI Knoxville and WGI Nashville, TN Regionals and the WGI Mid East Power Regional in Cincinnati, OH. Our season will culminate in Dayton at the 2018 WGI World Championships!
Lexis Winter Guard was a 2017 Independent World Class Finalist. We are incredibly excited to begin our 7th season of competition and continue our journey in the World Class. We look forward to sharing the road ahead with you, our supporters.
Please check us out on the web at lexiswinterguard.com and be sure to "like" our Facebook Fan Page and follow us on Instagram!
"… lend your ears to music, open your eyes to painting, and … stop thinking! Just ask yourself whether the work has enabled you to "walk about" into a previously unknown world. If the answer is yes, what more do you want?"
― Wassily Kandinsky