From a Mayflower Press Release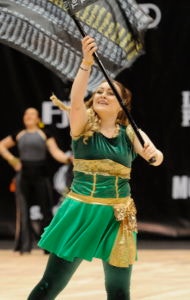 Mayflower announced its plans to return to compete at the 2019 WGI World Championships in Dayton Ohio, in the Independent World class.
Mayflower will once again be a truly international guard with auditions taking place in both the UK and USA (contact details for those interested are below).
Michael Shapiro will continue his long-term relationship with Mayflower and will be designing the show in what will be his 18th season of writing for Mayflower.
Barry Davis, Director of Mayflower, commented, "We are very excited to be returning for our 9th trip to WGI. It's a huge organisational and financial commitment for us that is 3 years in the planning. We will be an active member of our UK circuit and straight after the UK championships we will travel to Dayton and have a week of rehearsals and performances prior to competing in the preliminary competition." He concluded, "After such a fantastic experience in 2016, we cannot wait to return and compete on the world stage."
Mayflower is also excited to further develop their relationship with McCormicks in 2019.
For more information:
UK: Barry Davis – [email protected]
US: Michael Shapiro – [email protected]