From a Music for All press release.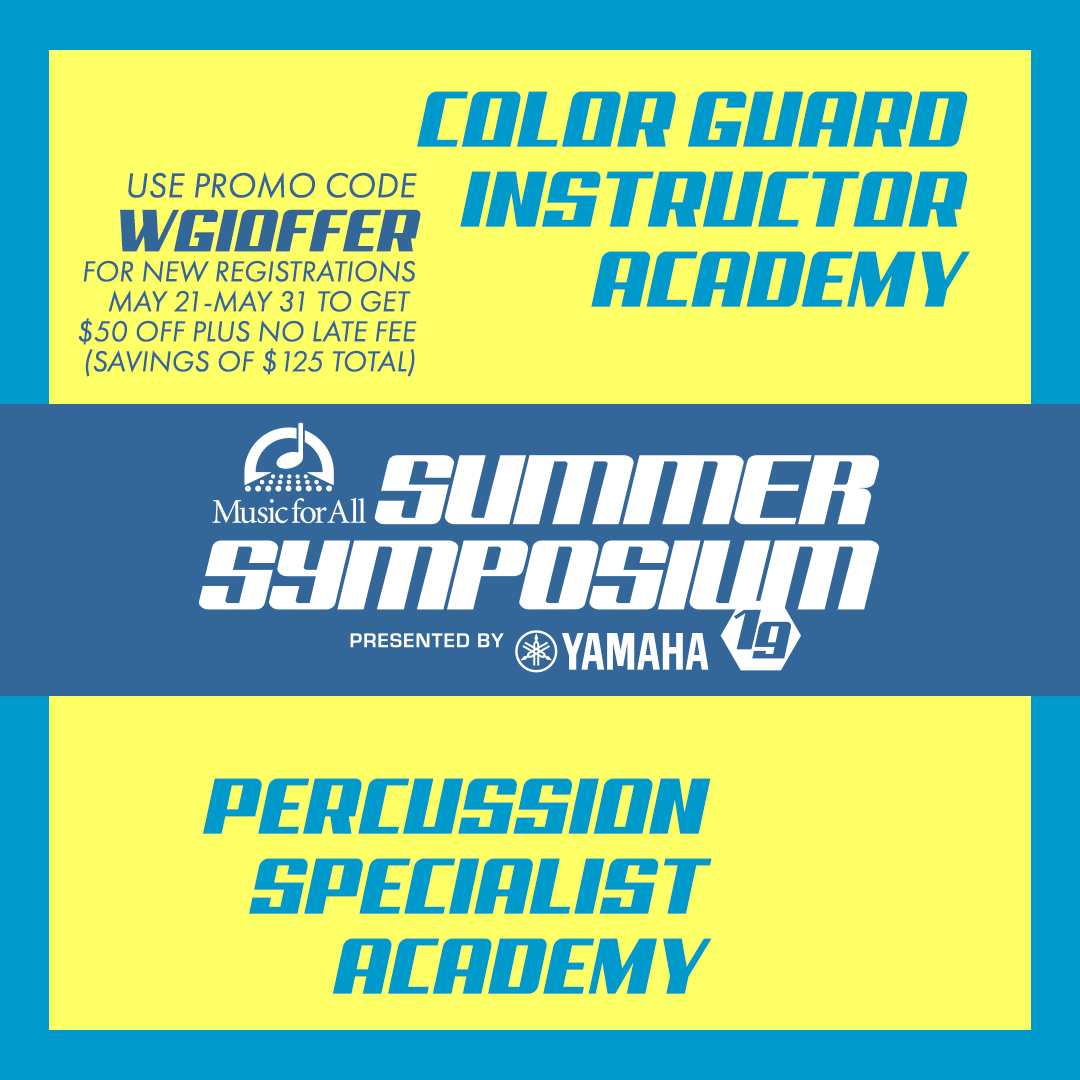 Music for All is proud to be a Strategic Partner of Winter Guard International and to have so many outstanding educators, schools, and students participate in both of our organizations' programs.
Music for All invites color guard and percussion instructors to join us at the Color Guard Instructor Academy and the Percussion Specialist Academy, part of the Music for All Summer Symposium, presented by Yamaha, June 24-29 at Ball State University, Muncie, Indiana.
Use the special discount code WGIOFFER when you register online at camp.musicforall.org/register to get $50 off for new registrations between May 21-May 31, PLUS waiver of the $75 late fee ($125 in savings).
The Percussion Specialist Academy and Color Guard Instructor Academy offer unparalleled professional development for instructors of high school bands, drumlines, and color guards. The Instructor Academies not only connect you with outstanding instructors, but also provides sessions on ethics and administration that will help you navigate your responsibilities for – and become even more valuable to – the groups you teach.
Certificate of Attendance: Music for All will provide a Certificate of Attendance to two-time participants of the Percussion Specialist Academy, certifying that a person has attended two years of the Summer Symposium Instructor Academy.
The Music for All Summer Symposium also includes world-class concerts and events nightly, including Friday night's DCI Central Indiana show featuring the camp's Corps-in-Residence Carolina Crown.
See the DCI show lineup and the summer concert series at camp.musicforall.org/concerts.
PERCUSSION SPECIALIST ACADEMY: W•O•W
What is W•O•W? It's WORLD class immersion in relevant concepts, OWNERSHIP in all aspects of a modern, educational environment and WINNING concepts for the modern percussion specialist and program. Get a head start: Music for All offers tools that will allow you to achieve peak performance personally and for your ensembles. Hone your craft by working with some of the current rock stars of the Marching, Concert Percussion, Drum Set, and Hand Drumming World.
Visit camp.musicforall.org/percussionspecialist to see the faculty and sessions.
COLOR GUARD INSTRUCTOR ACADEMY: S•T•E•P it up!
The Color Guard Instructor Academy continues to grow and expand its curriculum in 2019! The Color Guard Instructor Academy is perfect for Color Guard instructors at all points in their career. From the beginning instructor to the seasoned veteran who likes to stay current, the Color Guard Instructor Academy gives participants the chance to structure their camp experience based on their individual needs.
Classes will be offered to improve skills in spinning and dancing, to help guide design and management, to refine teaching techniques, and to solidify professionalism. New this year will be an increased involvement with veteran designers and judges in the pageantry arts. Learning from a world class faculty, talking with design experts, and sharing with other participants from around the country will not just allow participants to improve their craft, but to also renew their love of the color guard activity.
Visit camp.musicforall.org/colorguardinstructors to see the faculty and sessions.