From a Naugatuck Press Release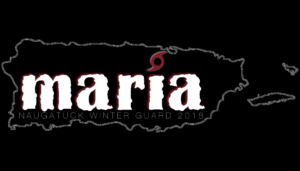 On the morning of September 20th, 2017 the lives of the people of Puerto Rico were forever changed. The Naugatuck Winter Guard will take you on their journey, from anticipation and preparation through ongoing recovery and rebuilding, in our heartwarming and uplifting production of "Maria."
The Naugatuck Winter Guard is under the direction of Tommy Kaplan, with additional staff support from Natalie DeAndrea and Jennie Pelletier. Costume design is by Joe Heininger for A Wish Come True.
The Naugatuck Winter Guard will compete locally with the Musical Arts Conference (in CT and NJ) as well as the WGI South Brunswick Regional.
The Naugatuck Winter Guard would like to thank Band Director Robert Hughes, the Greyhound Band Association, and the Naugatuck Board of Education for their continued support of our program.
For more information about our organization, please visits our website www.naugatuckmarchingband.com.