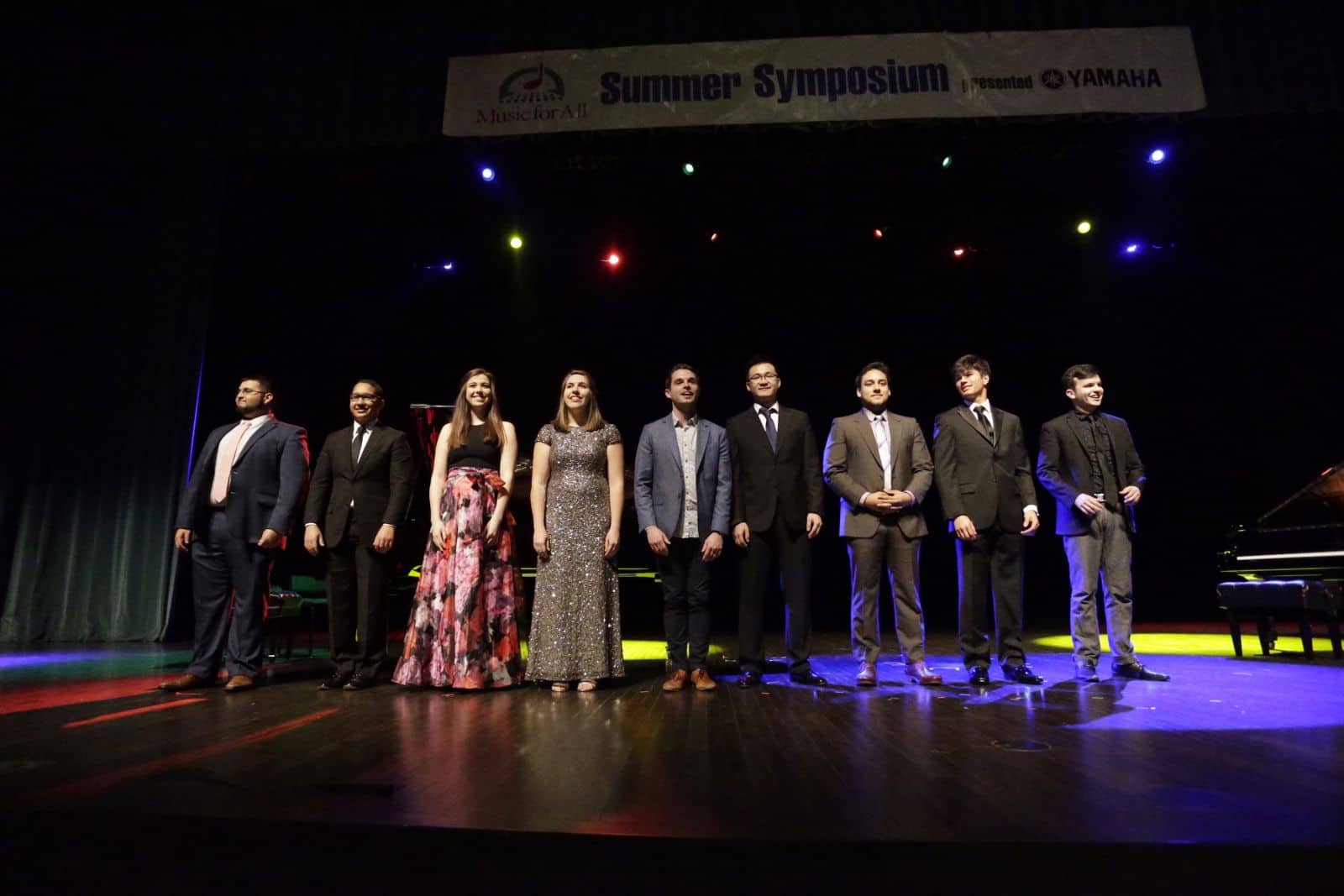 From a Yamaha Press Release
INDIANAPOLIS (July 7, 2017) – Nine winners of the 2017 Yamaha Young Performing Artists competition presented their remarkable talent at the 29th annual Yamaha Young Performing Artists (YYPA) celebration weekend, held June 24 – 27, 2017 at Ball State University in Muncie, Indiana. The YYPA program complements the company's unwavering commitment to music education, recognizing exceptional and emerging musicians in the jazz, classical and contemporary genres.
The 2017 YYPA winners include:
Victor Hernandez Ramirez – flute; Santo Domingo, Dominican Republic
He Zhang – clarinet; Harbin, China
Hannah Hickman – classical saxophone; Sheldon, Iowa
Howard Dietz – jazz saxophone; Morgan Hill, Calif.
Michelle Hembree – French horn; Boise, Idaho
Altin Sencalar – jazz trombone; Temple, Texas
Cameron Leach – concert percussion; Hilliard, Ohio
Stephen Morris – drum set; Aliso Viejo, Calif.
Derek Louie – cello; New York, New York
Nathan Ben-Yehuda – piano; Los Angeles, Calif.
Aspiring young performers submitted applications, which were evaluated by an expert panel of Yamaha Performing Artists and national celebrity musicians. Those selected as winners received an all-expense-paid trip to the YYPA Celebration Weekend, which took place during the Music for All™ Summer Symposium.
The celebration weekend was packed with workshops designed to support personal development and career management. Working closely with Yamaha staff members, the young artists set goals, developed interview skills and had honest and deep conversations about career paths. This all occurred in the midst of preparing the winners to perform the opening evening concert of the Summer Symposium with personal practice time and rehearsals with collaborative pianist Linda Mark and an all-star jazz combo.
The celebration weekend culminated with the annual YYPA Concert, on Monday, June 26th at Emens Auditorium. The winners performed in front of thousands of students and directors, along with featured Yamaha Performing Artist, Jauvon Gilliam, principal timpanist of the National Symphony Orchestra, who gave a special solo performance during the concert.
"Yamaha is committed to fostering and developing young musical talent," says John Wittmann, director of artist relations and education, Yamaha Artist Services Indianapolis. "The YYPA Program allows us to intersect and spend honest, intentional, one-on-one time with remarkable musicians on the cusp of launching their careers. It's incredibly rewarding to witness the overpowering impact made at the celebration weekend."
"What a truly amazing experience [YYPA] was," said Stephen Morris, 2017 drum set winner. "A simple 'thank you' will never sum up the amount of gratitude I have for what Yamaha has done in paying it forward to the next generation of artists. From master classes and workshops, to round table discussions, rehearsals and the concert, it was a blast to hear such inspiring music. I am so thankful for the lessons that I learned."
The 2017 YYPA Winners will also receive many other privileges, including services and support from Yamaha Artist Relations. They join the distinguished company of more than 250 talented musicians who have been recognized since the program's commencement. Many have established successful music careers, both as performers and educators, including Walter Blanding, Jr., saxophonist with Jazz at Lincoln Center; Conrad Jones, principal trumpet of the Indianapolis Symphony Orchestra; Aaron Parks, acclaimed jazz pianist; and Leelanee Sterrett, third horn of the New York Philharmonic.
For instructions on how musicians can apply for the 2018 Yamaha Young Performing Artists Competition, please visit http://4wrd.it/YYPA_2018. For more information about the Yamaha Young Performing Artists Program, please email [email protected] or visit: http://4wrd.it/YYPA.
About Yamaha
Yamaha Corporation of America (YCA) is one of the largest subsidiaries of Yamaha Corporation, Japan and offers a full line of award-winning musical instruments, sound reinforcement, commercial installation and home entertainment products to the U.S. market. Products include: Yamaha acoustic, digital and hybrid pianos, portable keyboards, guitars, acoustic and electronic drums, band and orchestral instruments, marching percussion products, synthesizers, professional digital and analog audio equipment, Steinberg recording products and NEXO commercial audio products, as well as AV receivers, amplifiers, MusicCast wireless multiroom audio systems, Blu-ray/CD players, earphones, headphones, home-theater-in-a-box systems, sound bars and its exclusive line of Digital Sound Projectors. YCA markets innovative, finely crafted technology and entertainment products and musical instruments targeted to the hobbyist, education, worship, music, professional audio installation and consumer markets.