From an Origins Colorguard Press Release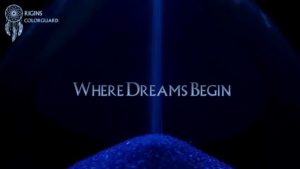 Origins Colorguard, from Austin, Tx, is pleased to announce our 2018 production, "Where Dreams Begin."
Origins Colorguard is under the direction of Christopher McCarthy and Geoffrey Sperling. Show Design and staging by John Lemire.
Our 2018 staff includes Christopher Josey, Cameron Oefinger, Sarah Heath, Kaysey Thompson, Sergio Marquez-Johnson, Chelsea Toner, Justin Sullivan, Emily Plumer, Nicole Younger, Kate Williams, Kyle Albright, Erin Kosman, and Danny Martinez.
Costumed by Creative Costuming, Flags by McCormicks, Floor Design by Jeanette Pritchard Graphic Designs, and soundtrack design by Tommy Allen.
The 26 members of ORIGINS Colorguard will be performing locally in the Texas Colorguard Circuit and nationally at the WGI San Antonio and Austin Regionals, WGI Southwest Power Regional, and the WGI World Championships in Dayton, OH.
Please check us out on the web at www.originscolorguard.org. Be sure to "like" us on facebook or feel free to follow the action on Instagram (Origins_Colorguard) and Snapchat (originsguard).
"Mr. Sandman, bring me a dream…"