By Jeffrey Peterson
Pace HS Percussion's 2022 production titled "The Forgotten Pond" used bright colors in as many places as possible, from props, to costumes, even the floor itself. Sampling music like "Toxic" and "Weird Fishes" led to an awe inspiring show. In an interview with Garret, Jeffrey breaks down the local competitive scene, inquires about the design, and peaks behind the curtain at one of the season's most visually intriguing productions.
---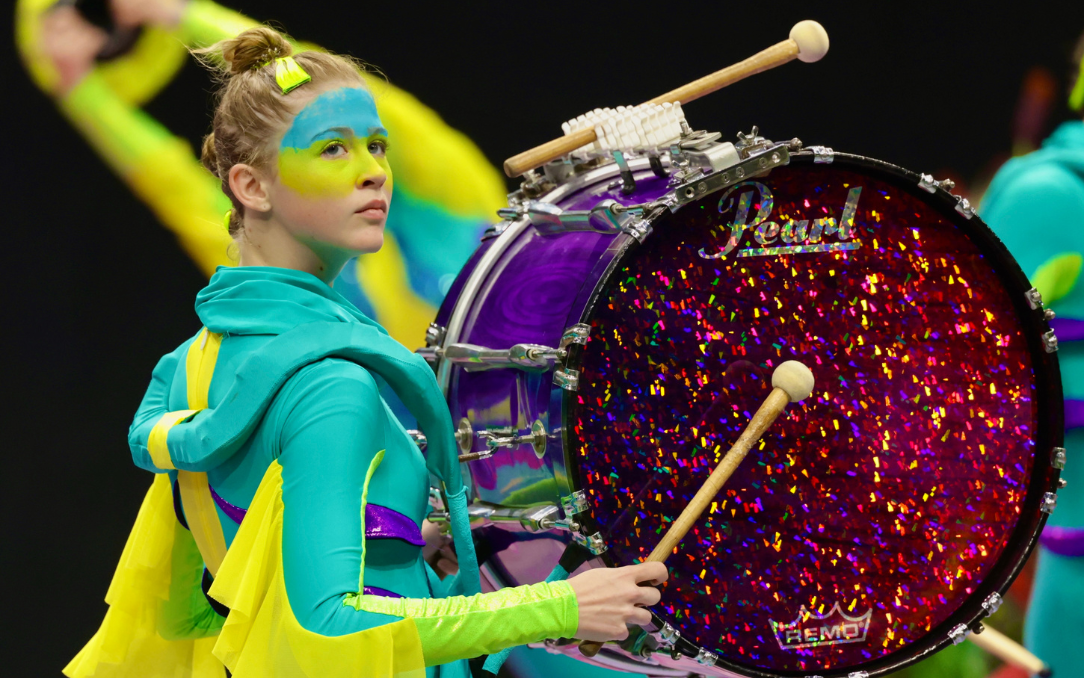 ---
Pace chooses to participate in the Gulf Coast Garden Circuit, which serves them and other Florida groups, as well as Mississippi and Alabama.
Garrett sees his program as a unique opportunity to engage with other Florida schools as well as the surrounding states due to its unique location.
"We have WGI Hattiesburg, which has a good showing of independent groups like MCM, Infinity, and Stryke. Because of our location, even during 2021's virtual season, we had two (local) shows and could still go to Jacksonville, FL. We could engage with other Florida schools we don't usually see because of instate restrictions."
It seems Garrett finds a way to work with any circumstance. When asked how other ensembles affect his group, he still had positive things to say.
"Boston used to audition down here. There was Teal Sound, and we still have Southwind an hour away. Our students see the World Class indoor groups at regionals, so we usually have a few that march MCM. They get some advice from our staff too, like Zack Blessing. This sets up our instate kids to do Infinity if they stay local after graduation. Attending a local college allows them to move into those groups they've already seen."
---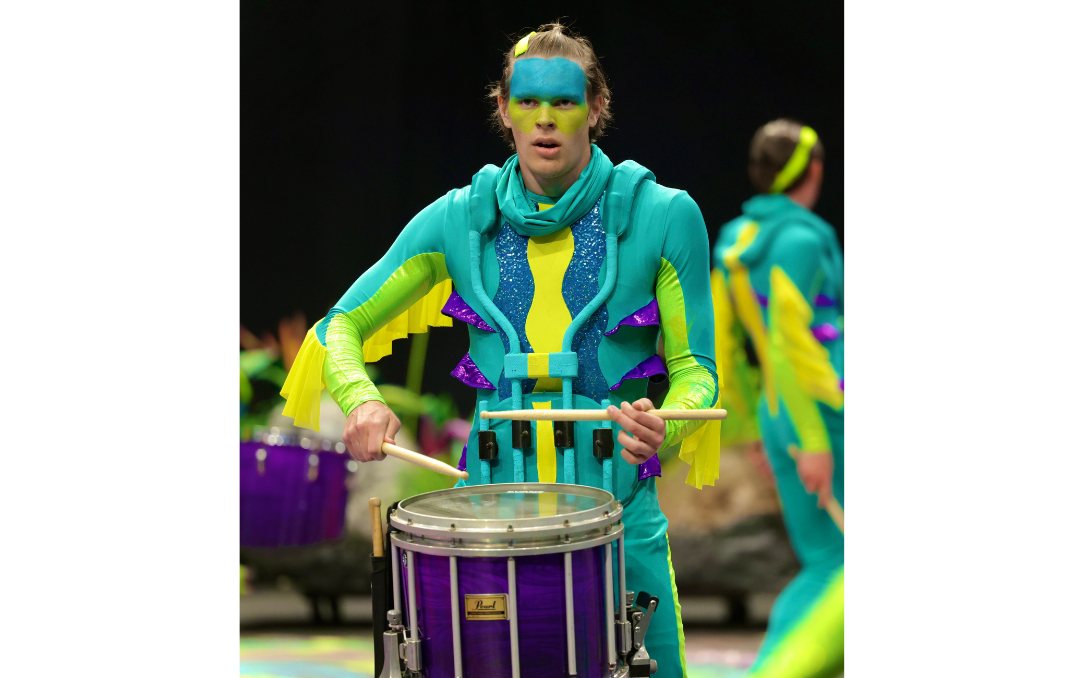 ---
When asked how far out he was planning his shows, he said it ranges.
"Finals week in Dayton, all the way until September. We have a few ideas currently in consideration. We usually approach our design from a visual aspect first. We pick music last and focus on concept and aesthetic first. Then we do a timeline of events that can live within the environment we create. Once we have those visual moments, we develop a soundtrack to match. Typically, we're most successful visually, so we really want to design to our strengths," said Garrett.
What's the inspiration then! I'm curious now.
"The 2022 show was inspired by a painting by Kelsey Behl, a percussionist, Blue Coats, and Rhythm X. I was sitting and looking at the painting with dark greens and blues, basically a swirl art, and I knew there was a show in the painting. To me, the swirls looked like lily pads, so I sent it to our visual designer. We knew we could make it happen. We were lucky enough to have her involved so she designed the floor. We started thinking about visual elements that live in a pond, so we established fish, ambient water, and pond sounds which led to Radiohead and an amphibious character doing body gestures and interacting with pad props. The drainage pipe prop in the background came from just imagining being off to the side of the road, but it was the catalyst for a toxic sludge moment.
Why lily pads though? Why Radiohead?
"Radiohead cover by Smooth McGroove just set a good music aesthetic for us that's not stereotypical water music. It had a laid-back ambience and we were already thinking about using it for another show. It was on the table and fresh. As we create the aesthetic for the pond, our parents that are artists just took the lead on cattails and reeds that could be carved, rocks and stones too. We've been lucky to have several students from the same family. One parent had 3 kids come through in 10 years, so she's been involved and growing with us. They know how to create a professional backdrop, so when we saw that a dock was a little obvious, we settled on a drainage pipe with UV lights.
---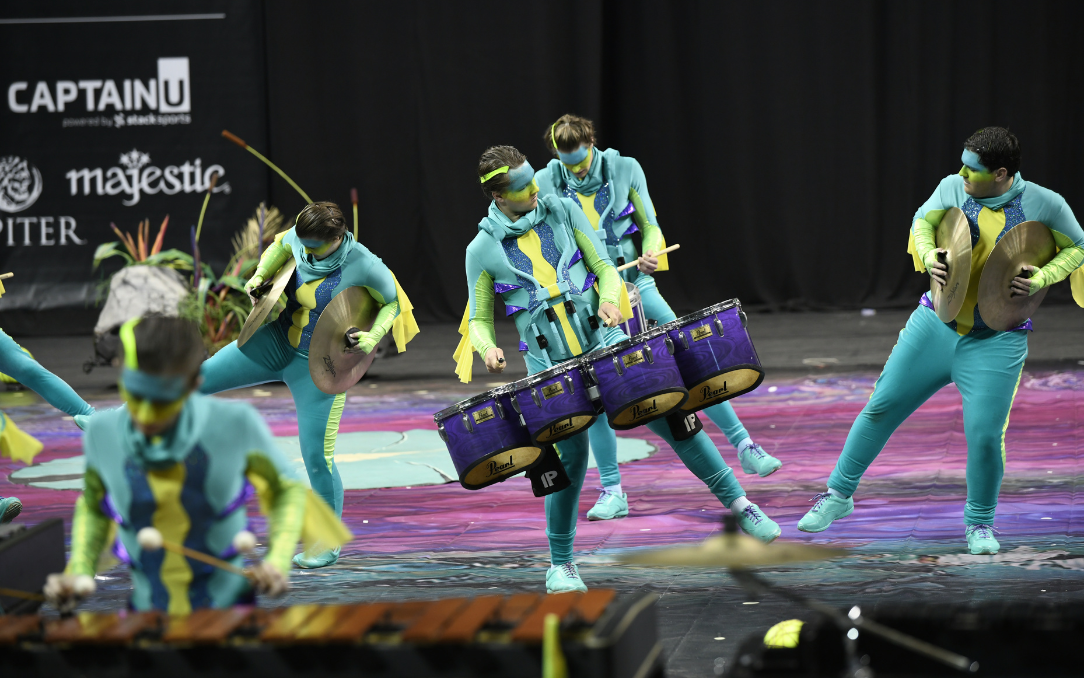 ---
This all sounded like a perfect match, which made me wonder about the other scholastic ensembles in the area. What's the environment like?
"We don't have competition in our class locally, but we've had groups to compete against in the past and that helped us build. We're the only open class group in our circuit, so we don't see anyone until Mississippi and Dayton. We saw one non-Dayton bound group this year, but no one else.
Now I have to know why percussion is so strong in the state, especially considering the distance between ensembles.
"The main part of Florida is strong; a large circuit with multiple shows every weekend. We compete in GCGC and overall, Florida is still growing rapidly, especially thanks to groups like Infinity and Stryke. They produce quality performers and teachers as the same time. Even though we're landlocked, everything is getting more competitive, even marching bands because we're bringing people from the outside. James Sparling, James Coat. Escambia and Chocktahachee are still successful. Shane Gwaltney and Terry Sanders. Tony Lymon at Petal brought his group over. The state is deceiving in terms of distance, but we make it work."
Beyond that solid list, what else inspires you? What show do you all come back to?
"For me, the groups that I go back to are the ones that stood out from my first year of indoor as a designer, 2012, and Victor Andrew HS. Their design is clear and it's something that is attainable. We like what they do and think it's consistently good. Sparkman is another example. They are clear and make sense. We've worked together in different capacities and levels. We have a good working relationship and we've figured out how we function and how we flow even with different personalities and viewpoints."
---
About the Author:
Jeffrey Peterson currently teaches English and music at Fugees Academy and previously taught at the University of West Georgia and Spelman College. He graduated from the University of West Georgia with a BA in English and the MFA program of Sarah Lawrence College in Bronxville, NY, with a degree in Writing. Jeffrey currently directs Q2, a PIO finalist from Atlanta, GA. From 2017-2018, he served as one of their bass techs and previously taught bass for Atlanta Quest in 2011, 2014, and 2015. Jeffrey performed with ALLIANCE DBC from 2005-2008 and 2010-2011, while also serving as Executive Director for the corps in 2015 and 2016.