By Michael Reed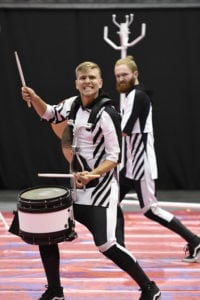 Capturing their 6th Championship, RCC (Calif.) (Gold Medal- 97.863) encouraged us to work for progress with "Listen." Performed to an urban-inspired score with the talents of a jazz trumpet soloist, the sounds were contemporary yet timeless. As the show progressed, modern art paintings were hung on bare walls of a room in the back corner of their floor, representing the progression of art. A poet shared words of inspiration, telling us "the road to the future is off the beaten path, where we take our stand for the dreamers, the achievers, and the visionaries." The show ended as the poet described himself and the line, stating "I am progress. We are progress!"
When the arena lights come on, Rhythm X (Ohio) (Silver Medal- 97.513) comes to play. "All the World's a Stage" featured familiar pop melodies such as 'Fifty Ways to Leave Your Lover,' 'What is Hip,' and a toe-tapping swing movement, making for a production even the novice fan could enjoy. Platforms with drums and mallet instruments were constantly moved, framing the ensemble and creating varied staging opportunities. A fantastic rock guitar soloist was hoisted and played virtuosic runs while carried by the line. The line jammed at the front of the floor at the ending of Buddy Rich's 'Channel One Suite,' earning a massive standing ovation.
In their brief history, Broken City (Calif.) (Bronze Medal- 97.500) has never failed to provide thought-provoking shows which challenge our perceptions. "Fall" continues that tradition. Set on a floor of an abstract autumn tree with yellow and brown leaves, and with tall tripod structures covered in yellow foliage in each corner, the line used voiceover lyrics that could be interpreted as the mental state of falling in and out of love. Long cords pulled from the structures attached to a member, preventing him from falling. The cords were attached to a snare drum and pulled taut at the conclusion, causing it to hang suspended in air.
Pulse Percussion (Calif.) (4th- 96.863) featured an electric string quartet atop four large white boxes in "Guarded." Narration described how people construct walls for protection, but they also serve to hide our weaknesses. Wearing quasi-armor costumes, the line framed the floor with copper coat racks. After asking "what will it teak to break through these walls?," the boxes moved to form stages which highlighted sections and soloists. The group became more vulnerable by removing the outer armor to hang it on the coat racks, and showed their inner strength during the climactic final minutes with a furious display of drumming.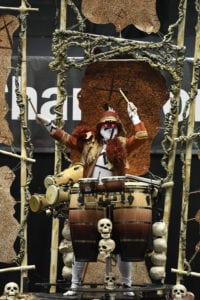 Don't turn your back on Music City Mystique (Tenn.) (5th- 94.825)! "Disciples," performed on a set with skins hanging on wooden frames and numerous candles, began when a witch doctor ripped the skin off a member's back. The costumes had bits of flesh dangling and large red areas on the backs as if they were partially-skinned zombies. Black-clad specters with glowing red eyes followed the shaman's every whim, while the battery idolized the shaman. After the frames turned showing the red underside of the skins, the battery also had glowing red eyes, as the malevolent leader dismissed the dark specters with a wave of the hand.
Infinity (Fla.) (6th- 93.963) took us to a subconscious wonderland in "Dreamscape." A girl on a bed lay down to sleep in front of blue/grey flats showing her room and the starry sky above. Members of the battery came out to strains of 'Sweet Dreams (Are Made of This),' and one peeked at the book she was reading. She arose and began her REM escapade. Ramps and staircases provided sensations of flight. Several members leapt and fell backwards off the structures into waiting arms, but the girl was afraid and wouldn't do it. Ultimately, she did fall backwards off a staircase when the drums surrounded her, and awoke with a start.
Beginning with a low rumble from the pit culminating with a virtuosic timpani solo, and with battery and pit covered under sheer black fabric, United Percussion (N.J.) (7th- 93.138) presented "The Last Days of Night." The sheer fabric became screens segmenting the floor, changing the visual texture. Long illuminated poles with pulsing yellow light were incorporated, giving even more variety for the eyes. In the finale, a large incandescent light bulb atop a pole illuminated, with the rest of the poles following suit. The end result was an innovative visual look combined with wonderful drumming to make for a brilliant performance.
Is our society drowning in information overload? The answer is yes, according to Matrix (Ohio) (8th- 92.238) with "White Noise." Set on a white floor with grey binary code 0's and 1's with matching hexagonal stages which framed pods of keyboards, the players wore multicolored outfits while a visual troupe was clad in white. As banks of video monitors showed fuzzy clips from current events, the color slowly was lost. Eventually, the entire line wore white with binary code numbers, becoming overwhelmed as streams of data became waves, except for one member wearing color struggling to stay above the rising digital tide.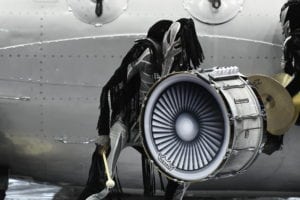 If you fly STRYKE AIR, beware! STRYKE Percussion (Fla.) (9th- 91.025) performed on a set of dark clouds with lightning and matching flats. "Nightmare at 30000 Feet" was a retelling of the classic Twilight Zone episode. Every person's face was painted grey to give the feel of watching a black and white TV show. A Rod Serling character walked out to describe the setting as scary ghoulish creatures jumped on the wings of a large, realistic looking jet. Only one man could see the creatures and vociferously tried to get the crew to believe him. After the plane made an unscheduled emergency landing, he was led away wearing a straitjacket.
Monarch Independent (Texas) (10th- 90.575) sought wisdom from ancient texts in "Manga." In front of a long row of book cases stood three large books with mysterious symbols on the covers. Out of each emerged figures representing the accumulated wisdom, one per movement. The first was like parched earth, the next like flowing water, and the third like blazing fire. A fourth figure blew in like the wind, dancing among the line as blue fabric banners were pulled from the other books. Eventually, all four characters came together as the line found the knowledge they sought.
POW Percussion (Calif.) (11th- 90.475) showed us "The Fate of Kings." One ruler was deposed and another took his place at the start. With a dramatic score worthy of an epic motion picture, the show never failed to keep us on the edge of our seats. The king bullied his subjects, putting several in chains, and mistreated a woman when he became jealous that she liked another. The people rebelled and overthrew him. Chaos ensued while several vied to become the new king. Ultimately, none of them did. A lady slew the last man standing and became queen.
The synapses were firing for George Mason University (Va.) (12th- 90.363) with "The Memory Archive." Set on a dark floor with green neural pathways and mobile pedestals, the line explored the area of our brains where memories are stored. A large structure in the back corner had a massive orb which lit up when the narrator shared memories of her brother, representing her mind accessing those thoughts. She shared a special memory of the last day she spent with him under a budding tree while lights lit up like white pear blossoms.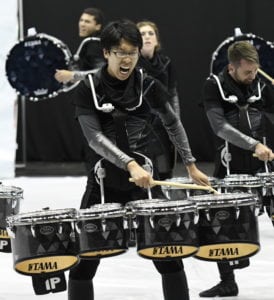 The battery entered from a portal emitting eerie green light for Cap City Percussion (Ohio) (13th- 89.625) in "When Two Worlds Collide." In this unexplored place, they found five large rings which lit up. Dancers wearing white emerged from them as denizens from the two realms interacted. After some tense exchanges, a drummer got in trouble when he went through one of the rings, causing it to glow red and angering the beings. Panels were set upright which read "LEAVE" as the line fled, except for one drummer who was captured.
Dark Sky Percussion (Calif.) (14th- 87.325) presented an avant-garde look at conscious awareness with "Transcendence." Set on a modern art set with a mélange of yellow, red, and blue leading to ramps in the back corner, the group described how all of us are on a spiritual journey. Triangular props were used in choreography with their meaning left up to the viewer. As the tone from a heart monitor blared over the speakers implying the end of life, members raced up the ramps and jumped through triangles to the other side.
In "Fly to Paradise," Atlanta Quest (Ga.) (15th- 86.575) told of winged beings whose parents feared for their children's lives, so they took them away to a secret place, covered it with clouds, gently removed their wings, and promised to return when it was safe. Ages passed and they never came. Their sanctuary became their prison and the inhabitants longed to leave, but without their wings they could not. Finally, the long-awaited return happened as the grown children received their wings and joyfully flew home.
---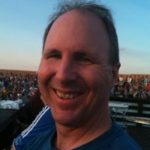 About the Author: Michael Reed provides online and print media content for WGI, Bands of America, and Drum Corps International. 2017 marks his sixteenth year of writing for WGI. He is an active music arranger, composer, and all-around avid pageantry fan. Michael was a member of the Cavaliers Drum and Bugle Corps and holds a bachelor's degree in music composition and music education from Ball State University. He currently works in the health care field and resides in Fishers, Indiana.