From a Rosemount HS Winter Guard Press Release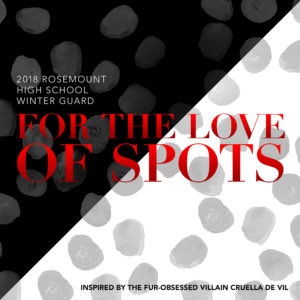 The Rosemount High School Winter Guard is proud to present their 2018 program "For the Love of Spots."
Fresh off of an appearance in the 2017 Macy's Thanksgiving Day Parade in New York City, Rosemount High School will represent the North Star Circuit as a Scholastic A unit for its seventh season. The ensemble will be making appearances at NSC shows throughout Minnesota, and they will be making their first appearance at both the WGI St. Louis Regional and WGI World Championships in April.
Directional staff includes Jonathan Glatfelter and Natalie Sterner.
Design staff includes Jonathan Glatfelter, Natalie Sterner, and Lisa Rodenkirchen.
Instructional staff includes Harrison Nelson, Megan Lovitz, and Evan Pufpaff.