WGI Sport of the Arts provides a venue for young people to achieve the extraordinary through performance and competition and is committed to supporting these young people as they seek higher education. Since its inception, the WGI Scholarship Program has provided more than $395,000 to WGI performers. Learn more about applying for the 2013 WGI Scholarship Program here. The following is the experience 2012 scholarship recipient, Krista Kohring, has had because of color guard.
My life changed forever when I saw the flier that read "Color Guard Auditions". I had never known anyone who was in color guard. When I saw the instructors spinning flags, it was a whole new world to me. Learning how to dance and spin was a new and challenging concept that made me want to strive for perfection. Color guard has taught me how to work hard and manage my time. I have also met some of my best friends and colleagues through color guard.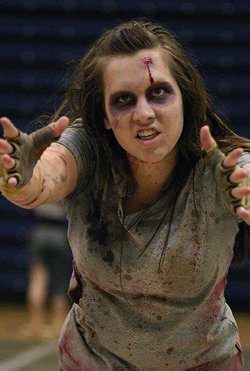 All three of my high school instructors performed in Zydeco Color guard. I was born and raised a "Zydeco Baby". It was my dream to follow in their footsteps. After graduating high school, I auditioned for Zydeco Open and was cast a spot as a zombie. My first season marching in an independent color guard was fantastic. Not many people can say they've been a dancing, flag spinning zombie. Although that season came to an end, my color guard career did not die with my zombie alter ego. It had been a goal of mine to march in a World Class Color Guard. Thankfully, when I auditioned for Zydeco World the next season, I was granted a spot as a tinman. Performing with Zydeco World was a surreal experience that I will never forget. Walking into the University of Dayton arena with my color guard and seeing thousands of people cheering for us was an experience unlike any other. I am so blessed that I got to perform with my best friends.
Color Guard has been the most rewarding experience of my life and it keeps on giving. I currently teach LaSalle Color guard with my best friend and I have learned so much from the experience. I've discovered how much time and energy goes into creating a color guard show, and I realized how much I enjoy teaching. I am now in my third year at the University of Cincinnati and have decided to change my major from accounting to education. I am hoping that one day I will become a high school math teacher and be a color guard director. And to think that my color guard journey would have never of began if it was not for that flier…
---
If you are interested in donating to the WGI Scholarship Fund, please send your donation to:
WGI Scholarship Donation,
2405 Crosspointe Drive
Dayton, OH 45342
Or you can donate online here.