Southlake Carroll Varsity Winter Guard Press Release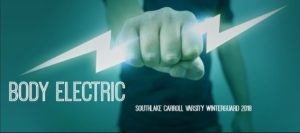 Southlake Carroll Varsity Winter Guard Presents: THE BODY ELECTRIC
2017 WGI Scholastic A Finalist, Southlake Carroll High School from Southlake, Texas is proud to present its 2018 production "The Body Electric."
The human body is constantly in the evolutionary process. One thing that is a constant, is the human molecular system. From the time of infancy, the body has created electric impulses for many reasons… thoughts, growth, and motion are just a few of what human beings experience through individual electrical impulses. Join us as we explore the journey of the molecular electrical system and how it impacts our everyday lives.
Southlake Carroll HS Varsity is under the direction of Daphne Adkison and James Thomas. The staff includes Elizabeth Hicks, Erica King, and Cristyn Boyd. Set design is by Marty Koenig and Bryan Harston. Costumes are created by Texas Motion Sports. Original music is written and performed by David Walker.
Southlake Carroll HS will be appearing at the WGI Dallas Regional, WGI Tulsa Regional, and the WGI Southeast Power Regional in Orlando, Florida as well as local shows within the North Texas Color Guard Association.