From a Spirit Winter Percussion Press Release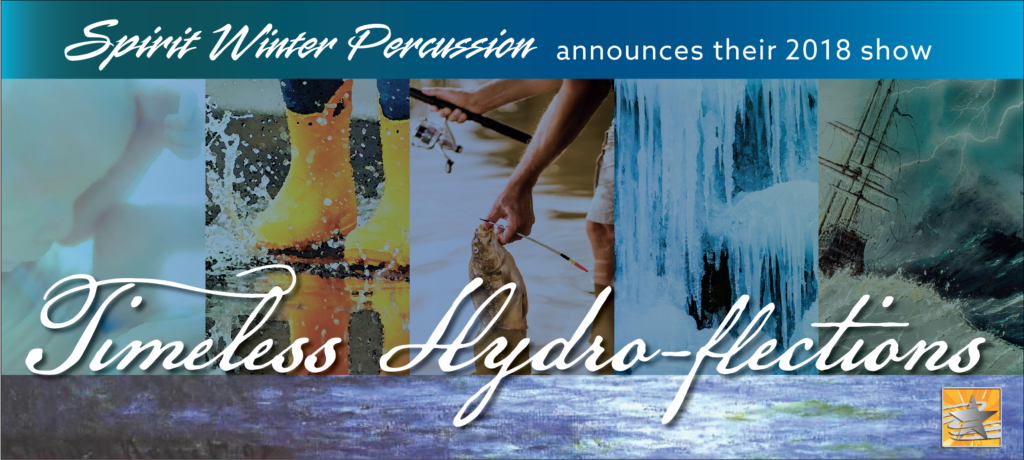 As Ralph Waldo Emerson wrote, "Water understands Civilization well." Man has a dependent relationship with water. It soothes us as we hear it crash, it destroys and overwhelms us in its storms, it cools us in heat and warms us in winter, we are even born in it… Spirit Winter Percussion announces their 2018 show,
Timeless Hydro-flections, exploring four stages of humanity's dependency on water.
The poetic structure of this year's show is based on Ralph Waldo Emerson's poem, Water. The design concept draws from the impressionistic style, harkening to the famous artists and composers including Claude Monet, Claude Debussy, Camille Saint-Saëns, and Maurice Ravel.
The show begins with man's very first encounter with water before birth, and journeys through our child-like playful discoveries and explorations of water. As children grow up, their interactions with water evolve into a mature relationship where our lives (and often our livelihoods) depend on water. As we age, our life experiences often require of us a healthy respect for the power of water, the destruction a raging storm can cause… and a storm's uncanny beauty.
In the end, isn't it often life's storms and the sufferings they cause that lead us to determination, strength, and overcoming? #BostonStrong #HoustonStrong #VegasStrong
The Spirit Winter Percussion 2018 staff includes Richard K. Pugsley, Ian Hale, Karen Moore, Jennifer Leseth, James Sparling, Zach Schlicher, Sr. Danielle Dwyer, Steve Ballard, Jason Ihnat, Lindsey Kanaga, Kirsti Pfeiffer, Alex Ollivierre, Ted Sullivan, Alex King, Aaron Saraiva, Chris Vale, Evan Tropp, Dan Pfeiffer, and Sarah Hale.
The ensemble will compete at the WGI Trumbull Regional on March 3, the WGI East Power Regional in New Jersey on March 17 & 18, and at WGI World Championships in Dayton, OH in April. They will also compete in the NESBA competition circuit February 24 in Dartmouth, MA, March 10 in Salem, NH, March 11 in Dover, NH, and the NESBA Championships on April 7 in Dartmouth, MA. Learn more about Spirit's competition schedule.
ABOUT SPIRIT WINTER PERCUSSION
Spirit Winter Percussion, is a Cape Cod-based ensemble under the direction of Richard K. Pugsley (Director) and Ian Hale (Ensemble Director). Every year the group immerses itself in a richly educational process of developing a dynamic indoor show combining music, marching, dance and drama in an explosively energetic art form. The season culminates at the WGI World Championships in Dayton, Ohio, where Spirit earned the Gold medal in their division in 2012, the Bronze in 2013, advanced to the Open Class division in 2014, earned the Gold medal in that division in 2015, won the Silver medal in 2016, and were 4th place PIO Finalists in 2017.
In addition to teaching the rudiments of music and marching, the experience of Winter Percussion helps young people to develop essential life skills of leadership, teamwork, discipline, empathy, and respect. Spirit Winter Percussion is open to any young person under age 22, and provides members with an experienced and dedicated staff of instructors, life coaches, mentors and alumni dedicated to Giving Back and helping the impossible become possible. The ensemble regularly offers school assemblies and public performances for the wider community on Cape Cod, and hosts an annual Day of Percussion featuring world-class percussion artists for a day of free clinics and performances offered to students throughout New England.
ABOUT THE DIRECTORS
Richard K. Pugsley, Director, began working with Spirit of America in 1993.The Spirit Winter Percussion ensemble was instituted under his tenure, and he led the group to their gold medal win at the Winter Guard International World Championships in 2012, the bronze in 2013, their advancement into Open Class in 2014, their gold medal win in the Open Class in 2015, and their silver in 2016. He has led Spirit of America on tours and conducted workshops in schools around the world, including cultural and musical exchanges in South Africa, South Korea, Australia, Canada, and the United States. He founded the annual Day of Percussion on Cape Cod, a music education event that draws students from across New England for a free day of percussion clinics and performances by world-class artists. He received his Bachelor of Music degree, with a minor in Community Music, from Oberlin Conservatory.
Ian Hale, Percussion Director, studied with Dr. Glenn Price at the University of Calgary where he received his BA in percussion performance, and received his MA from the University of Massachusetts at Amherst, where he studied with Eduardo Leandro and Thom Hannum. He has studied marimba with Leigh Howard Stevens, Gordon Stout, and She-e-Wu. He has taught percussion for the Glassmen, the Magic of Orlando, the Madison Scouts, Carolina Crown, the Cadets, and is presently on staff with the Boston Crusaders Drum & Bugle Corps. Ian was also a music faculty member at the University of Massachusetts at Amherst and Assistant Director of Bands for the Calgary Stampede Show band. He currently teaches and arranges for numerous bands and percussion ensembles across the United States and Canada. Ian is endorsed by Vic Firth, Remo, and Zildjian.