From a Stoneman Douglas World Press Release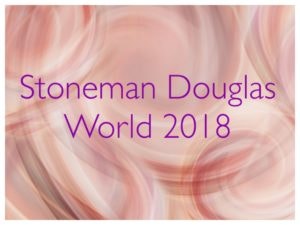 "Lives of great men all remind us
We can make our lives sublime,
And, departing, leave behind us
Footprints on the sands of time;"
– Henry Wadsworth Longfellow
Stoneman Douglas World presents: Through the Sands of Time
Inspired by Henry Wadsworth Longfellow's poem, A Psalm of Life, the 25 ladies of the Stoneman Douglas Winter Guard will leave their footprints in the sand depicting their journey through time. The poem serves as the backdrop to help create their own footprints, reflecting on the pathway life leads. It's not about the destination, rather the journey that creates those fleeting moments along the way. The performers of the Stoneman Douglas ensemble look back to reflect on where they have been and leave more footprints in the sand creating new experiences.
The program utilizes sand swirls on the floor that create an abstract setting where circular props rotate and help to illustrate the concept that our journey is never ending and always still achieving, still pursuing.
Stoneman Douglas HS is under the direction of Manny Miranda. Designers, choreographers and staff include Adam Sage, April Gilligan-Martinez, Jon Vanderkolff, Andy Mroczek, Chris Hand, Jorge Portal, Jaime Piechocki, Lillie Sheres, and Shane Cheatle.