Percussion and Winds World Championships is this week! Not sure why you should come? We have 10 reasons you shouldn't miss it!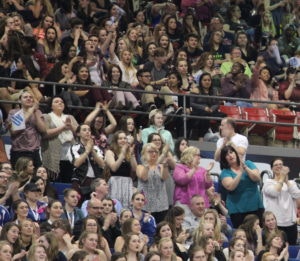 10. Support your friends & family on the floor.
As a performer, nothing feels better than looking into the stands and seeing your fan club. Help your favorite performer have the best run by cheering them on!
9. Get inspired!
For all of you aspiring designers out there, World Championships is a great opportunity to observe with the intent to learn. The WGI Hall of Fame could be in your future!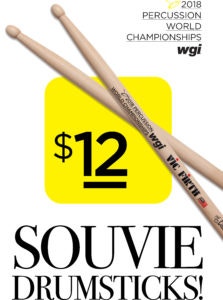 8. Get a souvenir cup and drumsticks!
That's right! Commemorate your time in Dayton with a limited edition WGI reusable souvenir cup for your thirst quenchers. Want something a little more fun? Stop by the our booth on the concourse to purchase a pair of souvie sticks!
7. Oranges
Did you know the Dayton Convention and Visitor's Bureau supplies over 2,500 lbs of oranges to performers at World Championships?!? That's A LOT of oranges! Make sure to pick up yours after your performance.
6. The Expo Tent
Stop by the tent to stock up on WGI apparel and merchandise! The Expo Tent is also the place to try new products and interact with representatives from all the great companies that support WGI groups. There are booths with drum pads and sticks, apparel, and other equipment that is hard to find with anywhere else. You may even get the chance to meet some major designers and signature artists!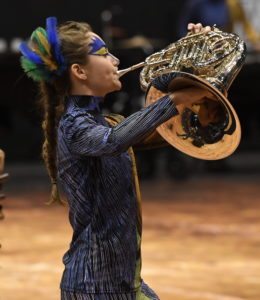 5. WGI Winds
There will be more competing units than ever, which means more thrilling shows for spectators! Those involved with WGI Winds are continuing to push the creative envelope and they are ready to show the world what they can do. This is a competition you won't want to miss!
4. See Old Friends & Make New Ones
This is one of the few times a year when your color guard friends congregate to one part of the country. Catch up and enjoy the events together!
3. Drum Circle
Come join in the tenth annual WGI Drum Circle! REMO, Inc. in conjunction with Bongo Boy Music School, from Indianapolis, IN will once again bring the concept of a drum circle to the WGI World Championships. The drum circle is scheduled for Saturday, April 21st following the Open Class Retreat (approximately 3pm) at the University of Dayton Arena in the parking lot adjacent to the World Championships Expo tent. Grab a drum, grab a seat, and enjoy!

2. The Lot
The WGI percussion lot outside of the University of Dayton Arena is the Mecca of indoor drum line. Students and spectators of all ages get the most interactive part of the weekend: getting to choose who to watch and for how long. Many drum lines welcome lot audiences to come in close to see and hear details of the show they may not catch otherwise. This year you can also snap a photo with the WGI statue in the lot!
1. Trust us – it's better live.
Sure, we have a webcast available, but that will not compare to the emotion and adrenaline rush of a live performance. You choose what to watch, not what the camera chooses! Select your seats here!