Color Guard World Championships Webinar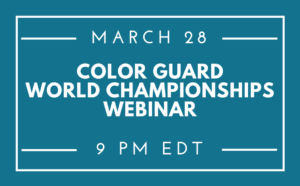 ---
Curtis Costanza, WGI Color Guard Chief Judge, will share his insights to Championships as well as information on how the Championship Judges prepare going into Championship week.
We will also have reminders and reflections on current issues, and as always, there will be plenty of time for your questions on this and any subject. Mark your calendars!
Register for Color Guard World Championships Webinar
---
Percussion Community Webinars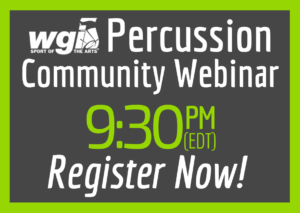 Join us along with our special guests to talk about their programs, how they manage complicated and ambitious independent programs, their history in the activity, and their educational approach.
March 22 – John Campese of Infinity
April 5 – Mike Jackson of Broken City
Register for Percussion Community Webinars