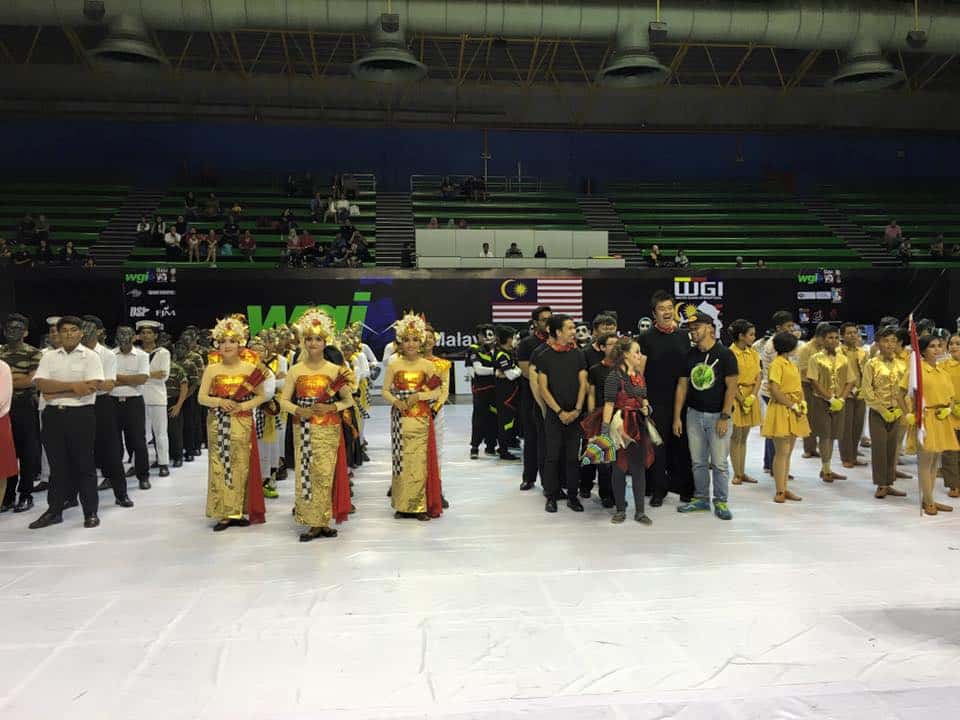 WGI Sport of the Arts, the world's leader in producing indoor marching arts events, today announced new regional events to be held in Asia. Two events are scheduled for October of this year and will be the first regionals of the 2017 WGI season.
After a very successful inaugural event last year, WGI Malaysia will return to Kuala Lumpur, with preliminary competition beginning on Saturday, October 15, and finals on Sunday, October 16. Organized in cooperation with Malaysian Band Association and ZI Communication Sdn. Bhd. with Kuala Lumpur City Hall, the event will offer Color Guard and Percussion classes and will be held at the Badminton Stadium Cheras. Built in 1990, the stadium holds 3,000 spectators.
The following weekend WGI will make its debut in Indonesia on Saturday, October 22, and Sunday, October 23, at Pembangunan Negara University in Surabaya. Sponsored by the East Java Provincial Government, Indonesia Association of Marching Bands, and Duta Mitra Music, groups will participate Color Guard, Percussion and Winds classes of competition in Indonesia's second-largest city.
Both events will also offer clinics to participants as well as judge training academies so local judges may learn philosophy about the WGI adjudication system from judges and instructors traveling from the United States.
In May representatives from WGI traveled to China to meet with delegates from China, Hong Kong, Indonesia, Japan, Korea, Malaysia, Philippines, Singapore, Taiwan, and Thailand to explore expanding international marching arts activities throughout the region.
Thirteen countries participated in WGI events in North America, Europe and Asia this past year. The 2016-2017 season will see over 70 events culminating in the WGI Color Guard World Championships on April 6-8, 2017, and the WGI Percussion and Winds World Championships on April 20-23 in Dayton, Ohio, the world headquarters of WGI Sport of the Arts.
"We are gratified that inaugural events in Asia have resonated with groups in these countries resulting in WGI returning and offering new events this year," said Executive Director Ron Nankervis. "WGI and our Asian partners are creating a network that will serve groups in this part of the world with quality performance opportunities as well as instructor and judge training that will create new color guards, percussion ensembles, and wind groups. Our organization remains committed towards expanding the WGI experience to all who wish to embrace our values and commitment to excellence."