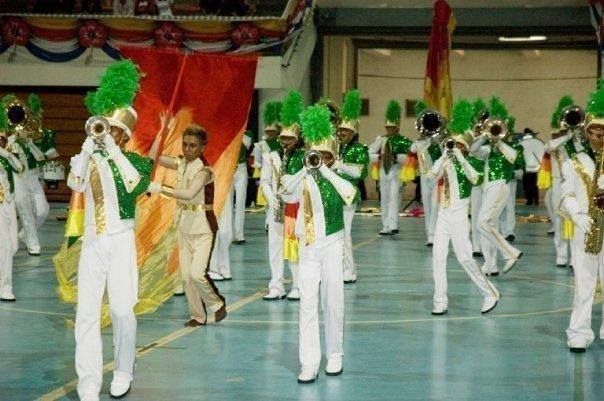 WGI Lands in Africa!
WGI Sports of the Arts is pleased to announce a strategic partnership with South Africa Marching Show Bands Association to produce an educational clinic to be held October 17-18 in Cape Town, South Africa.
"We are so excited for this inaugural event in Africa and to make a connection with people from a continent that is entirely new to WGI," said Executive Director Ron Nankervis. "WGI is committed to continuing our outreach to expose new enthusiasts to the indoor marching arts."
Clinicians Tim Fairbanks and Andrew Toth will journey to South Africa to introduce local color guards, percussion ensembles, and winds groups interested in developing their instructional skills and preparing for a long-term goal of a first-ever sanctioned WGI event in their country in the future.
Representatives from Cape Town were in attendance at the 2015 WGI Percussion & Winds World Championships and left inspired to encourage new indoor groups to replicate what
they witnessed in Dayton. They also envision a goal of having South Africa represented at the world championships one day.
For more information on the South Africa Marching Show Bands Association, visit their Facebook page.
About Tim Fairbanks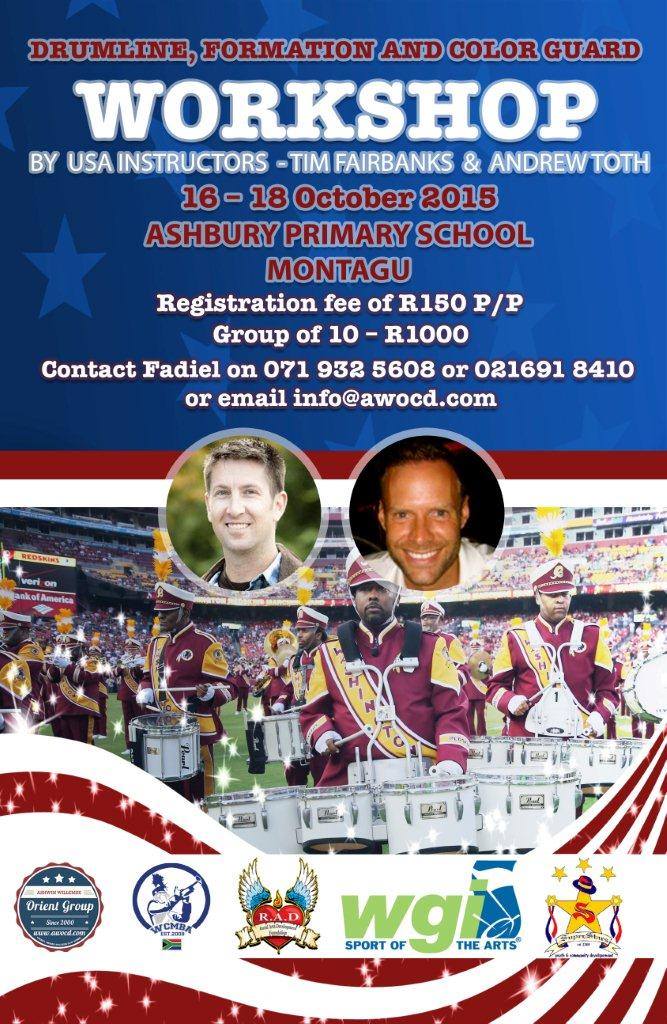 Tim Fairbanks has taught at Centerville HS (OH) since 1997, serving as the Marching Percussion Director until 2011 and is currently the Drill Designer for the marching band and indoor drumline, which is a consistent Scholastic World Finalists at the WGI World Championships. Centerville is the 1999 Scholastic Open Champion and 2004 WGI Scholastic World Champion. Tim is the Director and Visual Designer for Rhythm X, WGI Percussion Independent World Class Champion in 2008, 2009, 2013 and has been the Drill Designer for the Bluecoats (Canton, OH) and Blue Stars (Lacrosse, WI). He proudly endorses the products of Pearl/ Adams, Evans/D'addario, Sabian Inc., and is a Signature Artist with Innovative Percussion. Tim is the Vice President-Percussion for WGI Sport of the Arts, serving on the WGI Board of Director's Executive Committee, in addition to membership on the WGI Percussion Advisory Board and Steering Committee. Tim is an internationally in-demand clinician, designer, arranger and adjudicator.
About Andrew Toth
Andrew Toth has been a member of the design team for The Cavaliers Drum & Bugle Corps since 1998 and was a member of the color guard for the two years prior. His other performance experiences include the Cadets of Bergen County (1993-1995), Emerald Marquis (1994-1995), Adagio (1996), and Pride of Cincinnati (1997-1998). Andy Toth had the distinct honor of performing as an original cast member the Emmy and Tony award winning production of Blast! in London's West End in 1999. He continued his role on Broadway in New York City until the show's closure in 2001. As an internationally recognized choreographer, Andrew is privileged to have had the opportunity to choreograph for numerous color guards, marching bands, and drum corps throughout North America, Europe and Asia. His most recent collaborations abroad include Northern Academy of Performing Arts (NAPA), Mahathai Drum & Bugle Corps, Yokohama Inspires Drum & Bugle Corps and Aimachi Winter Guard. Toth is currently a designer for the Pride of Cincinnati Winter Guard as well as Carmel High School. He earned his Bachelor of Science degree in Exercise Physiology from the University of Illinois at Chicago, where he resides today, working as a personal trainer.