By Jenny Lyons
Avon HS (Gold – 98.95) introduced the world to the working class wonder, Mr. Tanner, embodied by a breathtakingly effortless soloist, in their flawless program, "O' Night Divine." Floating among a dreamy landscape of dry cleaning racks and marble countertops, Avon's sepia-clad cast captivated the audience with an ease of movement and a commitment to telling the story of Mr. Tanner, a dry cleaner with glittering dreams of life as a singer. Avon proved themselves as a technical powerhouse and breathed infectious life into this classic story of the ever-elusive dream, with a pristine run of their incredible weapon book and evocative story-telling movement. Love was in the details in this dream of a program, decisively earning Avon their gold-medal finish and a place in the hearts of the WGI audience.
Ever the class act, Carmel HS (Silver – 96.10) dazzled with their timely program "A Lot of Strength Left." Set to the haunting refrains of "This Woman's Work," Carmel ascended both their sleek staircases and the ranks of World Class to shatter the ceiling into a second place finish. Carmel expertly explored modes of movement and space, unexpected inversions, and innovative interactions with equipment—all with an achingly lovely performance quality. In understated blue and flowing hair, Carmel uplifted with their beautiful show of strength through an impassioned, bold movement style, rock solid weapon book, and unparalleled grace.
Center Grove HS (Bronze – 95.85), was a masterclass in poise in their program "Finding Peace." Gliding effortlessly over a seafoam floor accented with stark black swirls and gleaming ball props, Center Grove interacted with their concept with an apt ease as they swirled from the corner, fluidly mingled with their stark piano piece, seamlessly built to a floating red flag feature, and decrescendo to a pleasing peace sign form in this solid third-place run.
Fan Favorite West Broward HS (4th – 95.50), stole the audience's heart with their electric homage to the strong women of rock and roll. Dressed to the nines in edgy rock perfection, West Broward lit up the arena with their soaring aerial moments and unbeatable command of character. From start to finish, West Broward electrified with their recognizable movement quality, performative flair, and their fiercely feminine edge, ending their program with the iconic smashing of a guitar and a roaring audience.
Miamisburg HS (5th – 93.75) tackled the reality of time in their intriguing program, "Yesterday's Tomorrow." Costumed in rich emerald, Miamisburg stretched the minutes with a clever silk hour hand anchored to their curving dial prop that loomed at the center of their prop and controlled time in their expert manipulation of body and equipment.
Trumbull HS (6th – 92.65) set the audience free with their transcendent program, "Liberty." From their compelling opening, which featured a soloist beautifully gesturing to the audience with sign language atop a simple white chair, to their soaring flag feature of aquamarine, gold, and white, Trumbull captivated the arena with sweeping poignancy and grace.
In "Out of My Mind," Norwin HS (7th – 90.90) elevated their performance with the incorporation of a live singer, who also served as a focal centerpiece and character in their exploration of feeling alienated and misunderstood. With a striking palette of aquamarines and a deep burnt orange, Norwin pulled audiences in with their commitment to character in their bid for 7th place.
In their second year in World Class, Lyman HS (8th – 90.35) sizzled in red in their sultry program, "Love Triangle," which played with aspects of triangularity in every aspect, from form, to gleaming triangular slide props, to persistent abstraction. From pre-show to the very last pose, Lyman smoldered their way into 8th place with this jazzy treat of a program.
Flanagan HS (9th – 89.75) claimed a ninth place finish with their endearing homage to everyone's favorite neighbor, Mr. Rogers, in their program "Won't You Be My Neighbor." Drawing the audience in with their effortless movement and weapon skills, iconic red sweaters, sweet sound bites, and a sweeping flag feature—all augmented by a TV playing clips of the beloved show, Flanagan charmed in this sweet ode to a childhood hero.
Warren Central HS (10th – 87.75) bloomed in "Finding Your Roots." At the base of their stark white tree—made more striking by the simple design of the matte and glossy black floor—Warren opened with an intriguing grounded movement feature, embodying the roots of a tree with compelling floor work which built into a complex rifle opening. The program blossomed into a transcendent flag feature set to soaring hymnal vocals and earned Warren Central their strong 10th place finish.
Ever bold and imaginative in their programs, this year is no exception for Shenendehowa HS (11th – 86.30) with their program "Vita Arboreal," in which they took audiences on an immersive journey into the rich depths of the rainforest. Costumed in iridescent bodysuits, bugging eyes atop their head, and colored makeup covering every inch of skin, Shenendehowa fully embodied their frog personas with their otherworldly movement style and inversions, engrossing soundtrack of rainforest ambiance and percussion soundtrack, and an exhilarating flag-and-trampoline feature.
Stoneman Douglas HS (12th – 85.20) was a powerhouse in pink in their triumphant 2019 program, "Fix You." Exploring a contrast of pink and blues upon a constantly evolving stage with rolling ladder archways, Stoneman soared with their cover of the haunting tune, "Fix You," ultimately climbing to a twelfth place finish.
Northview HS (13th – 84.15) took the audience on a twisted journey into the innermost workings of their mind with their quirky program, "Tales From My Inner Voice." Dressed as candy-pink confections, Northview stood out with their bright blue floor, retro pink and yellow silks, and vocal acrobatics of their soundtrack—punctuated by jarring laughs and eccentric movement style to match.
The Woodlands HS (14th – 82.90) glided through their sweeping program, "Recalled. Reconnected Reclaimed." to their finish in 14th place. Visions in jewel tones, Woodlands featured an intriguing rifle opener, layering as intricate as the violin which served as their soundtrack, and rich flag choreography—all at play with the stark blue lines intersecting at the center of their floor in their exploration of connections and intersections.
Bellbrook HS (15th – 82.80) pulled at the heartstrings with their sweet program, "Rainbow Bridge." Set to Jimmy Stewart's emotional reading of his poem "I'll Always Love a Dog Named Beau," Bellbrook featured a cast clothed in flowing white, a gauzy white floor, and a gorgeous rolling bridge prop. Culminating in a sweeping rainbow flag feature and highlighting two soloists representing James and his Beau, Bellbrook drew tears in their ode to the love we share with our beloved dogs.
---
Avon HS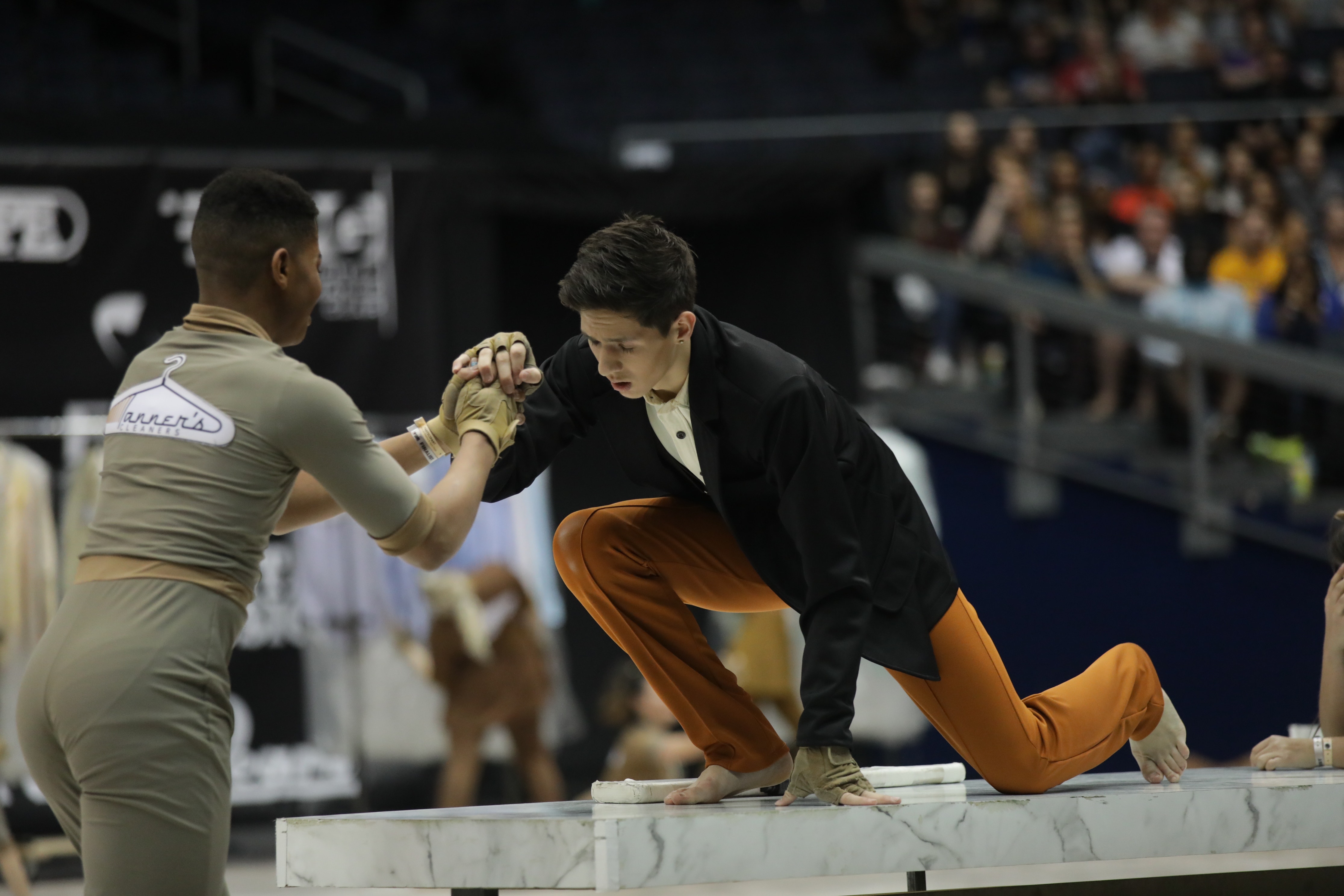 ---
West Broward HS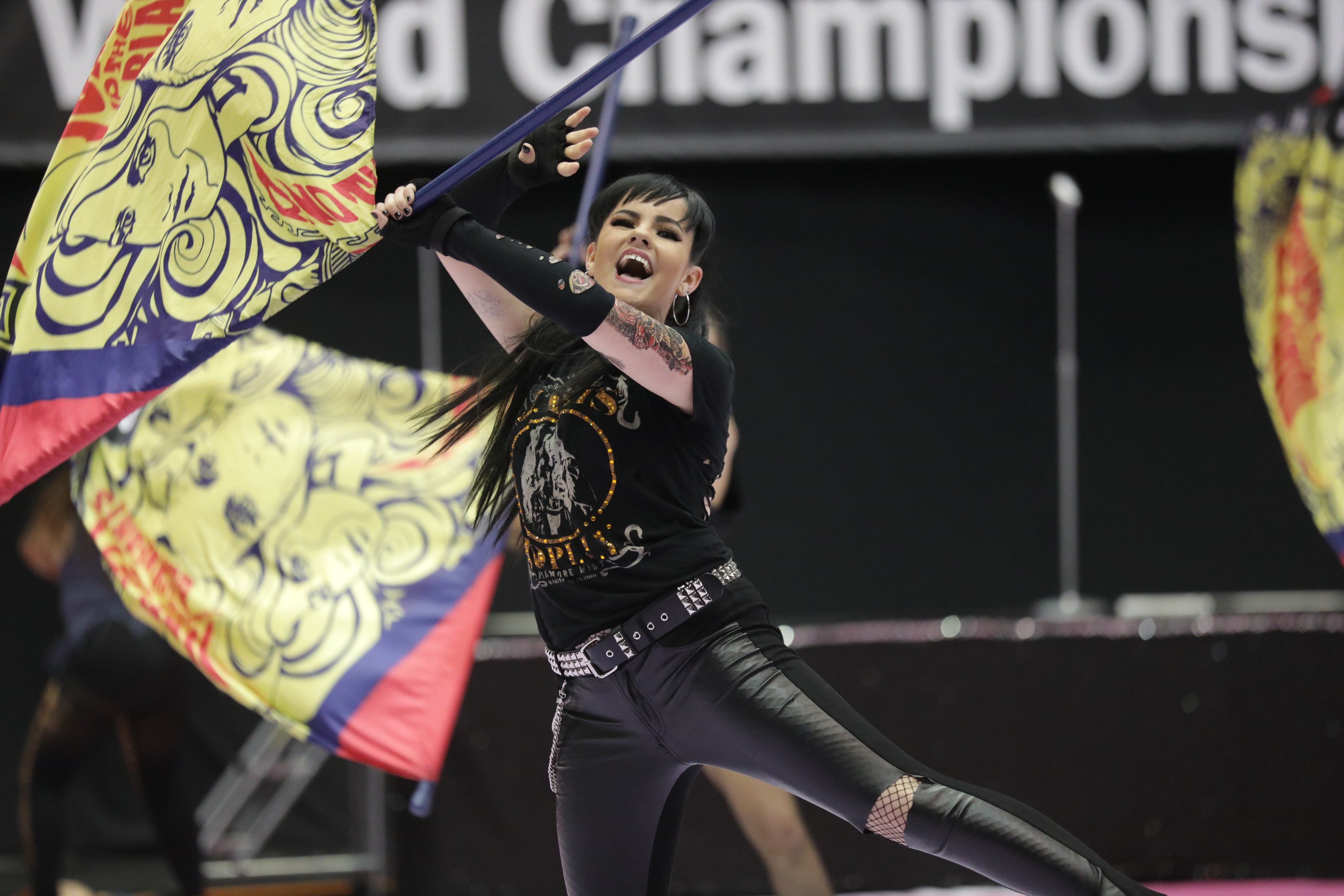 ---
Norwin HS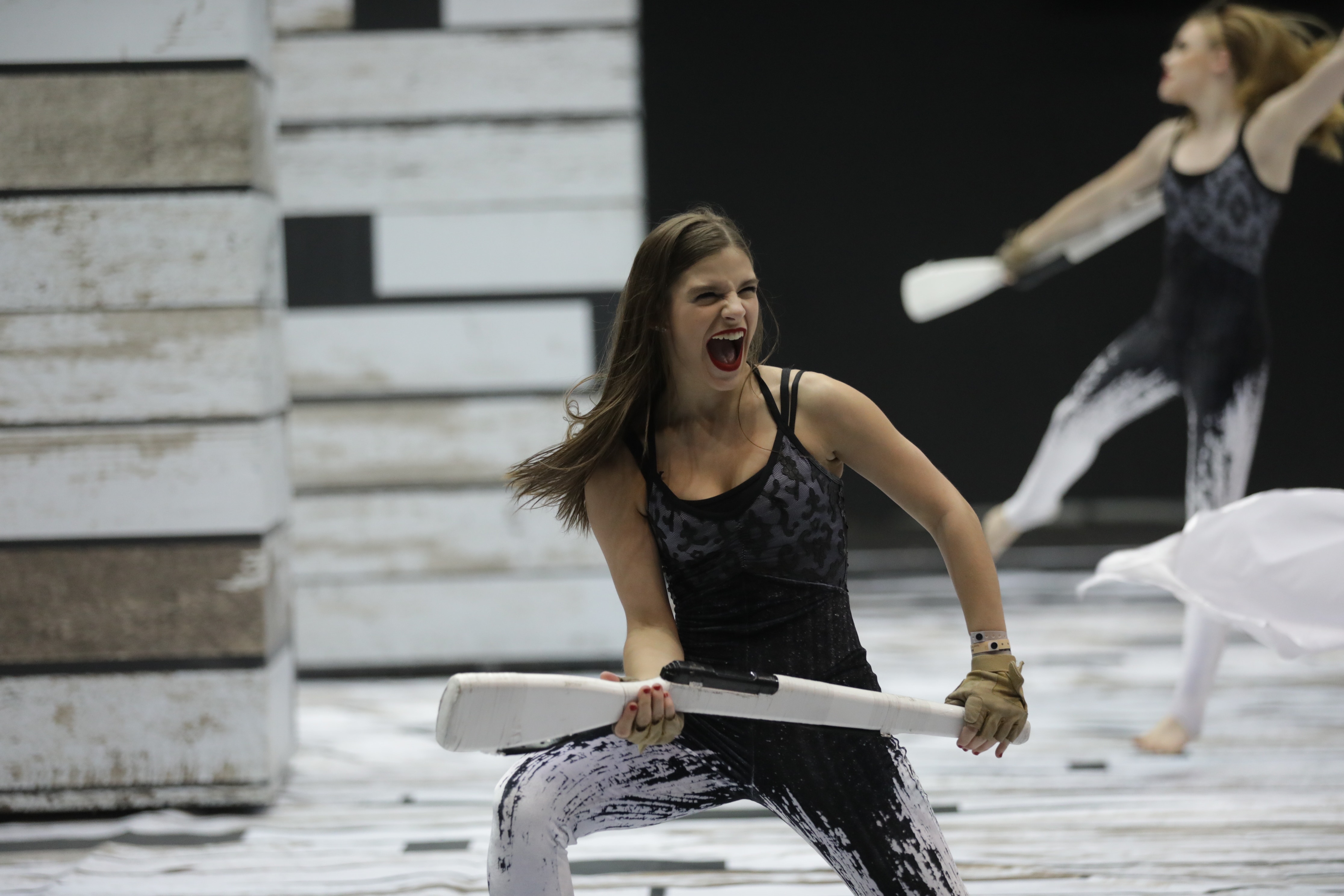 ---
Shenendehowa HS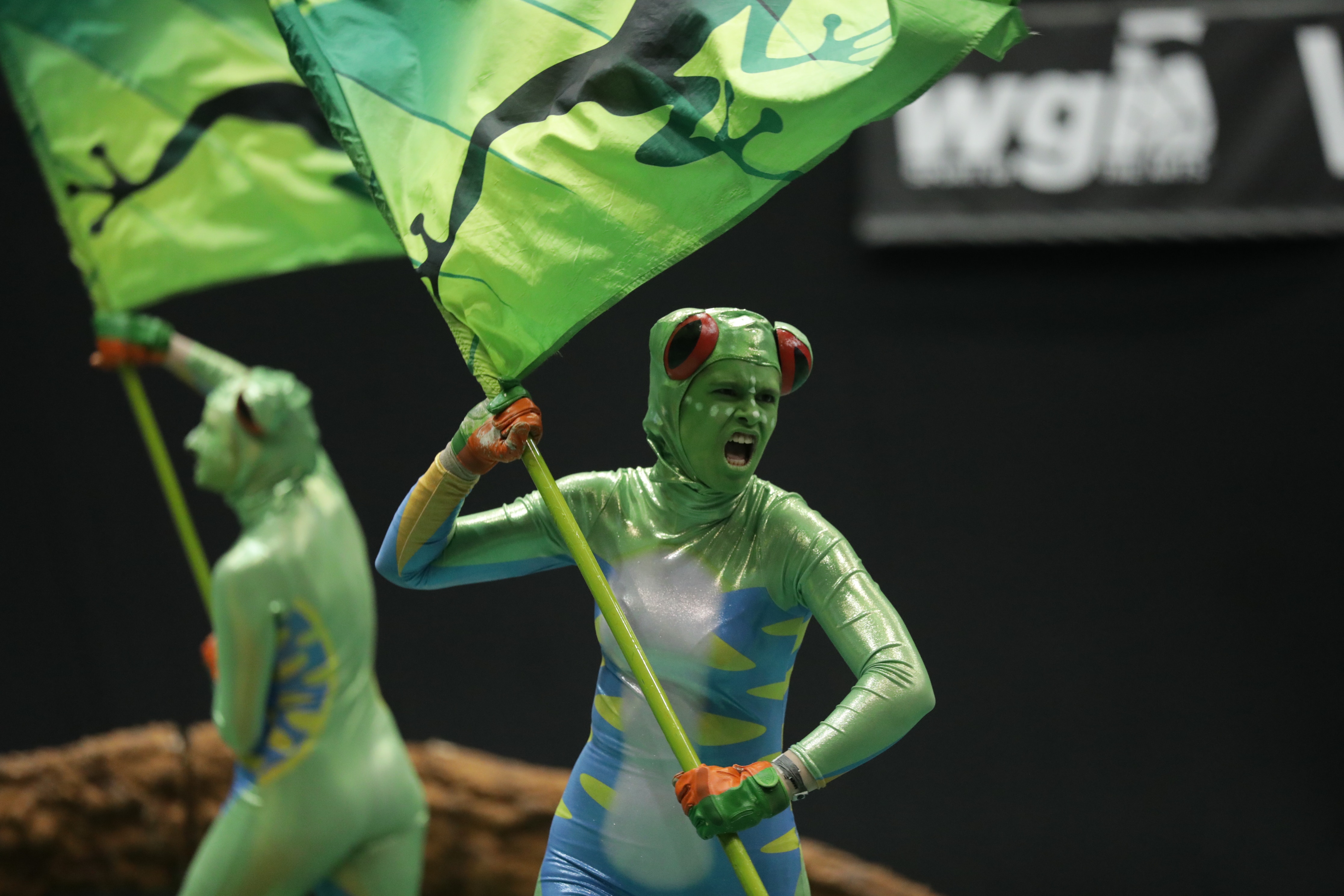 ---
Stoneman Douglas HS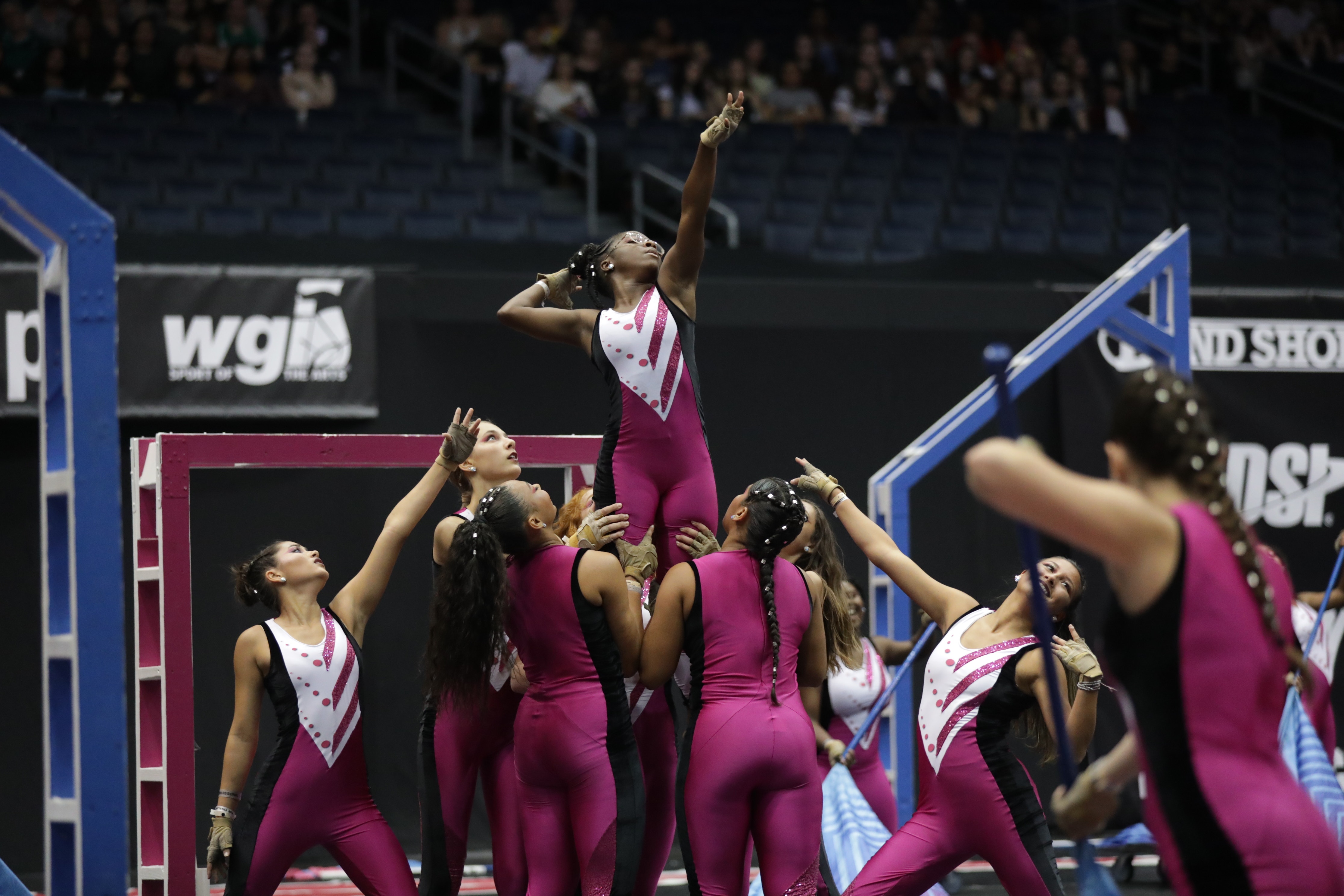 ---
Bellbrook HS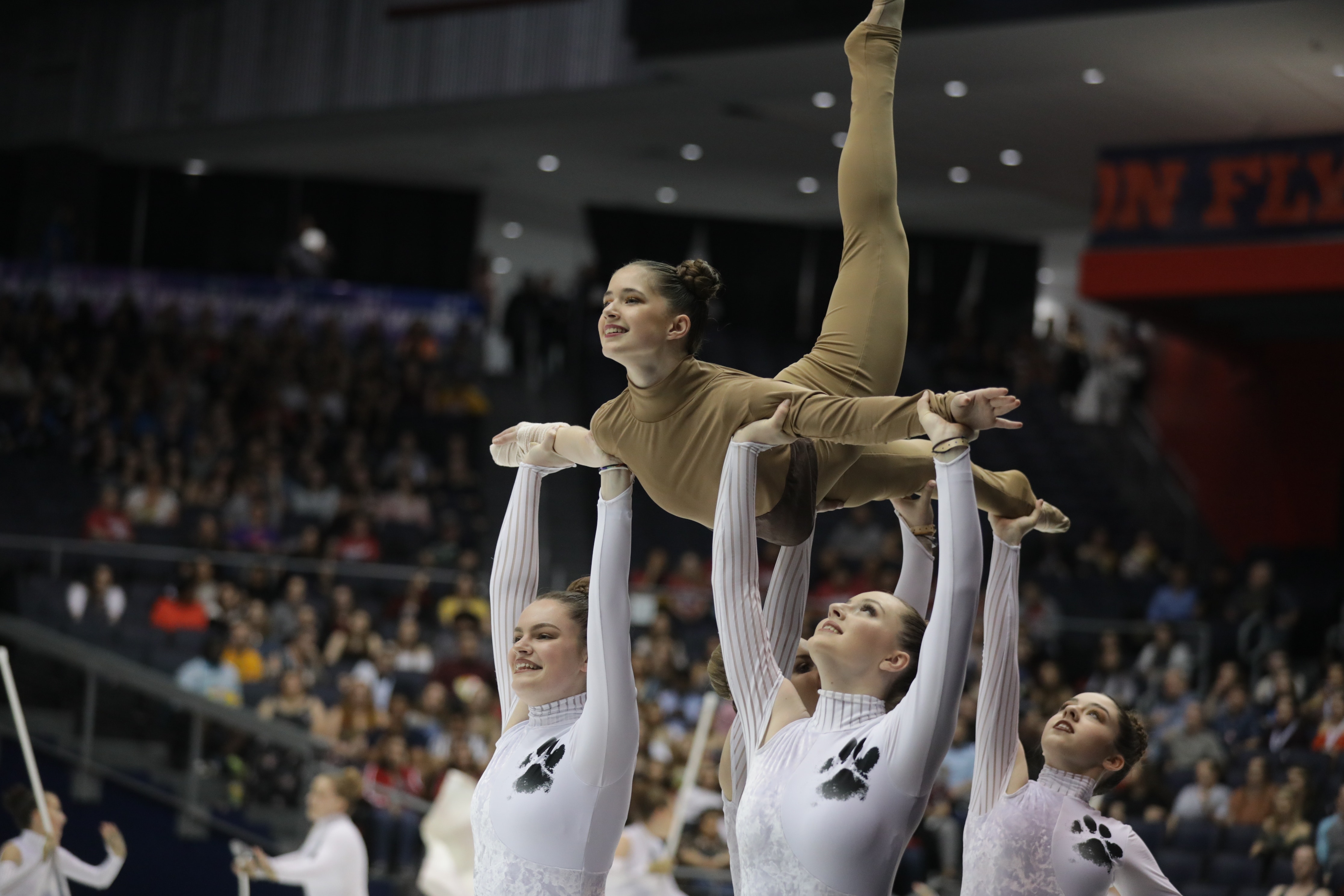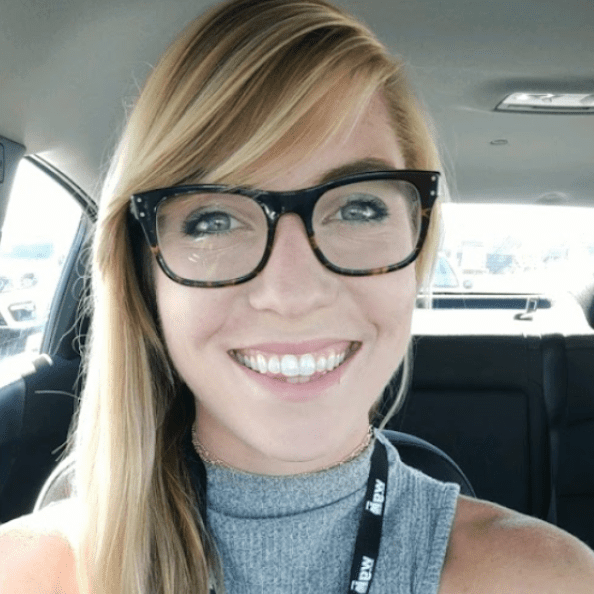 About the Author: Jenny Lyons is a freelance writer and master's student of writing at San Francisco State University. She has a BA in Literary Journalism from the University of California, Irvine. She is an alumna of WGI, having performed with the Santa Clara Vanguard Winter Guard from 2013 to 2015, during which time she was fortunate enough to become a WGI World Champion. Jenny has also marched with several drum corps including the Santa Clara Vanguard. When she is not writing, Jenny can be found continuing her passion for color guard through teaching in the Bay Area and serving as caption head to the Vanguard Cadets.