By Jenny Lyons
From more than 140 Scholastic A competitors, Fleming Island HS (Gold Medal – 97.720) rose to the top of an exhilarating and ever-changing scrap for WGI gold, floating over a sweeping cover of Fleetwood Mac's "Dreams" in their program "They Will Come and They Will Go." Dazzling in a copper, gold, and rich brown one-piece costume with a stunning, latticed open back, Fleming Island explored hellos and goodbyes with a patient opening, striking movement feature, and pristine peach flag feature. Ultimately, Fleming swept up a gold medal upon their gold, cream and orange stained floor.
The ladies of Sunlake HS (Silver Medal – 97.590) could not be silenced in their manifesto for the feminine voice, "Shh…Keep It Down." Costumed in soft pink and fuchsia shades and set to a demure cover of "Voices Carry," Sunlake High School was anything but, making their voices heard through their poised movement style as they glided over the cleverly placed names of influential women of history on a pink-printed floor. Starting the show with their mouth covered by a stifling purple scarf, the ladies of Sunlake High School set their stories free, ultimately hushing their unsuspecting male mannequin in an ode to changing times and successful bid for WGI silver.
Northwest Cabarrus HS (Bronze Medal – 95.645) climbed the ranks of Scholastic A to capture WGI bronze with their understated program "And So It Goes." Built with patience and poise, this program was a show of beauty in strength, complete with measured weapon moments and a flag feature that was simply a vision in aquamarine.
Dripping with the grit and soul of the Wild West, Freedom HS (4th – 95.565), commanded the attention of the arena Friday night with their program, "Ghost Town." Armed with creamy, bustled dresses, curls for days, and saloon-style sass, Freedom High School snagged fourth this year with rock-solid weapon moments, a pristine white flag feature and their unbridled charm.
In a solid showing from California, Rancho Cucamonga HS (5th – 95.270) brought the audience to their knees with their heart-rending program, "The Eulogy." Floating between church pews in the shadow of towering, sapphire stained-glass windows, and costumed in staid, dark velvet dresses, Rancho Cucamonga tore at the heartstrings with their achingly lovely take on "Lover, Please Stay."
Blue Springs HS Varsity (6th – 93.070) dazzled from their masterful opening dance feature to their very last evocative breath with their elegant program "In Lustre" In copper flapper-style dresses, Blue Springs oozed grace and poise over their gold foil printed floor, ascending the ranks to sixth place with ease.
Crowd Favorite, Central Square HS (7th – 92.135) charmed the audience with their program, "1,2 and 3,4,5." Central Square peeled back and rebuilt instrumentation and equipment over and over again with a masterfully intriguing effect. Dripping with infectious energy from count one to the very last, Central Square featured a dynamic tambourine feature, but, it was their closing soloist who stole the show with a dynamite rifle curtain call.
Lockport Township HS (8th – 92.135) had the audience falling in love with their stunning and aptly-named program, "Falling." Lockport explored bodies in space in an unending variety of ways – upending, tilting, ascending, and cascading from a collection of ladders throughout this endearing program. Sparkling in white and silver, Lockport Township floated from start to finish, ultimately moving up a spot in finals competition.
In a striking tribute to American Dancer Isadora Duncan, Pflugerville HS' (9th – 91.795) program, "Isadora," proved to be a powerhouse in movement. Set on a stark red circle with a gauzy blue curtains fluttering in stage right, Pflugerville High School evoked dreamy bohemian vibes with their earthen tops and breezy dyed pants, a pop of colorful silks, and powerfully stylized movement.
Moving over a deep blue stained floor, Somerset Academy (10th – 90.880) pulled the audience into a nautical voyage in their program, "Whispers Offshore." Over a lush soundtrack of ocean ambiance, deep piano, and Woodkid's "I Love You," Somerset set the ocean scene down to the very last detail; from wet, sea-tossed curls to a visually stunning and clever puff of the tarp at the show's conclusion, earning them a two-place jump from semifinals to finals.
In their program, "Coretta and Jackie," Alpharetta HS (11th – 89.125) celebrated the strength of the women who stood behind historical figureheads John F. Kennedy and Martin Luther King, JR. Alpharetta explored duality with repeating red and blue tones throughout and uplifted the unity between Coretta King and Jackie Kennedy in a hauntingly beautiful take on "Unchained Melody."
Sebastian River HS (12th – 88.995) explored the origins of "Hymnsong," the namesake of their uplifting program. Bathed in white and blush tones and embodying familiar strains of "It Is Well With My Soul," Sebastian River soared in their rousing celebration of tenacity and faith.
In their program, "Promise," Damonte Ranch HS (13th – 88.535) embodied the soulful music of Alicia Keys. In boho coral headbands and tops, Damonte promised the audience, "We'll make it through this," with endearing performance quality and lovely refrains of sign language.
East Lincoln HS (14th – 87.685) breathed fresh spring air into the UD arena with their charming program, "Sprout." With pops of bright floral  color amongst vibrant greens and delightful flower props, East Lincoln charmed with their bright violin soundtrack; gleaming watering cans; subtle silk designs which progressed from seeds, to leaves, to bursting sunflowers; and choreography that simply bloomed on the floor.
Proving that this was a year for homesickness, Southlake Carroll HS (15th – 87.140) sparkled in a mauve beauty of a dress in their nostalgic program, "Home." Lined with door and window props and gliding over a wood-grain painted floor, Southlake Carroll explored the sensations of leaving home with sweet musings of a younger self and a soul-stirring flag feature.
Billerica Memorial HS (16th – 86.100) explored the glory and treacheries of "The Crown" with an operatic soundtrack, sweeping features, and a striking jeweled flag– all while orbiting around a gilded throne and sparkling symbols of the monarchy.
Grassfield HS (17th – 85.455) brought "Red Rain" to Dayton, Ohio, with striking shades of red on a gloomy grayscale floor. Grassfield filled the arena with their thunderous flag red feature, stark red umbrellas, and a powerhouse of a Peter Gabriel soundtrack.
Harrison HS' (18th – 85.350) program, "Runaway," told the modern Romeo and Juliet tale of two young teen runaways in Michigan. This story of star-crossed lovebirds – augmented by a black printed floor, nostalgic homefront prop, and two captivating soloists –entreated the audience to always find their way back home.
O Fallon Township HS (19th – 85.020) was on the hunt with their program, "Haunted." Stalking over a stark red floor with slashes of white, in a super modern masked costume, and using bright pops of neon poles, O Fallon bumped over thick drum beats before finally running out of time in a clever clock formation.
In their program, "Rainsong," Layfayette HS (20th – 84.310) twinkled into being with saber layered over bright piano notes, swelled into a deep purple flag featurette over haunting violin, refreshed with white umbrellas – bright piano cascading all the while, peaked with a seamless and soaring feature, and ended with delighting at the rain upon their skin and a crowd-pleasing umbrella toss.
---
Fleming Island HS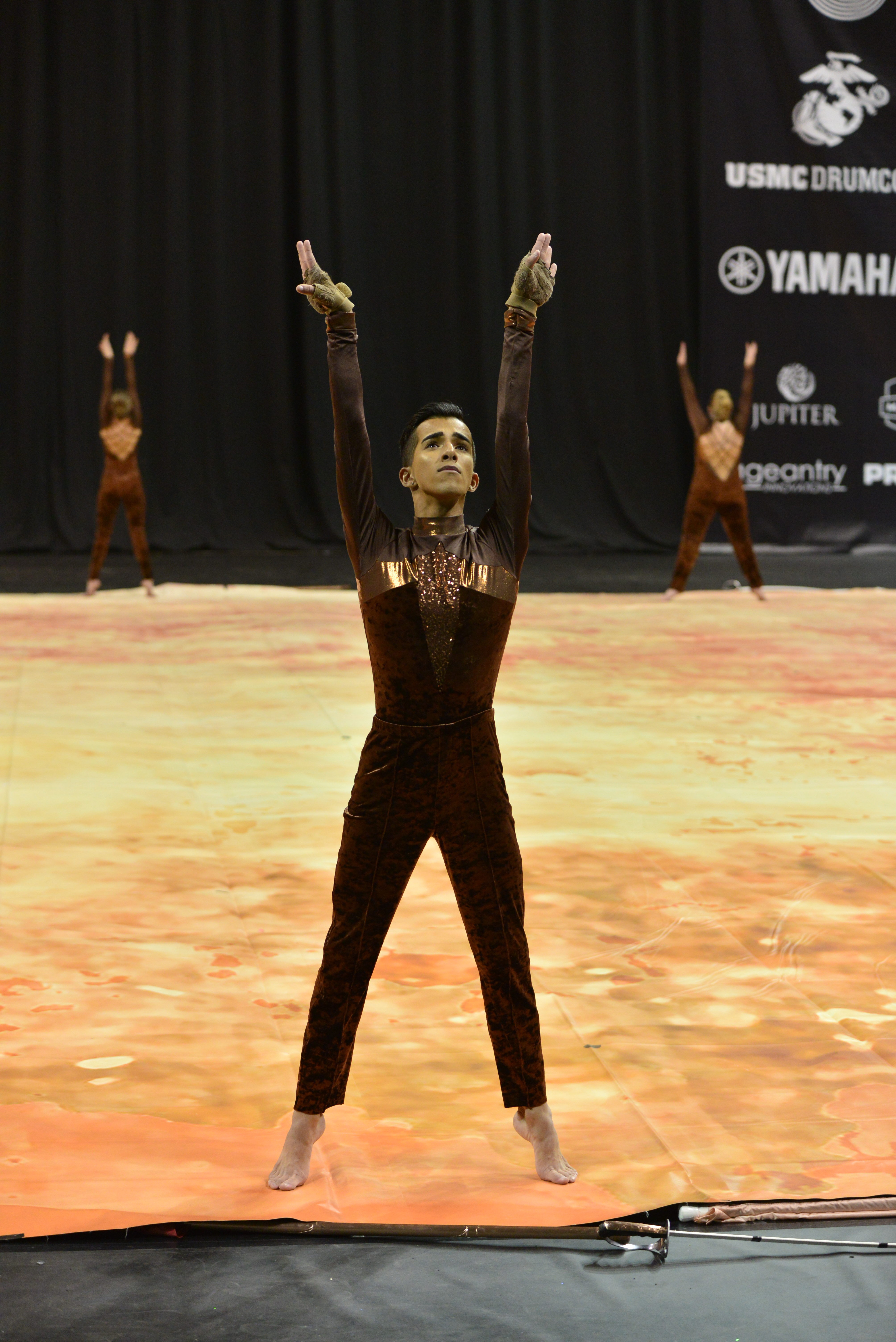 ---
Central Square HS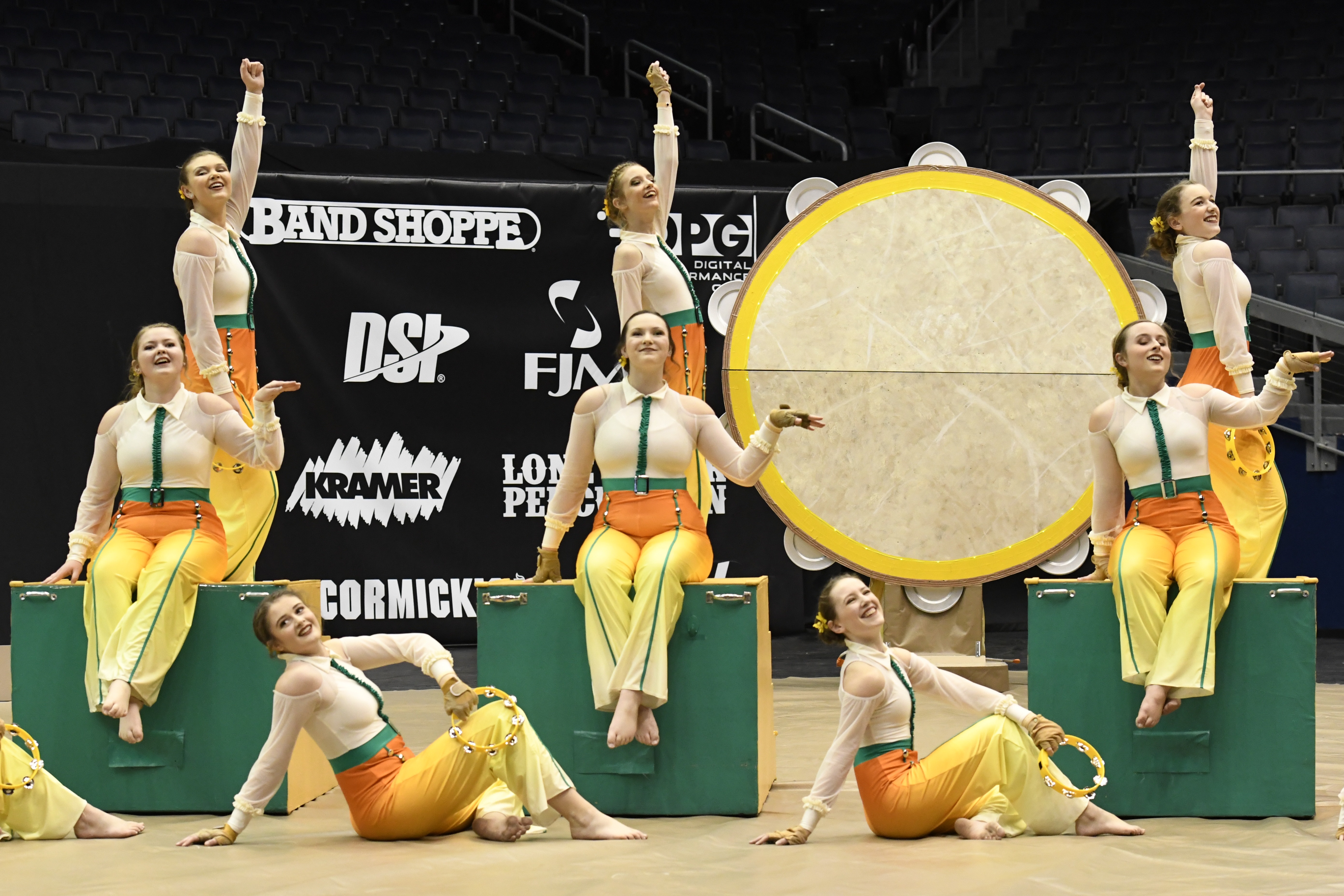 ---
Alpharetta HS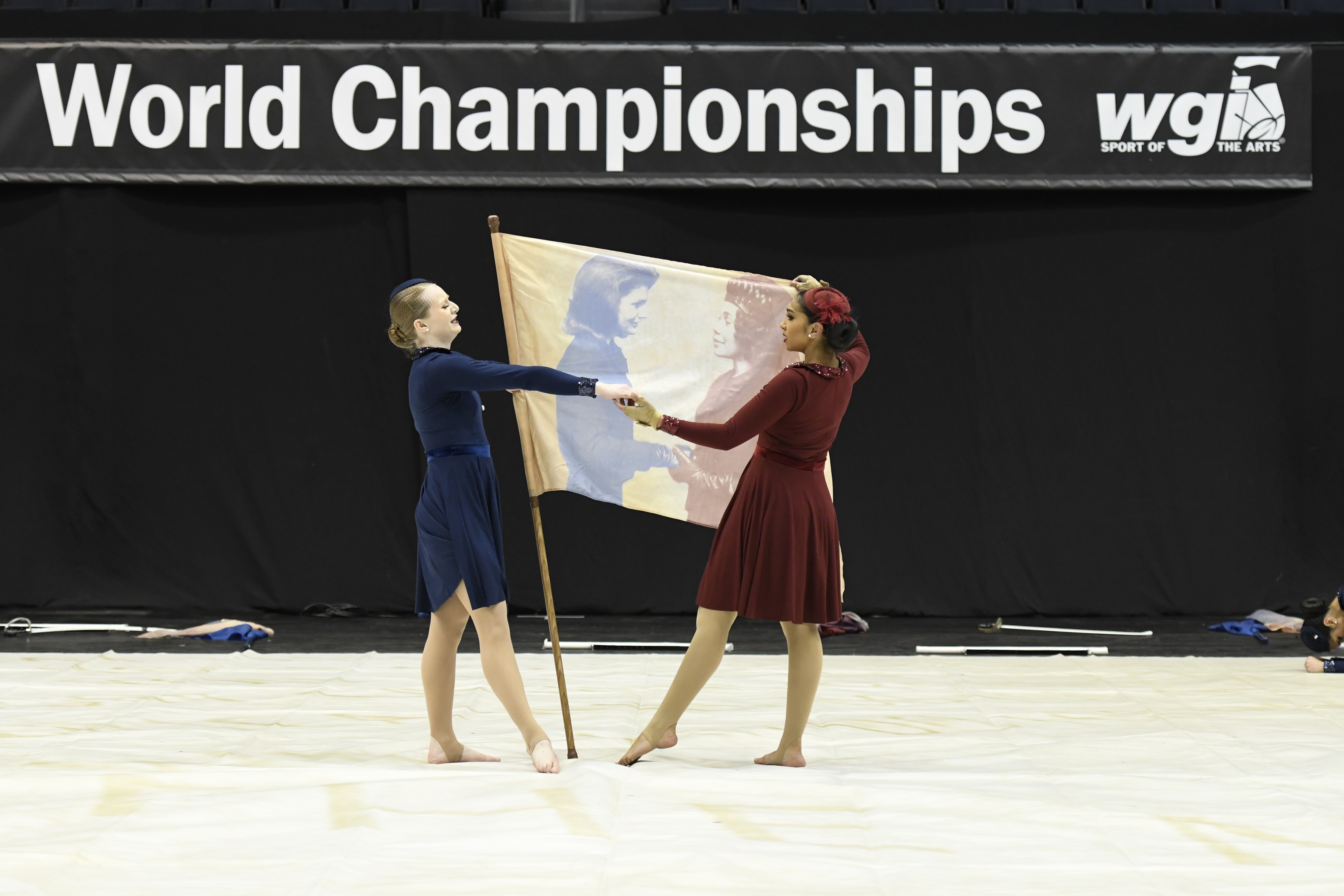 ---
East Lincoln HS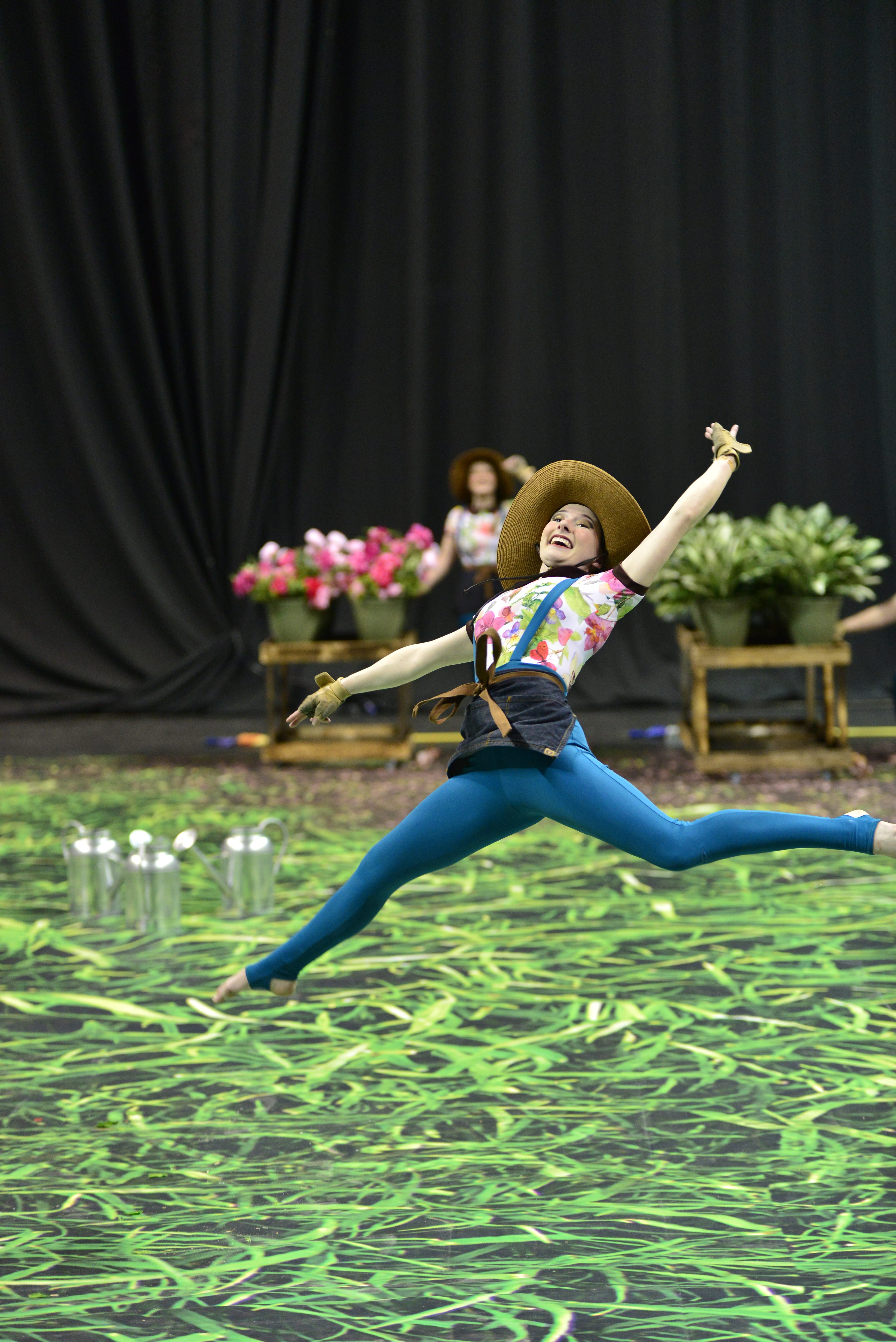 ---
Billerica Memorial HS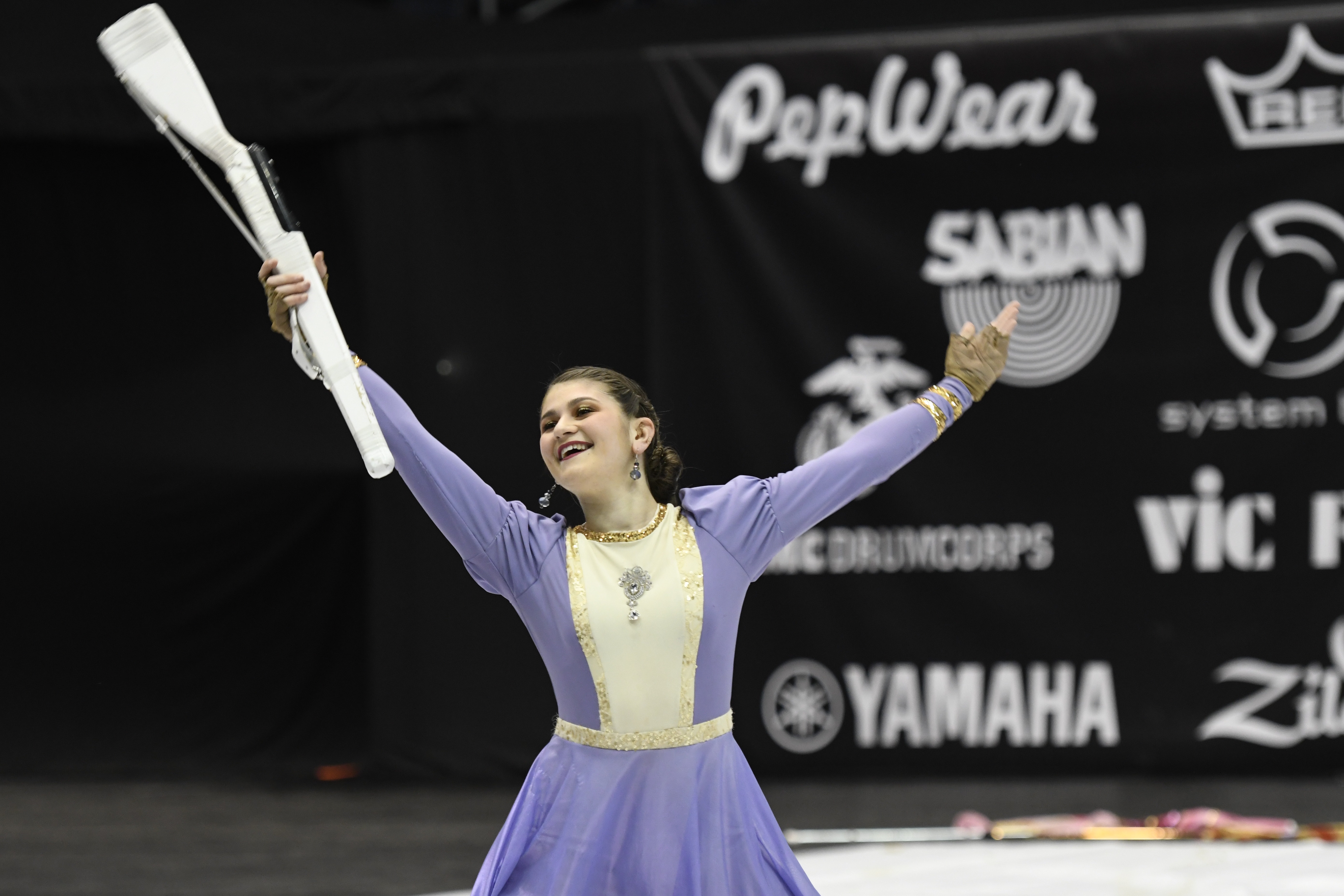 ---
Harrison HS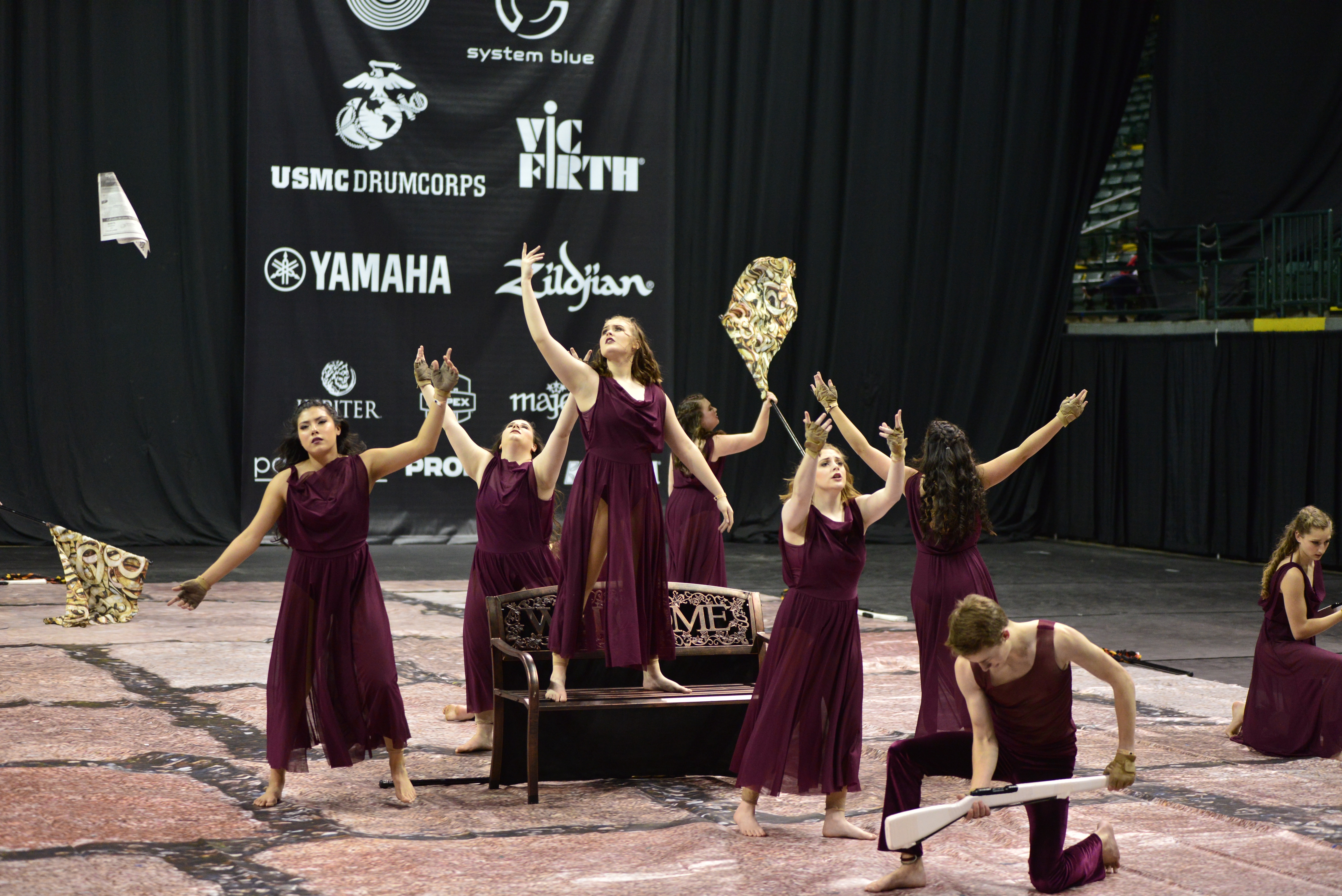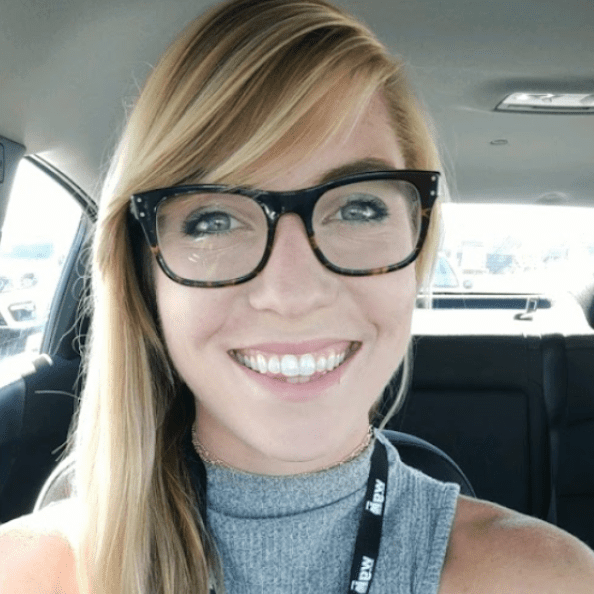 About the Author: Jenny Lyons is a freelance writer and master's student of writing at San Francisco State University. She has a BA in Literary Journalism from the University of California, Irvine. She is an alumna of WGI, having performed with the Santa Clara Vanguard Winter Guard from 2013 to 2015, during which time she was fortunate enough to become a WGI World Champion. Jenny has also marched with several drum corps including the Santa Clara Vanguard. When she is not writing, Jenny can be found continuing her passion for color guard through teaching in the Bay Area and serving as caption head to the Vanguard Cadets.