Pride of Cincinnati (Gold – 98.25)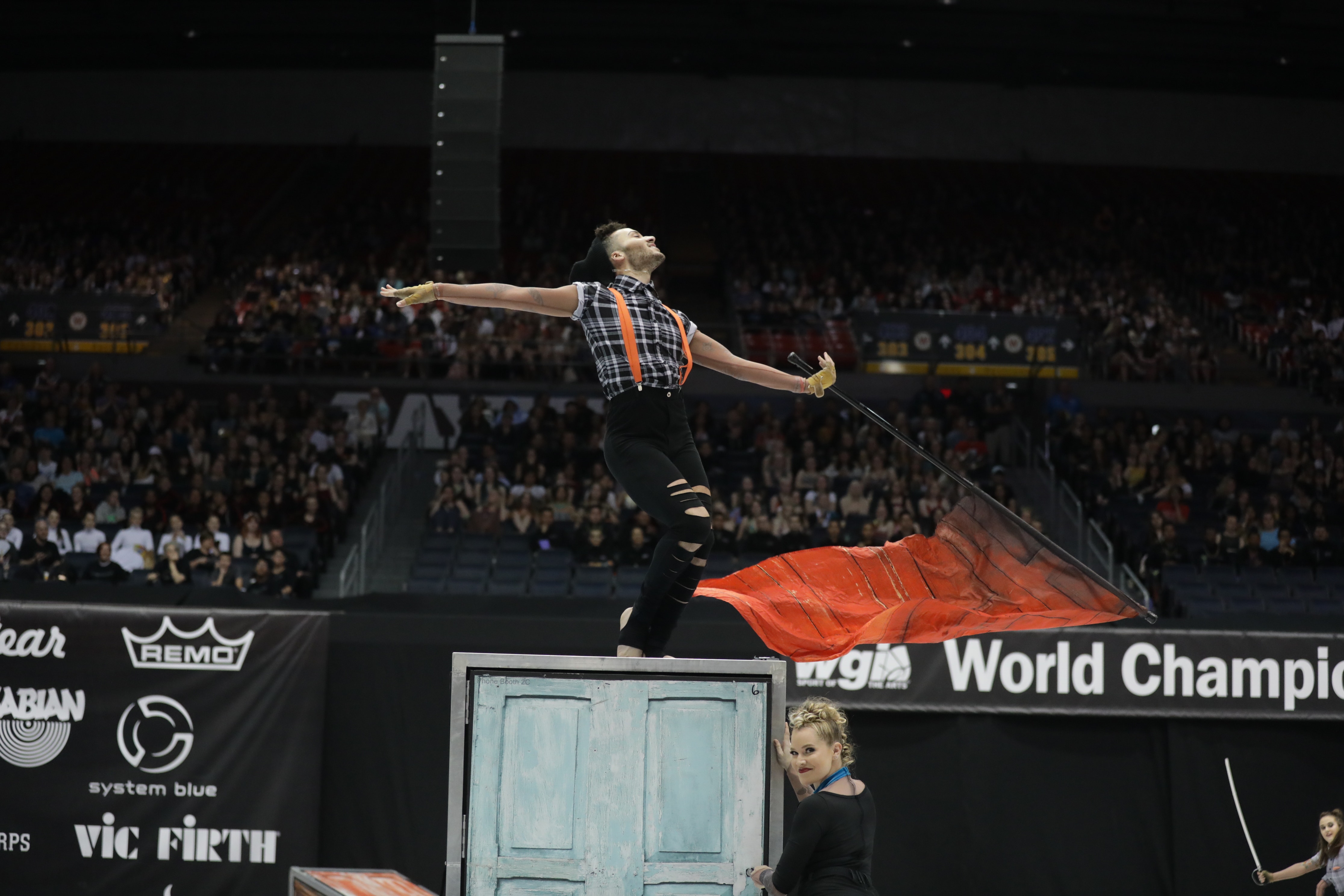 Pride of Cincinnati (Gold – 98.25) left no door unopened in their innovative program "Another Door Opens." Climbing, spinning, and tossing over a jungle of floating door props and ramps, Pride pushed the physicality of the activity to the limit with bright athleticism and a commanding manipulation of body, equipment and prop. The show opened with the doors scattered—a playground rife with opportunity—before developing into an ever changing stage of possibilities seized, missed, and otherwise. Over the course of the program, Pride electrified with moments of strength and captivated with poignant glimpses of isolation and vulnerability. Constantly subverting expectation with their masterful exploration of movement and space, Pride decisively slammed the door on first place with a powerful finals performance.
Paramount (Silver – 96.15)
Paramount (Silver – 96.15) set off for "The Elusive Horizon" in their intriguing 2019 program. Exploring horizons of all sorts through form and movement and intersectionality, Paramount painted a picture lovely in its fragility, technicality, and breathy effortlessness. The performers were ever-moving, the forms ever changing, and the horizon ever shifting in this lovingly crafted powerhouse of a program.  Performed with a nuance quite their own, Paramount ascended to WGI silver with their intoxicating love letter to ambition, hope, and the emotions that lie between.
Diamante (Bronze – 96.10)
In their striking program, "If It's Meant to be," Diamante (Bronze – 96.10) appealed to the heart as they explored forces of fate and love through evocative, innovative movement. Glittering in dreamy white, Diamante was an ephemeral masterclass in performance and partnering. Beyond a groundbreaking weight-sharing phrase that spanned over a minute and a boundary-pushing weapon repertoire, Diamante displayed an impressive duality between emotional vulnerability and strength in their movement, drawing audiences in for their first ever appearance in the top three of world class.
Imbue (4th – 95.20)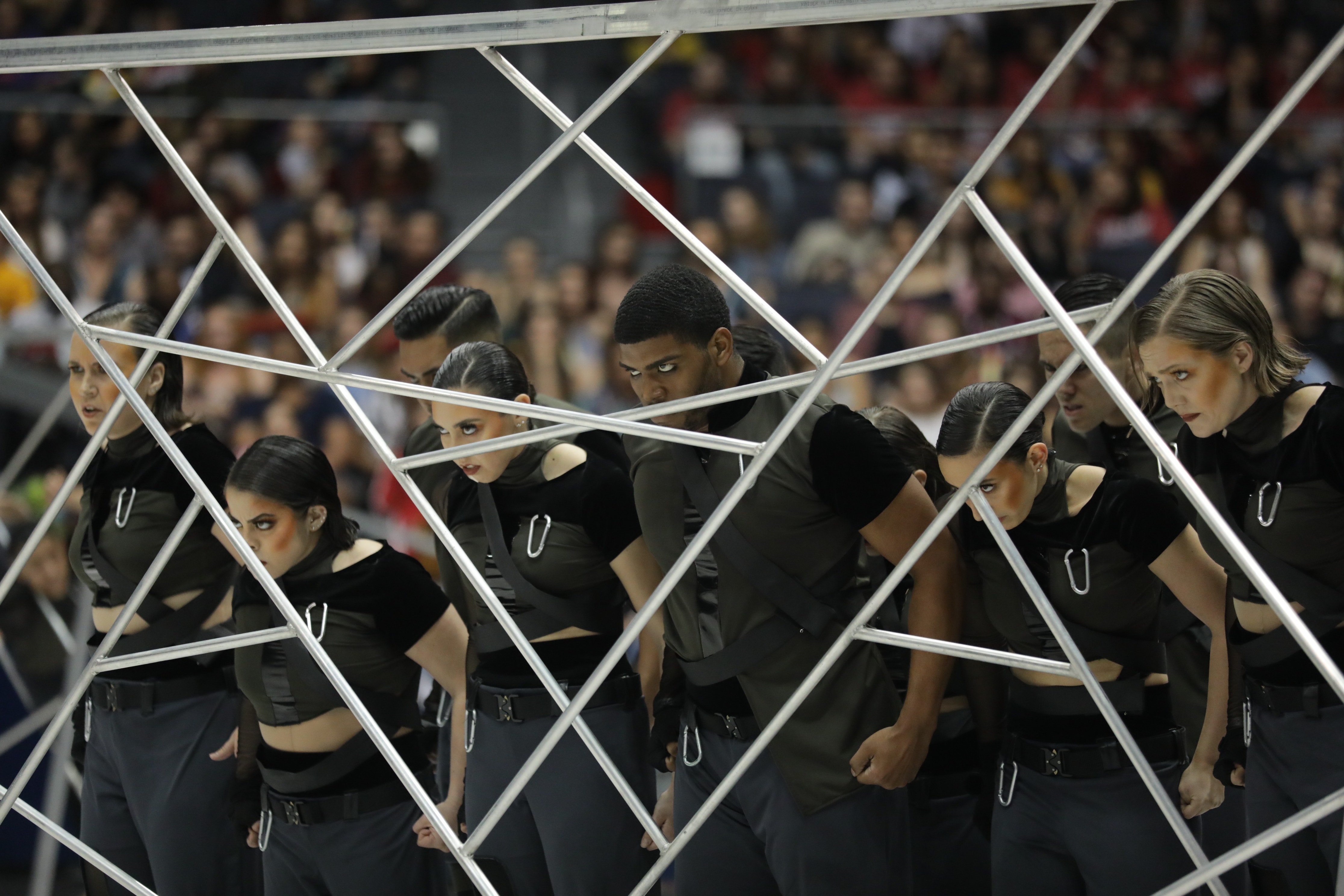 In their postmodern program, "Barrier," Imbue (4th – 95.20) stood out in a belted, militaristic garb of muted greys and olives and slicked down hair. Alive with a unique style of movement, Imbue explored timely moments of mass mobilization, isolation, separation, and frustration with a distinct gait and a unique glowering posture. The end of their program included an impressive upending of their barriers and the ascension of two soloists clawing for a connection, one which solidified Imbue's fourth place finish.
Blessed Sacrament (5th – 93.95)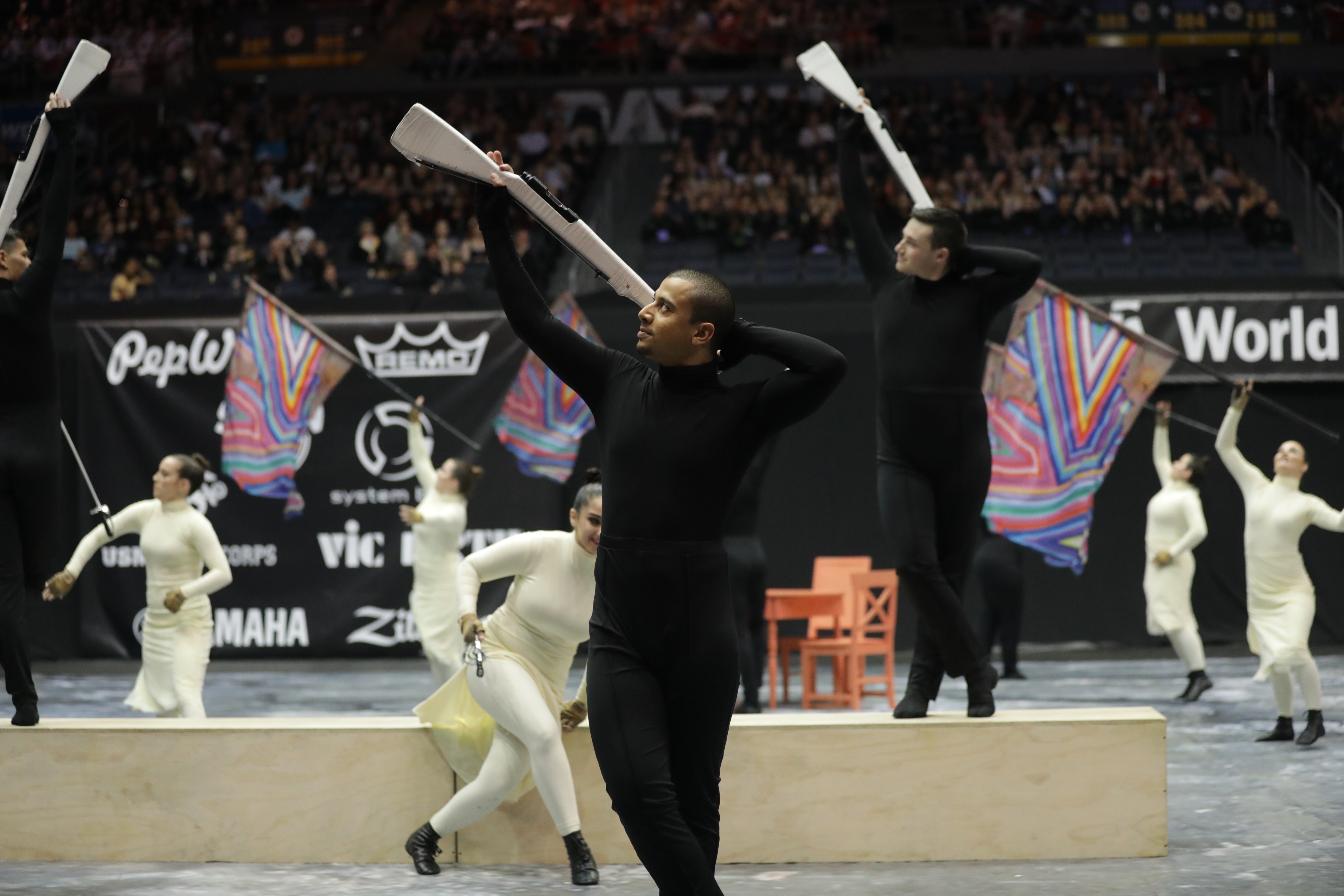 With the women strikingly covered in cream with a delicate skirt detail at odds with their black boots and men cloaked in form fitting black, Blessed Sacrament (5th – 93.95) captivated with their timely program, "A Conversation." Through moments of incredible stillness and a compelling contrast between moving and being moved, Blessed Sacrament explored patterns— positive and negative—that grow from conversation. Set around a stark coral table set and an evocative piano piece, Blessed Sac captivated in their 40th appearance in world class finals.
Etude (6th – 92.90)
Reaching new heights as a 6th place finalist, Etude (6th – 92.90) presented a petal-kissed dream of a program, "The Bloom May Be Brief." Visions of grace in white tops and gauzy pants, Etude explored the aerial space with a new thoroughness with their striking puffs of multicolored petals. This, overlaid amongst masterful beauty in equipment and dance and a delicate track of violin and choral strains, Etude breezed through finals night like a breath of fresh air.
AMP Winter Guard (7th – 90.75)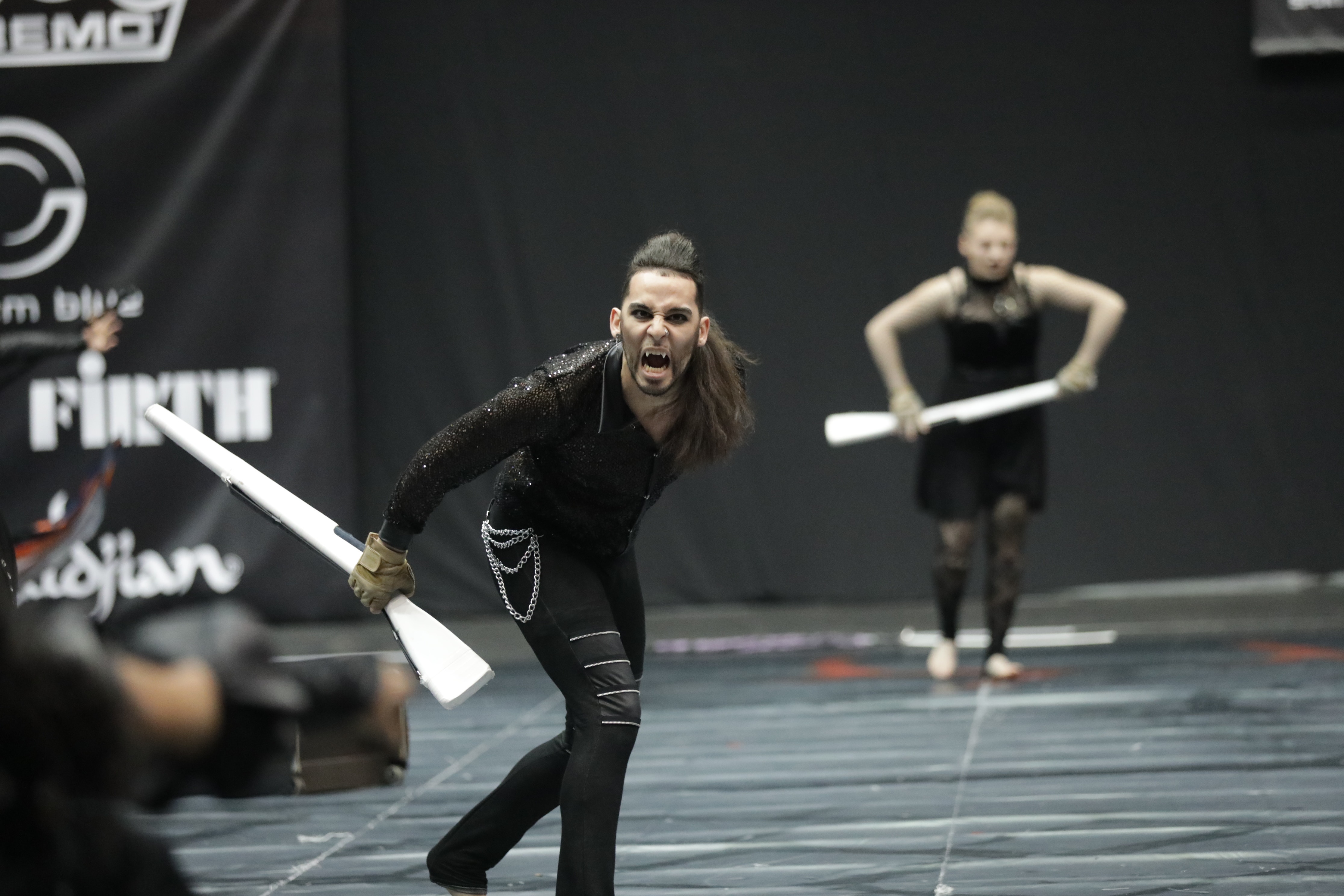 Fan Favorite, AMP Winter Guard (7th – 90.75) launched into 7th place with their delightful romp in the occult. Artfully cloaked in sweeping black and masterfully embodying their vampiric selves, AMP's program included a flawless opening rifle featurette and a seamless amethyst flag feature among a constant barrage of well-executed aerial moments, earning them a dramatic ascension into their first finals placement.
CGT Dallas (8th – 90.70)
In their high velocity program, "UNSUB," CGT Dallas (8th – 90.70) climbed, tossed over, and positively commanded billboards, cars, and scaffolding at a breakneck pace in their modern epic on criminality and the law. Centered on a soloist on the run and set to "Have Mercy on the Criminal," "UNSUB" elevated storytelling to soaring heights through masterful choreography, technicality, and high flying risk and earned them an 8th place finish.
Bluecoats Indoor (9th – 90.40)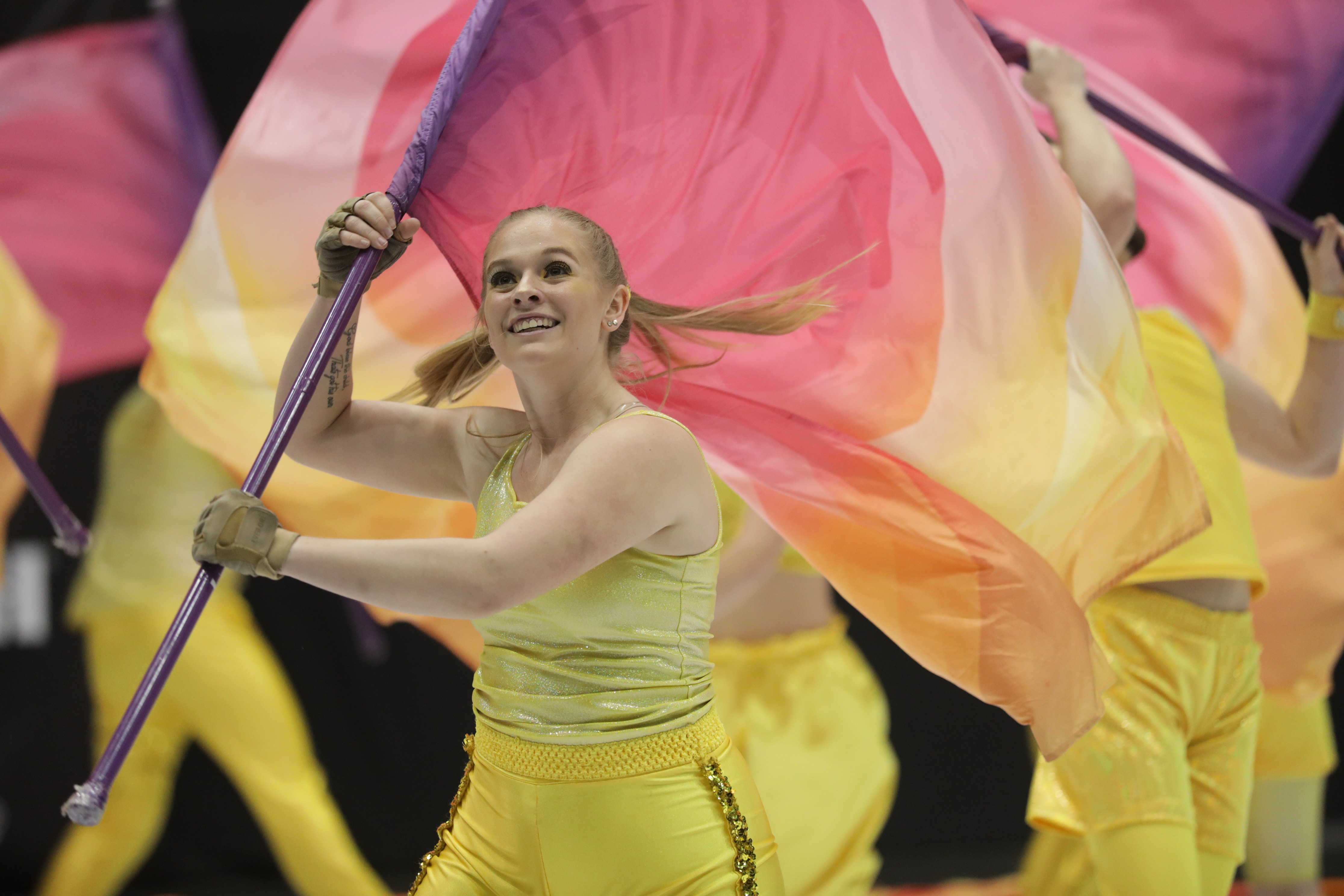 A spot of lemon-bright light, Bluecoats Indoor (9th – 90.40) bounced into their dynamic second year in existence in a meta-exploration of live sound mixing. With a staggeringly intricate process of live musical performance and looping, Bluecoats challenged the conventions of soundtrack selection with their infectious program "The Gravity of Reality." Bloo earned their 9th place finish with fresh concepts, dynamic choreography, and a charming command of character in a piece that left the audience unable to look away.
Onyx (10th – 88.75)
Opening their program with an unsettling meta PSA entreating occupants of the UD Arena to "Shelter In Place" in the face of a brewing storm, Onyx (10th – 88.75) took an apocalyptic look at dismantling societal convention in the face of disaster. Dressed in stark black, white, and red body suits, Onyx masterfully traversed their disjointed floor, which was littered with debris. The playful soundtrack descended into a manic state as the program, too, erupted into madness of movement, performance, and a flurry of isolated equipment moments. In complete command of the chaos, Onyx tore down the arena with their jarring, quarantine-inspired finale.
CGT Denton (11th – 88.35)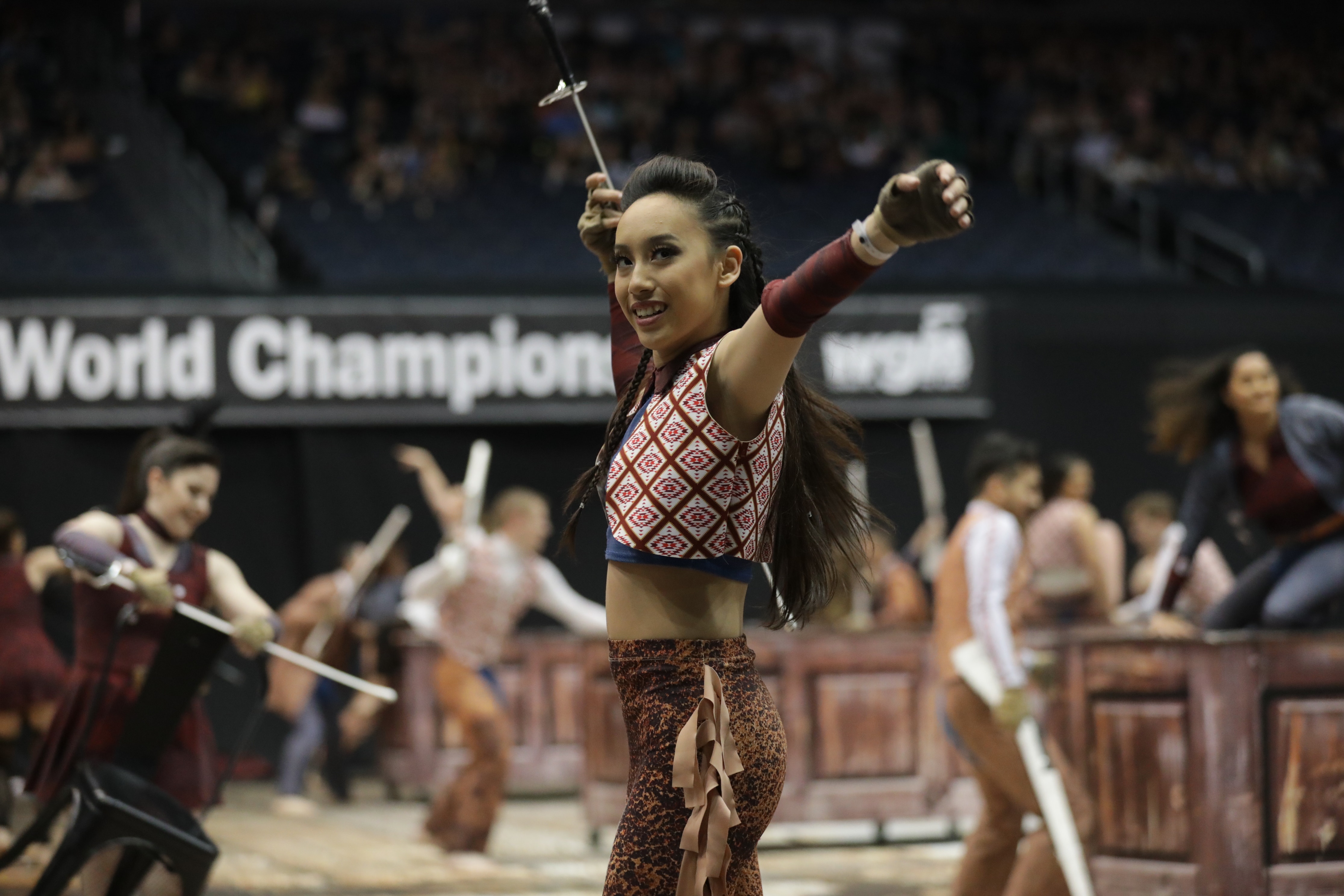 Perennially popular, CGT Denton's (11th – 88.35) "Wanted," drew audiences into their Wild West dreams in a flurry of constant motion, a high-flying equipment book, and electrifying entertainment. Set to "Bang Bang" by Asaf Avidan, CGT Denton charmed the arena with their memorable program and a playfully suspenseful and ever-changing love triangle of a finale each night of championship week.
Fantasia (12th – 87.35)
Evoking images of dragons in multicolor scales and a flame hued floor, Fantasia's (12th – 87.35) program "Rebirth: The Musicality of Motion" was an intensive in musicality. The cast dabbled with concepts of classical style at play with modern movement and technique, creating a tapestry of modernity and an ode to symphonic grandiosity.
Black Gold (13th – 86.45)
Strikingly clad in blush and nude tones an commanding space over, under, and around a simple wood table, Black Gold (13th – 86.45) dazzled with masterful weight-sharing and an achingly beautiful style of movement in their program "The One You Can't Forget." Holding steady at 13th, Black Gold reached new heights in World Class Finals in their devastating portrait of contentious love.
Lexis (14th – 84.40)
Lexis (14th – 84.40) beautifully captured the poignant ache of a relationship lost in their program, "Sonnet 27: Sleeping Alone." Wrapped in flowing silk pajamas and rolling effortlessly over silken beds, Lexis stunned with impassioned movement, floated through aerial equipment moments, and ended like a dream with their evocative dance feature.
Mayflower (15th – 83.85)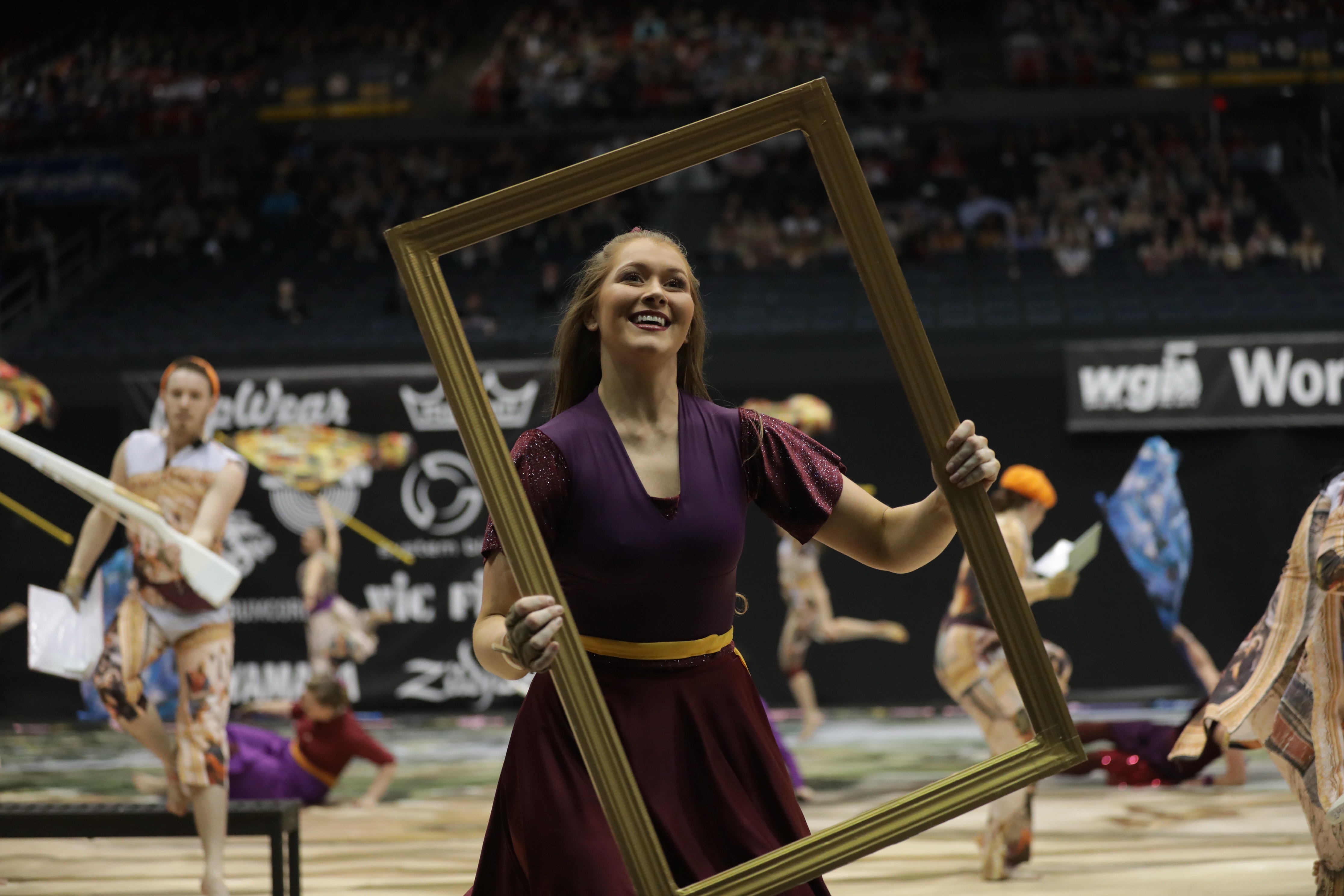 In an endearing ode to the artists and dreamers of the world, Mayflower (15th – 83.85) brought "Fleur De Mai" from the United Kingdom to Dayton in their beautiful finals appearance. Traversing a lovely oil-painted tarp and performing to a wistful Parisian soundtrack, Mayflower charmed with this exciting love letter to the ones who dream.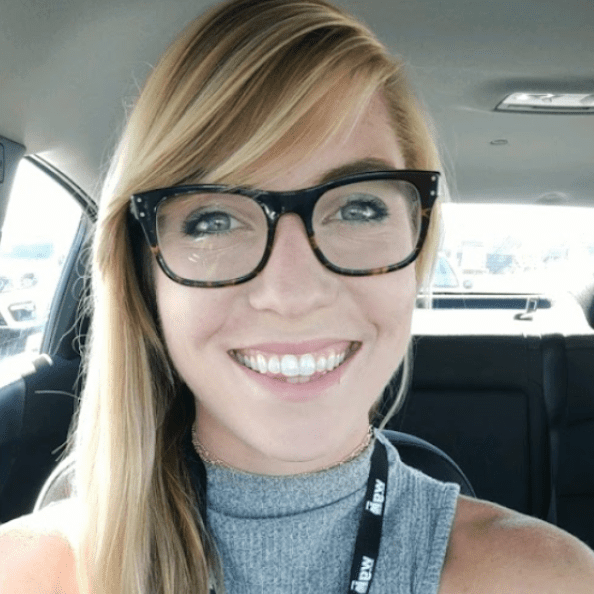 About the Author: Jenny Lyons is a freelance writer and master's student of writing at San Francisco State University. She has a BA in Literary Journalism from the University of California, Irvine. She is an alumna of WGI, having performed with the Santa Clara Vanguard Winter Guard from 2013 to 2015, during which time she was fortunate enough to become a WGI World Champion. Jenny has also marched with several drum corps including the Santa Clara Vanguard. When she is not writing, Jenny can be found continuing her passion for color guard through teaching in the Bay Area and serving as caption head to the Vanguard Cadets.