Unity Percussion (Gold Medal – 96.150)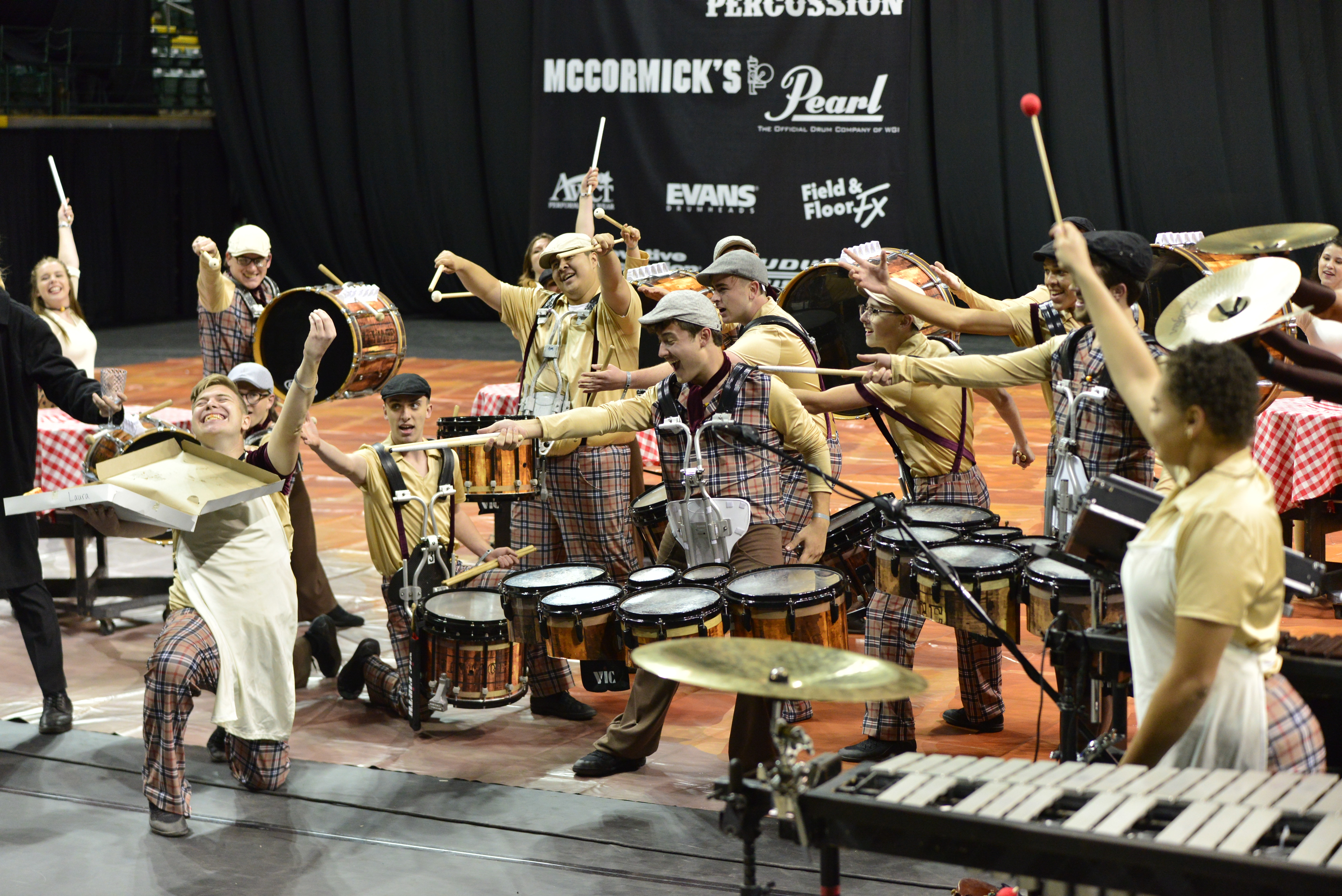 Using Billy Joel's iconic song as a starting point, Unity Percussion (FL) (Gold Medal – 96.150) had the crowd eating out their hands in "Scenes From An Italian Restaurant." Set in an eatery on a red brick floor with tables, a bar, and outdoor café, the line had a blast performing a highly accessible program. An especially crowd-pleasing surprise had a bass feature on red and white table cloths….which actually covered drums and not tables. From dancing waiters, girls tossing pizza dough, happy men singing "That's Amore" at the bar during Happy Hour, to the appearance of The Godfather, the show had something for the pizza lover in all of us!
Railmen Indoor Percussion (Silver Medal – 94.100)
Opening with the military oath every new enlisted soldier repeats, Railmen Indoor Percussion (NE) (Silver Medal – 94.100) paid tribute to those who made the ultimate sacrifice in "A hero's promise." The battery spent the first moments of the program drilling with rifles as they completed Basic Training. Jarring sounds of artillery boomed through the arena as the young men were sent into harm's way. As pounding timpani played motif's from Husa's Music for Prague 1968, an angel appeared among the fallen warriors. The emotional production concluded when the men arose wearing white as an angel helped them to their final destination.
Paradigm Percussion (Bronze Medal – 93.350)
Paradigm Percussion (NC) (Bronze Medal – 93.350) had the feel-good show of the year with "CATtitude." The characterizations of cat-costumed battery and bathrobe-wearing pit as cat ladies with a house full of kittens were purr-fectly done. Performed in front of a feline Wall of Fame with pictures of Garfield, Cat in the Hat, Hello Kitty, and others, the line sauntered, prowled, and pounced their way through a program with numerous feline references. The Meow Mix ditty, Cat Scratch Fever, and other cat-related tunes comprised the musical selections. The line reminded us to have our pets spayed or neutered, making the cats noticeably uncomfortable!
STRYKE Percussion 2 (4th – 93.125)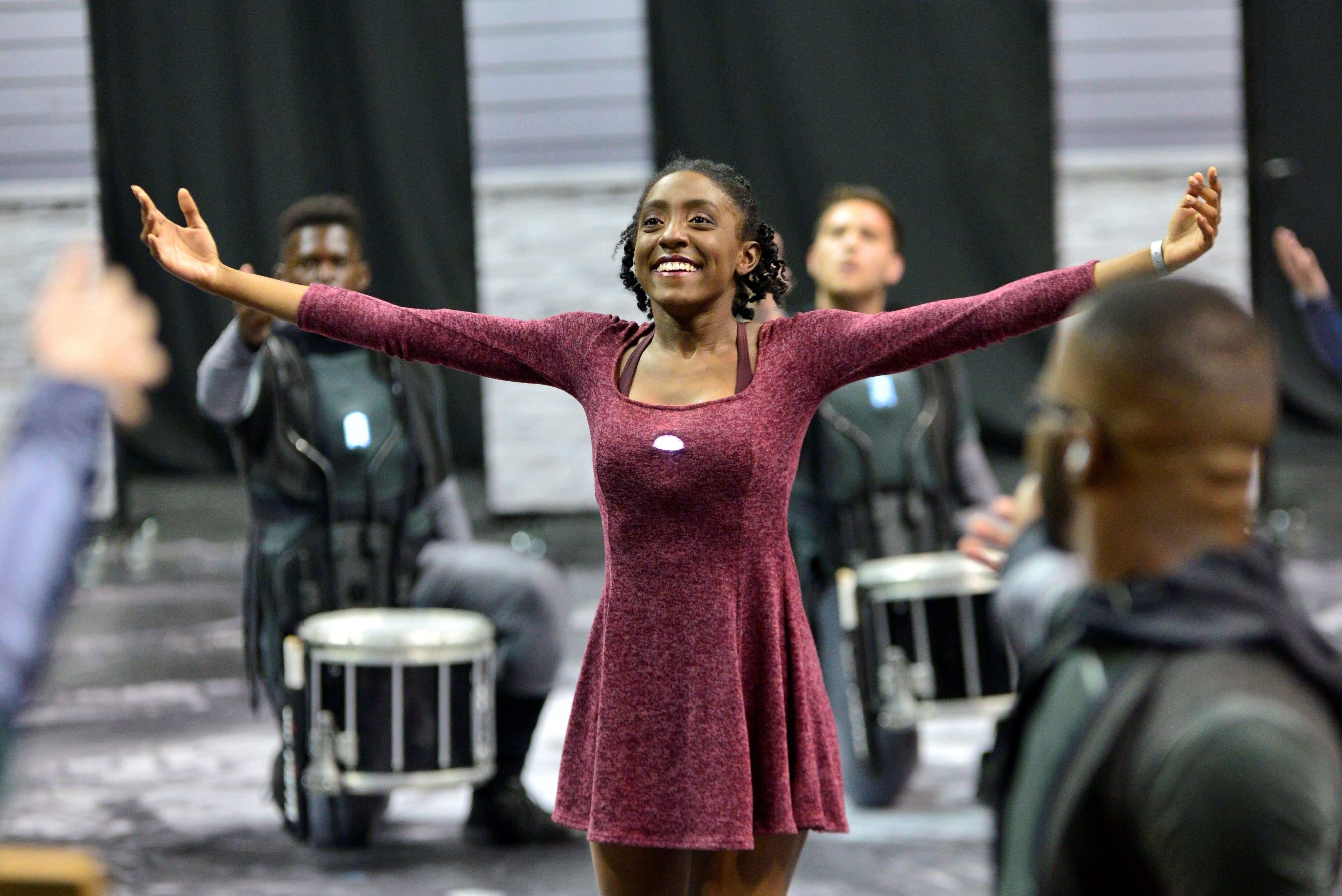 A woman in a turbulent relationship found inner strength she didn't know she possessed for STRYKE Percussion 2 (FL) (4th – 93.125) in "Behind Closed Doors." A couple argued in front of an open red door to begin the program, and a cycle of breakup and make up ensued. A minor version of You Are My Sunshine after one spat depicted the inner conflict of knowing a relationship isn't working, yet not being willing to totally let go. After the lady decided to end it and kicked the man out, she defiantly exclaimed "my greatest fear was that I wasn't enough, but I learned that I can fill my life with light and let it shine" as her dress illuminated.
Modulation Z (MO) (5th – 92.850)
A mysterious stranger has been helping people and averting disasters around a large city, but enquiring minds want to know who he is. Modulation Z (MO) (5th – 92.850) performed "More Than A Man" in front of large city buildings and tall, illuminated obelisks. The police are suspicious and consider him a suspect, though many consider him a hero. The line dropped not-so-subtle hints with a shield form and samples from Five for Fighting's "Superman." The handsome stranger unbuttons his grey dress shirt, allowing us to see a blue shirt underneath with red "S" inside a yellow shield emblazoned on his chest.
Impact Percussion UT (6th – 90.075)
A soldier may leave the battlefield. Unfortunately, the battlefield may not leave him. Impact Percussion UT (6th – 90.075) depicted the psychological after-effects veterans experience when returning from their service in "The War at Home." A man lays down his backpack and boots to start the program, but flashbacks of exploding shells and gunfire leave him and the rest of the line holding their ears. He questions why he is not stronger. The poignant program ended with a voiceover reminding us these heroes face a new battle once they return home and need our support now more than ever.
Huron Valley Percussion (7th – 89.900)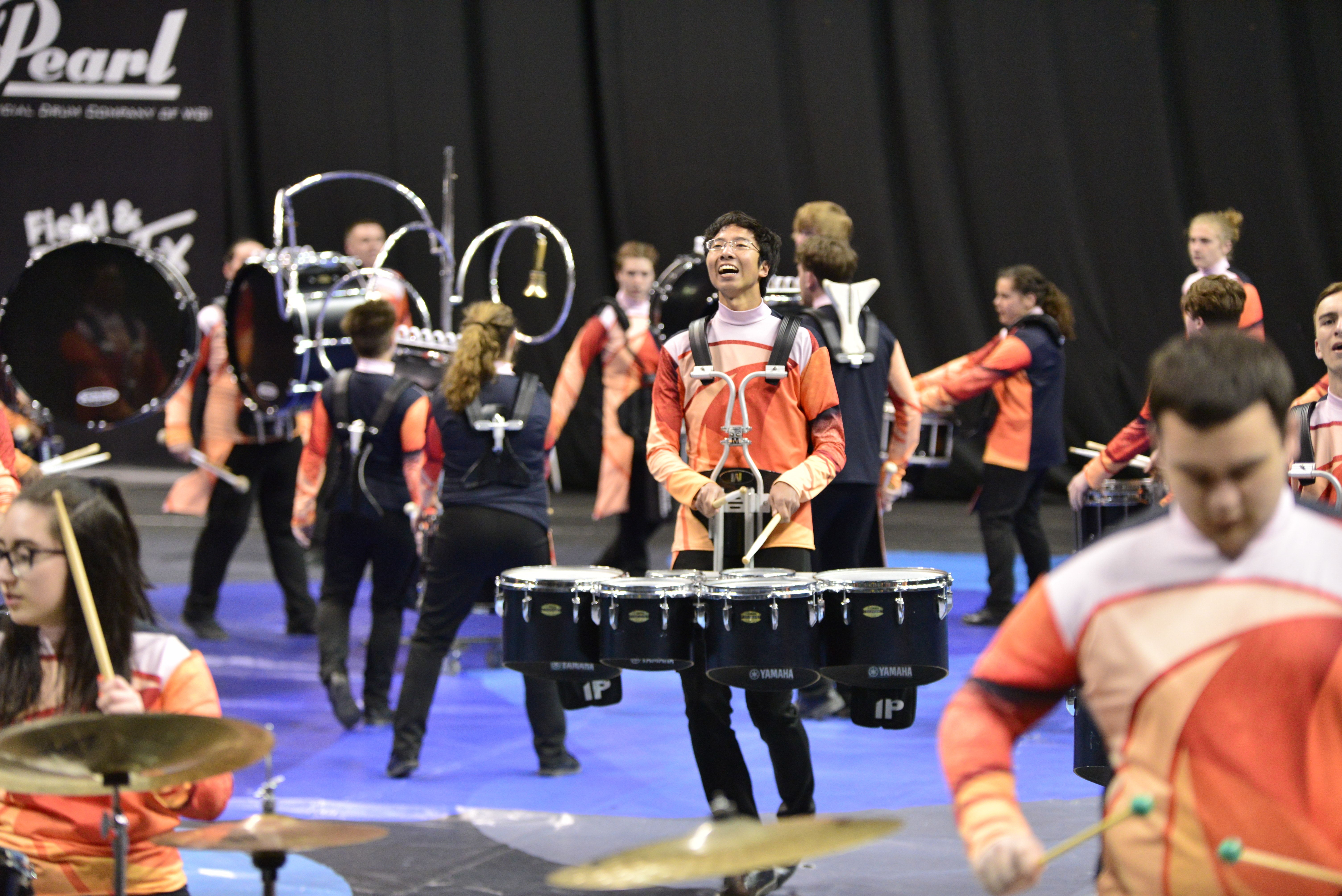 Huron Valley Percussion (MI) (7th – 89.900) encapsulated just about any conceivable permutation of circles in "Ring!" Members manipulated silver rings in choreography as round forms augmented with spinning contrary motion in the drill matched large dots in shades of blue and grey on the floor. The theme was carried musically with metallic pit instruments ringing throughout the arena, and silver racks full of small bells and crotales added higher pitched sustained peals. A giant silver hoop rolled out in the finale as a dancer spun faster and faster inside it.
Nomad Indoor (8th- 88.075)
Nomad Indoor (PA) (8th- 88.075) performed "Breaking Free" behind chain-link fences with members attached by yellow elastic strands to instruments, and utilizing choreography and imagery reminding us of confinement. Opening with battery members' hands bound, the program gradually moved from restraint to freedom as the fences moved and boundaries broken. The show ended with voices of members telling what makes them feel free, with one saying "I feel limitless being able to perform and express myself through music."
G2 (9th – 86.888)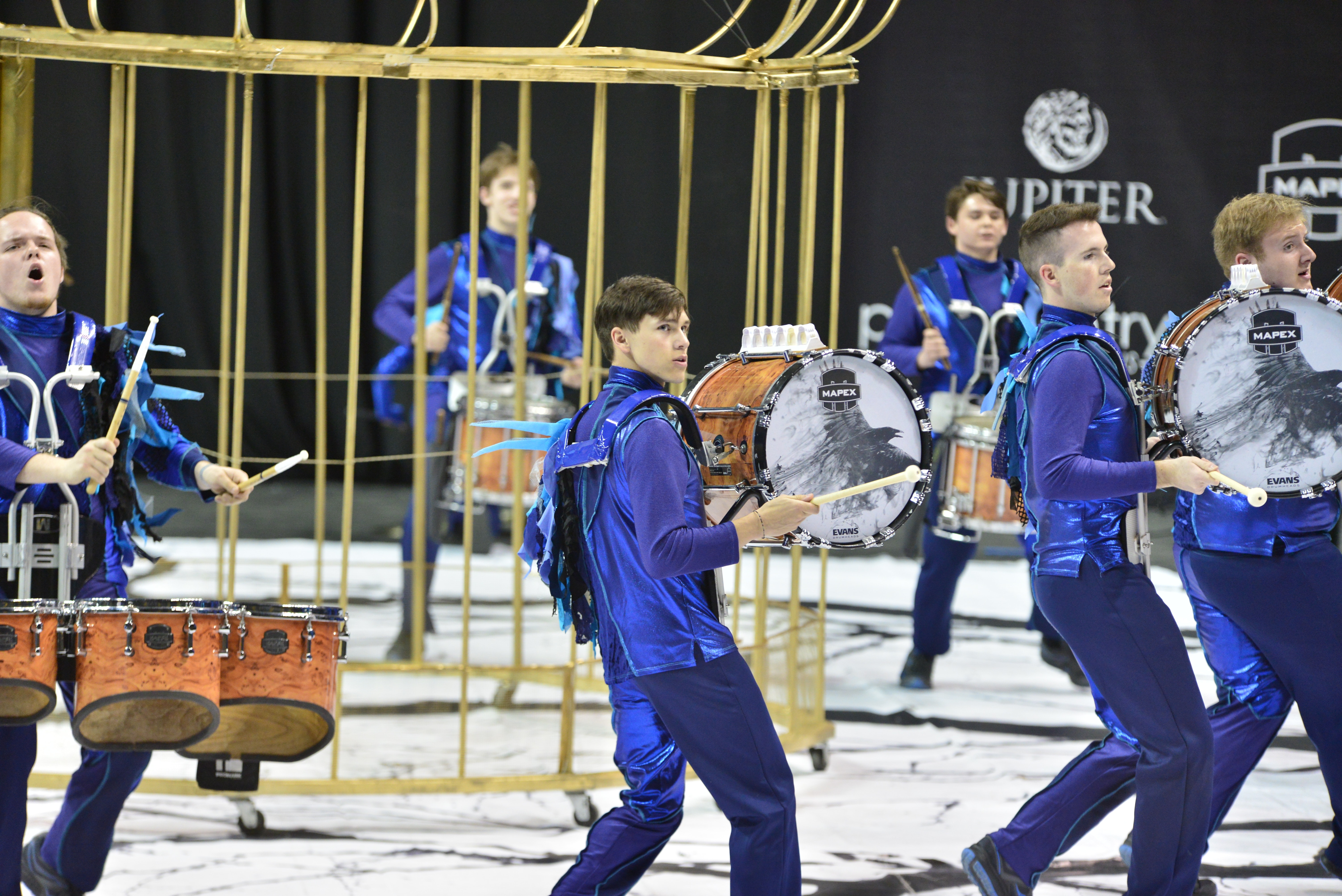 In "Caged," a bird flitted carefree around the floor for G2 (9th – 86.888), but she soon got locked inside a large gold birdcage. After minutes of sadness, the cage door eventually opened, and our newly-freed feathered friend gracefully glided around with double feathered swing flags. A unique visual texture occurred in the ballad movement, as the line performed choreography utilizing chimes with elastic strands. At the conclusion, the line picked up tall poles with birds atop soaring across the floor, turning UD Arena into an aviary.
Fusion Percussion (10th – 86.738)
Fusion Percussion (NC) (10th – 86.738) was on-air with "The Radio Chronicles." Costumed in 1930s garb, the line highlighted the swing music loved by millions who listened to this new invention. A large old-style radio prop and modern tall radio towers illustrated advances in technology through the years. Broadcasts that resonate in the fabric of American history emanated from the speakers, including FDR's announcement of the Pearl Harbor bombing, Martin Luther King's "I Have a Dream" speech , and Neil Armstrong's giant leap for mankind.
Shadow Indoor Percussion (11th – 85.075)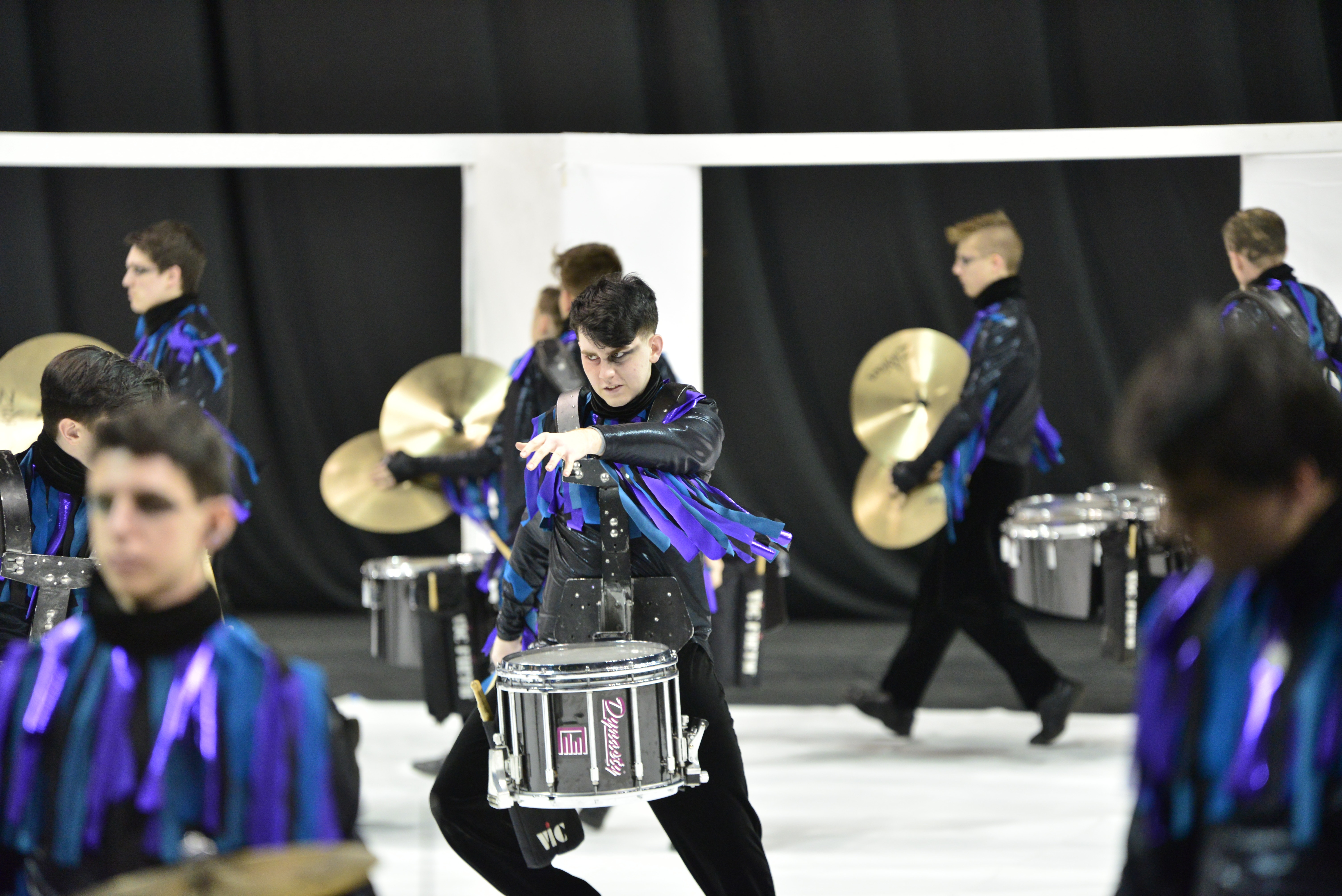 Shadow Indoor Percussion (WI) (11th – 85.075) sported blue falcon feathers on their sleeves in "The Centre Cannot Hold," set to W.B. Yeats 1919 poem "The Second Coming," with the bird imagery drawn from the line "the falcon cannot hear the falconer."  Mental pictures of the apocalyptic words reminded one of the bleak outlook of a post-war era as the poem was recited during the course of the program. Near the finish, a flock of falcons on poles circled overhead, searching in vain for the falconer's arm and perching instead on top of props.
RPT PERCUSSION (12th – 84.588)
In "The Magic Within," RPT PERCUSSION (FL) (12th – 84.588) told the tale of an aspiring magician ostracized by other kids. After reading Mysterio's Encyclopedia of Magic and Conjuring, the young prestidigitator tries to pull a rabbit from a hat, but instead he conjures a skunk. Overcoming discouragement, he eventually finds his magic, mastering card tricks, and even masters the trick of pulling a rabbit from his hat. His greatest feat was entering a magic show and making a volunteer from the audience disappear.
Crystal Lake Thunder (13th – 84.325)
Performed in front of multi-colored flats containing both positive and negative words, Crystal Lake Thunder (IL) (13th – 84.325) had to decide which ones to value more in "Weight." At times, the flats with negative words such as "rejected" and "fired" moved and blocked out the positive words, and at other times the positive words like "acceptance" and "courage" covered up the negatives. As the group internalized the words to form a self-image, the positive messages ultimately won out with a hopeful, upbeat ending.
Saints Percussion (14th – 83.763)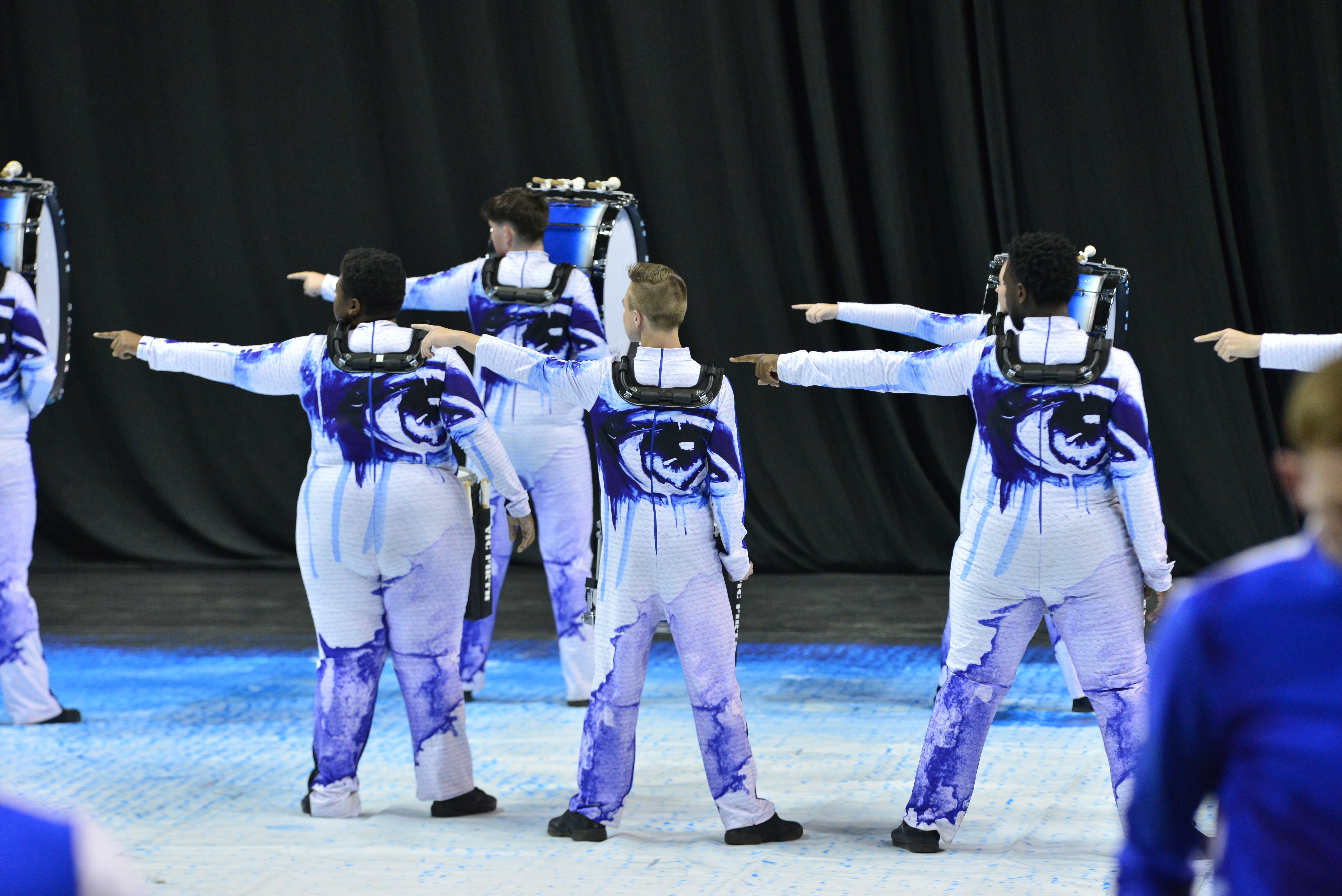 Saints Percussion (SC) (14th – 83.763) built "Behind Blue Eyes" around the song of the same name by Pete Townsend. Tall clear panels moved around the floor, changing visual textures and providing to the audience a sense of thinking we can see beyond the personal facades people construct as sections played features behind the panels. When drummers paired up facing backfield, a large eye on the back of each costume created piercing stares, making it seem as if the line wondered what is going on behind the eyes of the viewer.
Point Indoor Percussion (15th – 83.350)
A woman remembered someone very dear to her who succumbed to breast cancer for Point Indoor Percussion (GA) (15th – 83.350). What inspired the narrator was how her loved one lived life to the fullest after the diagnosis. In "Bucket List," we got to share in her experiences of skydiving, mountain climbing, travel, and most importantly, time spent with people closest to her while still alive. The show closed with a fantastic male vocalist with phenomenal upper range singing See You Again, made famous by Wiz Khalifa.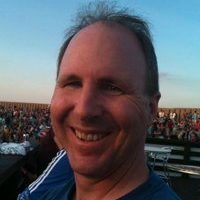 About the Author: Michael Reed provides online and print media content for WGI, Bands of America, and Drum Corps International. 2019 marks his eighteenth year of writing for WGI. He is an active music arranger, composer, and all-around avid pageantry fan. Michael was a member of the Cavaliers Drum and Bugle Corps and holds a bachelor's degree in music composition and music education from Ball State University. He currently works in the health care field and resides in Fishers, Indiana.