We are excited to introduce our second Keynote Speaker for WGIcon:
Motivational Speaker Clint Pulver!
---
WGIcon is a brand-new professional development experience for all indoor marching arts. Hosted at the New Orleans Marriott, this educational convention will provide you with the powers to excel in the indoor activity.
Featuring multiple motivational speakers and a Cirque Du Soleil® workshop, you will hear from leading designers and technicians on how they make their magic. Guardians of the indoor universe will also share their secrets on how to make a career from the marching arts, how to launch a new group, and more!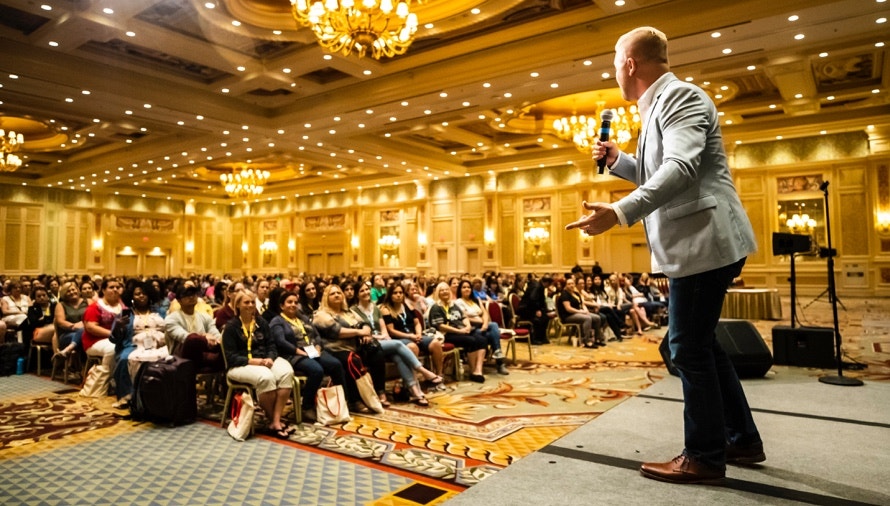 Motivational Speaker Clint Pulver
---
Clint is from Heber City, Utah. He is a graduate of Utah's premiere Flight Program, having received his pilot's license from OK3air and Utah Valley University (UVU), where he also received his Bachelor's Degree in Speech Communication with high distinction from UVU's nationally ranked Leadership Program. Clint was very active in college as a Presidential Leader in the Center for the Advancement of Leadership, Orientation Director, UVU Ambassador, and former UVU Student Body Vice-President.
Clint was recently featured in Business Q Magazine as one of their "Top 40 under 40" as a premiere Corporate Keynote Speaker. He has appeared on America's Got Talent and in several different Feature Films with actors like Jack Black (School of Rock) and John Heder (Napoleon Dynamite).
Known as "The Millennial Speaker", Clint Pulver helps organizations that want to retain, engage and inspire their people. As the president and founder of The Center for Employee Retention, Clint has transformed how corporations like Keller Williams, AT&T and Hewlett Packard create lasting loyalty through his work and research as "The Undercover Millennial". For over a decade, he has been a self-motivated Entrepreneur who is well versed in business start-up, sales management, management training, and growing multi-million dollar accounts. Clint understands first hand that relationships are based on trust, service, support, connection and consistent follow-through.
Clint strongly believes that a single moment in time can change a person's life. He has traveled the world speaking to youth and adult audiences alike, challenging them to dream, excel, connect, and believe–both in themselves and in the power of others. For over a decade, Clint has dedicated his heart to helping organizations understand the younger generation and helping the younger generation understand themselves through living a life of significance, instead of just a life of success: "It's not about being the best in the world…it's about being the best FOR the world".
---
WGIcon: Click here for more info and registration!
---