From a Yamaha Press Release.
INDIANAPOLIS (August 14, 2019) — Yamaha Corporation of America this weekend celebrated 35 years of sponsorship with Marching Music's Major League™ at the Drum Corps International (DCI) World Championship finals at Lucas Oil Stadium.
Since Yamaha began sponsoring DCI in 1985, Yamaha corps have compiled a stunning record of accomplishments, and gained incredible educational and professional experiences. In the 20 years since Yamaha brass first entered the drum corps activity, Yamaha corps have won a total of 13 Jim Ott High Brass Awards.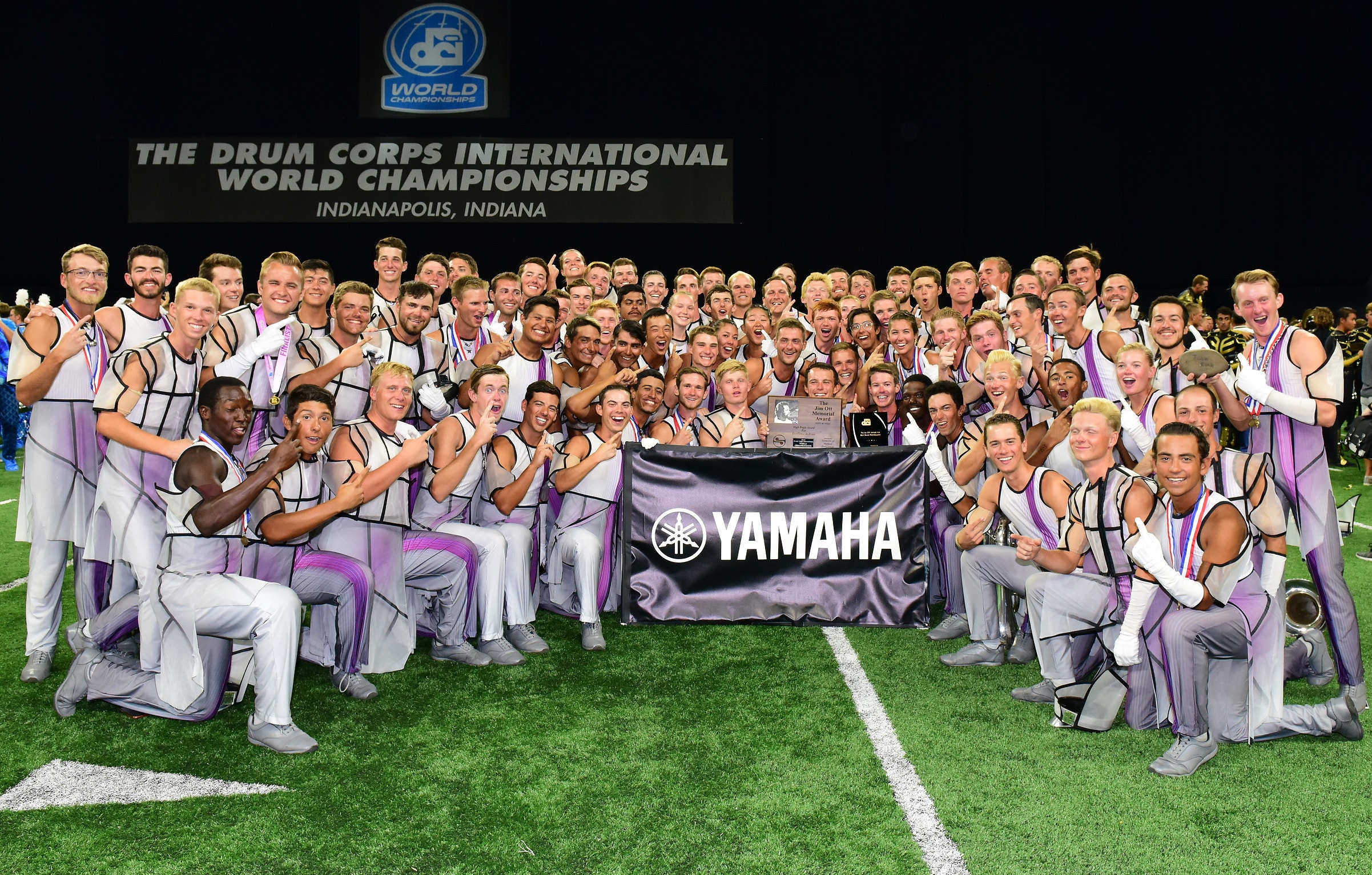 Additionally, since Yamaha support first began, corps equipped with the company's instruments have won 19 DCI Championships, 15 Fred Sanford High Percussion Awards, and 50 gold, silver or bronze medals in total. This season, 15 Yamaha Performing Artists worked on the educational faculties of 8 corps, helping them refine their musical abilities.
Yamaha is the official brand for nine All-Yamaha World Class drum corps. Additionally, 15 corps chose to use Yamaha brass or percussion instruments this year. These corps include The Blue Stars, The Bluecoats, Boston Crusaders, Carolina Crown, The Colts, The Crossmen, The Madison Scouts, Santa Clara Vanguard, The Seattle Cascades, The Cadets, The Cavaliers, The Troopers, Colt Cadets, Legends and The Battalion. Numerous corps selected Yamaha Professional Audio speakers and/or mixers, as well.
"We are immensely proud to celebrate 35 years of an incredible sponsorship with Drum Corps International, and to continue our unwavering support for music education in the marching arts," says Brian Petterson, senior marketing manager, Winds & Strings, Yamaha Corporation of America. "By participating in this lifechanging program, students gain incredibly valuable educational experience, and often move on to become developing leaders in their communities and schools. Giving so many talented individuals the exposure to educational opportunities perfectly aligns with what we believe in as a company and is precisely why we have been supporting the drum corps activity for so many years."
This year, several groups equipped with Yamaha brass instruments were awarded for their musical achievement. Carolina Crown, The Bluecoats and The Cavaliers finished the season on a high note by placing first, second and third in brass on finals night, respectively. Carolina Crown was awarded the Jim Ott High Brass Award, marking their seventh time winning this recognition in the past 11 years. This win for Carolina Crown also marks the ninth consecutive year that the group has finished in the top two of the brass standings.
Matt Harloff, Brass Caption Head, Carolina Crown says, "At Carolina Crown, we strive for the highest levels of excellence in brass performance. To achieve the Crown Brass sound, we need reliable instruments that allow us to focus on making music and since 2007, our choice has been Yamaha. The results truly speak for themselves."
The key elements that draw drum corps to Yamaha include: an industry-leading support of music education and music-making activities for students; world-class quality products, which are in turn shaped and refined through feedback received from the drum corps; product support, through in-house capabilities and a network of service partners throughout the United States; and the company's unique position as a one-stop shop for world-class drum, brass and professional audio equipment.
"It's incredibly rewarding to witness such talented performers compete with Yamaha instruments at the highest level," says Troy C. Wollwage, marketing manager, Drum & Percussion, Yamaha Corporation of America. "We at Yamaha are committed to supporting music education and providing educational performance opportunities, along with the tools needed for success. Our goal is to support these young musicians so that, in turn, they inspire others to join in on the joy of making music."
About Yamaha
Yamaha Corporation of America (YCA) is one of the largest subsidiaries of Yamaha Corporation, Japan and offers a full line of award-winning musical instruments, sound reinforcement, commercial installation and home entertainment products to the U.S. market. Products include: Yamaha acoustic, digital and hybrid pianos, portable keyboards, guitars, acoustic and electronic drums, band and orchestral instruments, marching percussion products, synthesizers, professional digital and analog audio equipment, Steinberg recording products and NEXO commercial audio products, as well as AV receivers, amplifiers, MusicCast wireless multiroom audio systems, Blu-ray/CD players, earphones, headphones, home-theater-in-a-box systems, sound bars and its exclusive line of Digital Sound Projectors. YCA markets innovative, finely crafted technology and entertainment products and musical instruments targeted to the hobbyist, education, worship, music, professional audio installation and consumer markets.