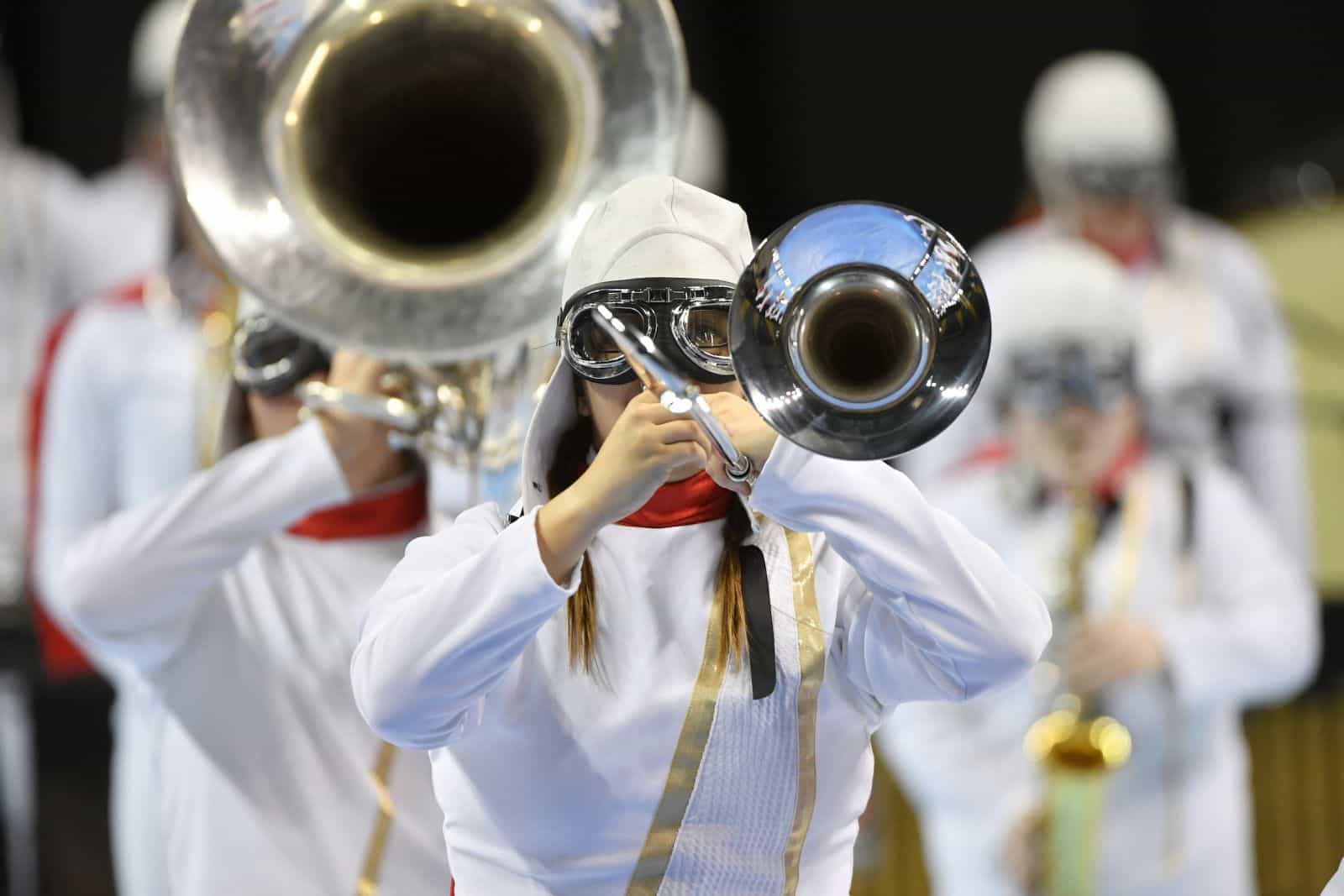 Avon High School 2017 WGI Winds Scholastic World Gold Medalists
From a Yamaha Press Release
At the 2017 Winter Guard International (WGI) Indoor Percussion & Winds World Championships, eight of the awards were earned by groups using Yamaha instruments exclusively. Since 1998, ensembles using Yamaha marching percussion instruments have captured over 116 medals.
From April 20-23, more than 590 participants from across the country and around the globe convened in Dayton, Ohio for the WGI Championships, commonly called "The Sport of the Arts" due to its highly choreographed artistic and theatrical elements. Indoor percussion and indoor wind ensembles consist of the marching members and front ensemble of a marching band or drum corps.
Top WGI Percussion Championship honors are given to competitors in both scholastic and independent categories for both percussion and wind instrument divisions. The 2017 WGI Gold medal winner in the Scholastic World was the Chino Hills High School (Calif.) Percussion Ensemble, last year's second-place winners. The Silver medal in Scholastic World went to the percussion ensemble from the Arcadia Unified School District (Calif.). Pulse Percussion (Calif.) won the 2017 Bronze in Independent World. Fair Lawn (NJ) took the Gold medal in Scholastic 'A' and Farmington United (MI) received the Silver medal in the Independent 'A' category.
The Gold medal winner for the Winds Championship Independent Open class was awarded to Chromium Winds (Illinois). The Scholastic World Gold medal went to Avon High School (Indiana). Chromium Winds also took home the Fan Favorite as voted by fans during the weekend.
Nearly all the 250-plus competitive ensembles at the event use a musical instrument offered by Yamaha.
The WGI Championships is the culmination of many hours of work from students, staff, parents, friends and administrators. It is the largest and most spectacular indoor percussion competition for both scholastic and independent ensembles. Participants bring their topmost levels of musical talent, theatrical expression and choreographed movement to the WGI Championships.
"Yamaha has been a proud supporter of WGI and indoor percussion for nearly 20 years, and is the only company that has all the instruments and products these groups need to compete at the highest level – from drum sets, marching percussion and wind instruments to mixers, PA systems, sampling and arranging products," said Troy C. Wollwage, percussion marketing manager, Band & Orchestral division, Yamaha Corporation of America. "Competing at WGI is akin to playing in the major leagues. The numbers of young performers and their musicianship levels keep rising and many of these young people will become the music educators of the future."
The involvement of Yamaha Performing Artists is further evidence of the company's commitment to music education. This year, close to 30 Yamaha Performing Artists served as instructors, judges, ensemble directors and fans during the events. These included Ian Grom and John Mapes, who worked with winners Chino Hills and Pulse Percussion; Tony Nunez and Kevin Shah, who directed the award-winning ensemble from Arcadia; and Matt Hairoff who leads the program at Avon. Yamaha artists teach young people how to be better musicians, but also emphasize the value of focusing on crucial life skills such as teamwork to achieve a common goal.
With its unwavering support to music education, Yamaha has awarded scholarships to two deserving WGI participants at the Indoor Percussion World Championship Finals. The 2017 Yamaha/Dennis DeLucia Scholarship recipient is Joshua Boulis from Rutherford B. Hayes High School in Delaware, Ohio. This scholarship pays homage to DeLucia, an acclaimed teacher, arranger and clinician who continues to make deep contributions to marching music. The 2017 Yamaha Music Education Scholarship recipient is Allison Zimmerman from Lakota East High School in West Chester, Ohio. This scholarship is a way to support students pursuing music education and continues the long history of music education dedication from Yamaha.
For more information about Yamaha Percussion, please visit http://4wrd.it/percussionweb
About Yamaha
Yamaha Corporation of America (YCA) is one of the largest subsidiaries of Yamaha Corporation, Japan and offers a full line of award-winning musical instruments, sound reinforcement, commercial installation and home entertainment products to the U.S. market. Products include: Yamaha acoustic, digital and hybrid pianos, portable keyboards, guitars, acoustic and electronic drums, band and orchestral instruments, marching percussion products, synthesizers, professional digital and analog audio equipment, Steinberg recording products and NEXO commercial audio products, as well as AV receivers, amplifiers, MusicCast wireless multiroom audio systems, Blu-ray/CD players, earphones, headphones, home-theater-in-a-box systems, sound bars and its exclusive line of Digital Sound Projectors. YCA markets innovative, finely crafted technology and entertainment products and musical instruments targeted to the hobbyist, education, worship, music, professional audio installation and consumer markets.
Contact: Peter Giles/Giles Communications (914) 798-7120 ([email protected])