By Kathryn Hardison
Crossroads Percussion brought a little bit of Iowa to the competition this season for the first time in WGI history. Not only was their show centered on the destructive tornadic weather that residents in Iowa experience, but Crossroads was the first indoor drumline from the Midwestern state to compete at WGI.
This freshman group experienced quite a few challenges this season, but were able to stand their ground in finals.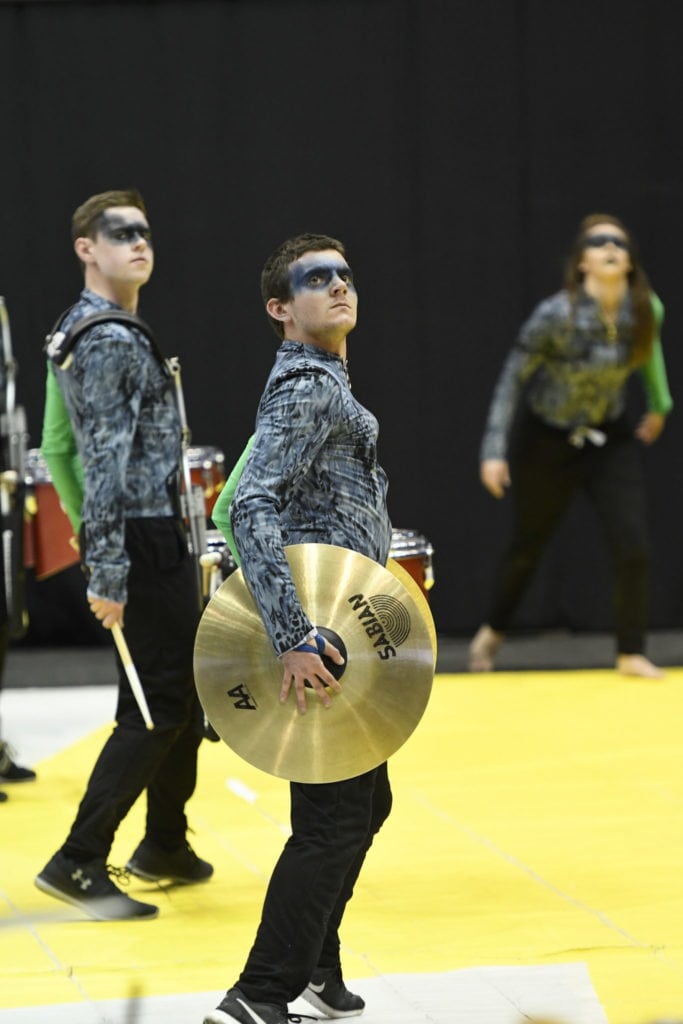 A novice, courageous ensemble
This new group brought their A-game to the competition this season, starting their WGI experience off with a bang.
Crossroads Percussion placed 12th in Independent A finals competition during the World Championships with a score of 85.075. Their show, "Weathered," focused on natural disasters common to the state of Iowa and how community members respond to the mass destruction.
The newly formed ensemble was filled with novice members who—for the most part—had never been in a percussion group like WGI, nor touched a percussion instrument.
"We had an executive director who had never been an executive director; a program coordinator who had never been a program coordinator; and members that had never marched WGI—including in high school," said Travis Hattery, executive director of Crossroads. "So for us, it was such a fortunate season."
Keeley Taylor, who performed the bell set for Crossroads, was a freshman in college during the 2018 season. The 2018 season was not only her first time performing in a percussion ensemble before, but her first time ever playing a percussion instrument. Taylor said that there was a "positive vibe" in the ensemble, and that there were talks of the members continuing to grow over the next couple of years together as a group.
Although a major portion of the ensemble attended Iowa State University, the ensemble had no scholarly connection to school. Hattery believes that this provides a unique opportunity for the group.
"ISU is an engineering university, primarily," Hattery said. "Something that makes our ensemble really unique is that it's not something people are going to fulfill a requirement for school, or something they think they need to do to feel qualified. Our members are doing it because they love it and it's an opportunity that no one else gets in the state."
The journey to finals
Crossroads Percussion encountered several challenges along their path to WGI Championships.
For starters, the majority of the ensemble was made up of people that did not have experience with marching instruments, or indoor percussion, in general—a concept fairly foreign to the state of Iowa.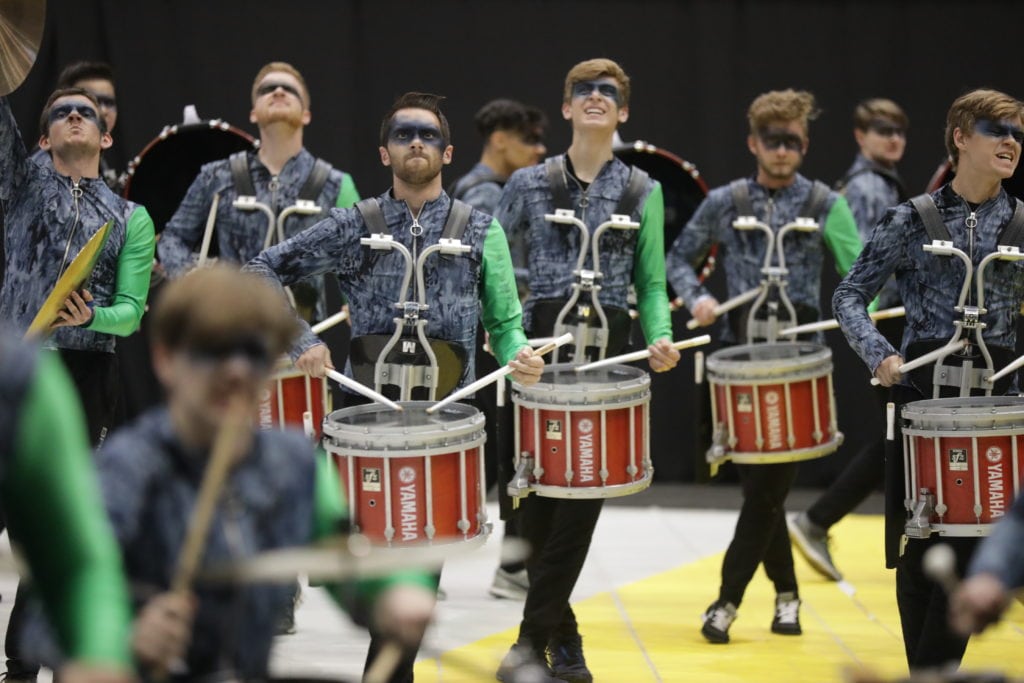 Emma Davis, a vibraphone performer who previously marched the cymbals in marching band, was one of the few that did. Davis was initially nervous about joining the ensemble based on members' stories about some of the more "intense" groups, like Independent World ensembles. Nerves aside, Davis said she was proud of how the group transformed over the course of the season.
"Throughout the season, you could definitely see the growth in technique and playing ability—not just from me, but from everybody," she said.
Davis also mentioned that a lack of resources forced the group to get more creative than usual.
Members wore their own shoes, marched on a pre-used tarp, rented a Penske truck every weekend and used borrowed equipment, Davis said. But, that comes with being a first-year group. Regardless of any resource limitations, the ensemble still pushed onward to place in finals competition.
For Hattery, the biggest challenge the group faced this season came on the administrative end of the ensemble. Because the sport was new to the state, Hattery said it was difficult to get support behind the idea. But once the band directors, high school teachers and family members saw the ensemble perform, Crossroads erased any doubt of whether or not the sport deserved support in the state.
"As soon as they see it live, they understand," Hattery said. "They get to see that we teach them respect; we teach them rehearsal etiquette; we teach them to perform as a higher level than they used to. Once they see that in person, a light bulb comes on, and you can see that reflected in the administration."
For Madison Weber, the lack of experienced member leadership posed a few challenges as well. Weber, who is now a freshman in college, performed in the group's visual ensemble.
"With groups like this, there are always seniors telling people what to do," Weber said. "We didn't have that. There was leadership, but there wasn't leadership quite like that."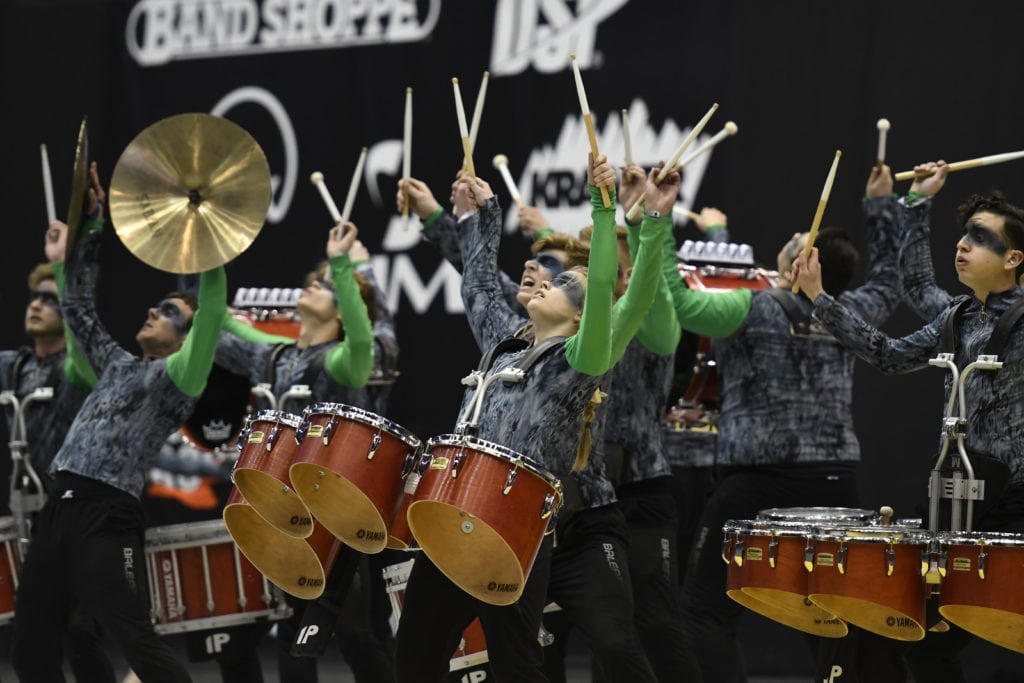 Novice no more
When Crossroads Percussion placed in finals competition, it took some of the members by shock. Not because members doubted one another, but because of the group's relatively recent formation.
"I didn't expect it, just because we're a first-year group," Davis said. "When we did make finals, it was a pretty awesome feeling. It was the icing on the cake because we worked so hard."
Hattery said that the staff reminded the group throughout the season that the point of WGI competition isn't only to place in finals.
"We made it extremely clear to the members that there was no expectation for them to place competitively," Hattery said. "For us, it was such a reward to even be at WGI competitions."
Seeing World Finals competition sparked the fire under a few of the members and staff members, and—just like that—they were bitten by the "drumline bug," Hattery said.
Talks of the 2019 season began immediately after WGI Championships ended, and Hattery has no doubt that the group will continue to do great things.
"That's another amazing thing about this ensemble—since it's such a tight-knit ensemble, there's no question about who's coming back or not," Hattery said. "We're all in this together."
---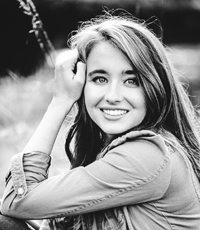 About the Author: Kathryn Hardison is a journalism student at the University of Missouri, majoring in news reporting and minoring in political science. Prior to college, Kathryn went to Kickapoo High School in Springfield, Missouri, where she marched the flute in the fall and played the cymbals for the Kickapoo Indoor Drumline. Kathryn's career in the Kickapoo Indoor Drumline included placing 8th in PSA World Championship finals in 2015 and a reclassification to PSO. After college, Kathryn plans to write for a newspaper.