By Michael Reed
Canadian guards have been a part of the activity for nearly as long as WGI has existed. The Royalaires were the first Canadian finalist in 1984. Since then, many guards from the land of the Maple Leaf flag have performed in Finals, including two-time Champions Pacificaires, who won the Independent A crown in 2010, and took the Open Class Gold medal the following year.
Since that 1984 season, Canadian guards have performed in Finals an amazing 32 of 34 seasons. Here is a bit of WGI trivia: Either Pacificaires, Sonnor, Les Eclipses, or Ventures were Finalists for 30 consecutive seasons from 1987 through 2016. Quebec's 3rd Legend picked up the mantle this year, making Independent A Finals.
The fact that groups from north of the U.S. border have made such an impact on WGI is remarkable considering that there are no scholastic guards to recruit from. Most areas of the continental U.S. have numerous high school units for independent guards to draw upon. Lack of scholastic groups makes recruiting more of a challenge in Canada.
The Pacificaires of Surrey, British Columbia have been arguably the most successful Canadian guard in WGI and certainly the oldest, having been in existence since 1978. According to Director Alan Dyck, "The Pacificaires started in late 1977 as a Drum and Bugle Corps. The Winter Guard started at the same time and first competed in January 1978. They competed at the Western Dream Pageant which was the west coast's version of WGI at that time."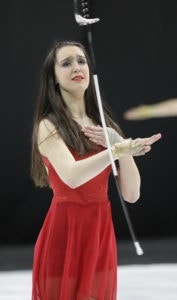 Dyck spoke about the recruiting challenges his group faces. "Our biggest recruiter has been word of mouth. We started a dance school and have been able to recruit younger kids. We presently have three guards. Our Mini Guard starts at age 4 – 8, our Jr Guard from ages 8 -12 and our Senior Guard from 13 and older. The problem is because they start so young, by the time they are ready to graduate they are ready to move onto other things."
Vincent Thibert of Quebec's 3rd Legend also begins training members at a young age. "We have a Regional A guard but we also have a Cadet guard. We always try to go into the Elementary schools and recruit there, and they join the Cadet guard. If they like the program they keep going to the Regional A guard, and then they are ready for the A guard."
In Ontario, Director Laura Kehn's Ventures have been a longstanding WGI Finalist. She recited their history, "The Ventures were started in Kitchener-Waterloo by the police chief, and it was in an effort to help young women have an activity to keep them busy and out of trouble." The group was a successful all-girl drum and bugle corps formed in the early 1970s that became a winter guard with over a quarter century of WGI competition under their belts.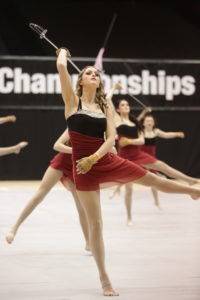 While the Pacificaires compete in the Northwest Pageantry Association and 3rd Legend competes in the FAMQ circuit, the lack of a circuit in Ontario creates hurdles for Kehn's guard. "We try to keep the groups alive but we are seeing less and less, so we have to go to the States to compete. We have an exhibition in Kitchener-Waterloo, and we invite the local organizations to come to our home show, but it is an exhibition because we can't get a lot of U.S. groups to cross the border."
Dyck also discussed the lack of nearby guards. "To compete we have to drive to the Seattle area which means we need to cross the U.S. border. At times we've had to wait hours to get across. The other issue is there is usually only one other guard in our class. The only real competition we have is when we travel to Regionals that are quite far away. Our closest Canadian competitions would be in the Province of Alberta which also has very few competitive guards."
Money is a challenge for many guards in the U.S. It can be an even bigger issue for non-U.S. groups competing in Dayton. Kehn explained, "The exchange rate hurts us because the American dollar is very expensive. For example, for us to get one American dollar costs us $1.35. Any fees cost about one third more than it costs American guards." Dyck added one additional financial hurdle, "For us living on the West Coast getting to Championships has become more difficult as airfares have gotten out of control."
Aside from the exchange rates and airfare, non-U.S. groups have other logistical issues. Thibert discussed how his group handles some of these. "We have to make sure we have passports and medical insurance for the members. There are issues with borders. Food, for example. That's a big issue. What we did this time is we crossed the border and went to Walmart and bought everything there right after crossing. We have to plan accordingly."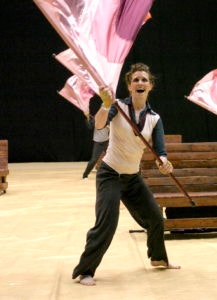 There is as much talent in Canada as anywhere. The question is what could be done to grow the activity north of the border? Dyck said, "What I would like to see is a Canadian Regional, possibly in the Toronto area one year and then one in the West the opposite year." From Kehn's perspective, "I think promoting it in local schools, having the opportunity to go around to the schools and teach kids about this, to help them get involved from an activity level."
To be involved at such a deep level, there has to be something that gives a sense of purpose. For Thibert, it comes down to wanting his kids to have a chance to get the same thrill he received performing at Championships. "It's such a good experience for the kids. Personally, my first WGI was back in 2005, and you want to share that experience, and I think that's the reason why we try to bring them every year so they can experience that."
Both Kehn and Dyck shared similar thoughts about what they view as the most rewarding aspect of their years of leadership. For Kehn, "Definitely seeing them grow both from a spinning perspective, maturing, and understanding how to work as a team. I think the growth from the beginning of the season through the end is the most rewarding."
Dyck expanded on that idea with a broad perspective. "Being the Director for close to 40 years, I can tell you that the most rewarding aspect is seeing the growth of our members. It's very rewarding to see them grow into young adults and achieve professional careers or have families of their own. I like to think that their time and things they have learned with our organization made a difference."
---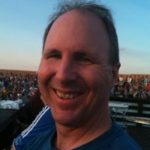 About the Author: Michael Reed provides online and print media content for WGI, Bands of America, and Drum Corps International. 2017 marks his sixteenth year of writing for WGI. He is an active music arranger, composer, and all-around avid pageantry fan. Michael was a member of the Cavaliers Drum and Bugle Corps and holds a bachelor's degree in music composition and music education from Ball State University. He currently works in the health care field and resides in Fishers, Indiana.