The 2018 Color Guard Judges Academy
is now accepting applications!
Have you ever wondered what it takes to be a certified WGI Color Guard judge? Now you can find out with the WGI Color Guard Judges Academy.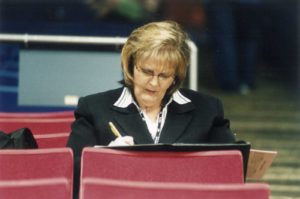 All Judges Academies take place during a two day Regional event. Academy students will begin one hour before the first performance on Saturday and will need to stay one hour beyond the last performance on Sunday. 2018 Academy students will need to attend one of the following events for training:
February 17-18, 2018 – Indianapolis, IN
February 24-25, 2018 – South Brunswick, NJ
March 3-4, 2018 – Austin, TX
Space is limited in order to operate inside the working regional event and to insure the quality of the experience; therefore not all applicants will be accepted.
Cost – $125
2018 Color Guard Judge Academy Application
Requirements for Application
Must have completed WGI-Certify up through the 300-330 series
340 is the practicum- you may complete this during the 2018 Season as you work through the Academy. (This exception will be in place only for the 2018 Academies)
3 years experience judging
Circuit history for the last 3 years
Applicants must submit
Sample of commentary
Two (2) letters of recommendation from a WGI affiliate

CGAB member
WGI Judge
WGI Administration/Staff
Letters of recommendation should attest to scoring, commentary, and professionalism.
Accepted Students Will Receive
WGI badge & rulebook
Trial judging on Saturday & Sunday, meals included
Follow up evaluation
If you have any questions, please contact


[email protected]

or call 937-247-5919 x 305.
Apply Today!